Our MBA in Accounting Will Help You Tackle Complex Financial Management Challenges
Are you ready to take the next step towards a rewarding career in accounting? If you aspire to be the next influential chief financial officer for a leading corporation, Liberty's Master of Business Administration (MBA) – Accounting will help you make an impact in the fast-paced world of business.
With our program, you will study hands-on in our School of Business with interactive simulation rooms and cutting-edge business training centers created to help you learn experientially. You need a degree that will truly prepare you for today's most challenging business fields. With Liberty, you can take courses that prepare you for real-world business situations taught by industry professionals.
With the accounting specialization, you will use the advanced business management skills of the MBA with strategic financial skills that will help you identify and overcome business challenges. The skills you learn through this program will help you succeed in any corporate or small business setting. Get the skills you need for a rewarding career in business!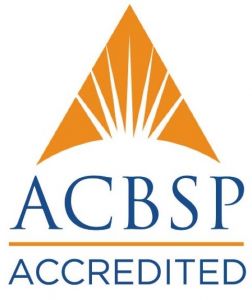 Among only 3% of business schools worldwide to receive ACBSP accreditation
Award-Winning Campus
At Liberty, you'll find an affordable, high-quality education that equips students like you for the real world. Our commitment to excellence helped us rank among Niche.com's Top 5 college campuses in America. Earning your degree from a nonprofit university with state-of-the-art resources like ours can help set you apart from your peers.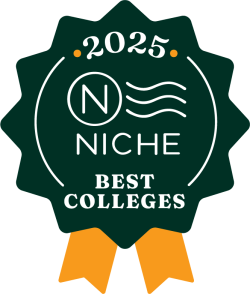 ---
Why Choose Liberty's Master of Business Administration (MBA) in Accounting Degree?
Experience real-world business training through collaboration and networking opportunities. We offer many resources to help you get your education and career started right:
Accounting specific clubs, like our Accounting Society
Our School of Business brings in an average of 40 guest speakers per year
Professors that spend time mentoring and praying for their students by name
Free HandShake

networking platform account, so you can connect with employers from around the globe
Work hands-on with our 2,000-square-foot Center for Entrepreneurship. The Center is operated by experienced industry professionals to help you craft ideas, develop business plans, and pursue funding mechanisms to turn your vision into a reality.
Partner with Liberty to gain the experiences you'll need to stand out to employers for your integrity, academic excellence, and business prowess. Get started today!
"The Center took my hobby and turned it into a viable business plan. Each week the professors poured into me for hours, helping me refine my plan while my peer group offered support and helped me see how business can make a Kingdom impact."
– Anders Bengtson, residential Liberty MBA graduate
---
What Will You Learn in Our MBA in Accounting Degree?
Choosing a specialization in accounting will prepare you for high-ranking positions such as a chief financial officer. Our courses focus on helping you develop the right skills for and business ethics with a foundation in Christian principles. Our goal is to produce business leaders with integrity that will demonstrate excellence and integrity.
As an MBA in accounting student, you will take classes in cost accounting, information systems for accounting, and tax research and jurisprudence. You will also get to choose between a class in auditing and a course in financial accounting theory. Depending on your specific career goals, these courses will help you further specialize your skillset.
Along with your accounting training, you will study vital business concepts to prepare you for the field. You will dive into marketing, finance, law, research, organizational design, global economics, human resources, and operations management. Gaining a variety of skills in several business areas will help you be flexible and equip you to handle the ever-changing needs of business leadership.
View the Degree Completion Plan, and check out our featured courses below for more information!
Featured Courses
ACCT 521 – Advanced Cost Accounting
Here's what you'll learn:
This course will focus on analyzing and managing costs, activity-based management, process costing and cost allocation, planning and decisions making, and evaluating and managing performance.
This course is designed primarily for accounting/finance majors who seek careers or are already employed in for-profit corporations or not for profit organizations as public (such as CPAs) or private (such as controllers and CMAs or CFMs) accounting/business leaders in a fast-changing, highly technically oriented society.
ACCT 531 – Accounting Information Systems
Here's what you'll learn:
This course builds upon your existing knowledge of accounting information systems in today's business environment.
Studies will strongly emphasize the internal control features necessary to provide accurate and reliable accounting data as it looks at how accounting information is recorded, summarized, and reported in both manual and computerized systems.
ACCT 612 – Tax Research and Jurisprudence
ACCT 622 – Advanced Auditing
Highlights of Our Master of Business Administration – Accounting Degree
Our School of Business is among only 3% of business schools worldwide to earn ACBSP accreditation.

We tailor our graduate business degrees for the working professions. Residential students can also take evening classes, 1-week intensives, and online courses to make your degree better fit your busy schedule.
Our 78,000-square-foot School of Business provides you with:

Simulated stock trading room with New York Stock Exchange display boards
2,000-square-foot Entrepreneurship Center for Innovation
Information technology labs and a networking and data center

Get involved with our business-related student organizations and honor societies.
3+1 Accelerated Business Program, so you can get your bachelor's and master's in just four years.
MBA in Accounting Degree Information
Career Opportunities for Accounting MBA Degree Graduates
Audit accountant
Chief executive officer
Chief financial officer
College instructor
Corporate development associate
Entrepreneur/business owner
Finance manager
Revenue manager
Sales executive
Admission Requirements for Graduate Degrees
Every application is reviewed on a case-by-case basis, and all applicants must submit the following documents and meet the minimum requirements for admission:
Admission application
Official bachelor's degree transcripts with a 3.0 GPA or higher
At least 15 hours of upper level (300-400 level) undergraduate coursework in business, or our BMAL 590 course with a graduate GPA of 3.0

Self-certification form (for students who are in the final term of their bachelor's degree)

Current Liberty undergraduate students seeking preliminary acceptance into a graduate program must complete a degree completion application through their ASIST account
The following courses must be taken before your graduate accounting courses:
Principles of Accounting I
Principles of Accounting II
Intermediate Accounting I
Intermediate Accounting II
Cost Accounting I
Taxation I
Auditing