Help Patients Find Healing and Hope with a Master's Degree in Clinical Counseling
You love learning about the intricacies of the human mind. You are passionate about counseling because it offers restoration and healing to hurting people. You want to make a difference in your community and serve those around you who are suffering.
Does that sound like you? If so, you may want to pursue Liberty University's Master of Arts in Clinical Mental Health Counseling degree. Our program can help you develop the knowledge, values, and skills needed to prepare for a career as a licensed counselor. You can learn how to utilize counseling methods that account for ethical, spiritual, and scientific considerations.
As a Christian university, Liberty approaches the study of mental health from a biblical perspective. Our seasoned faculty can help equip you to promote the mental health and holistic wellness of clients across diverse populations. To help foster your success, we offer a rigorous curriculum, valuable guidance from faculty, and carefully structured practicums and internships.
If you want to help people overcome major life challenges while showing them Christ's love, Liberty can help. Partner with us and prepare to help your patients find healing and hope.
Please note: Each state has unique requirements for becoming a Licensed Professional Counselor. Be sure to research the requirements in your state.
Median annual salary for mental health counselors*
The demand for counselors is projected to grow 23% from 2020 to 2030*
Average degree completion time of 3 years
---
Award-Winning Campus
At Liberty, you'll find an affordable, high-quality education that equips students like you for the real world. Our commitment to excellence helped us rank among Niche.com's Top 5 college campuses in America. Earning your degree from a nonprofit university with state-of-the-art resources like ours can help set you apart from your peers.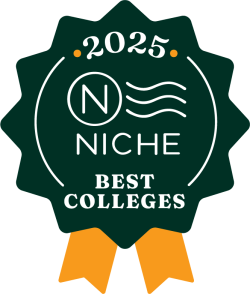 ---
Why Choose Liberty's Master's in Mental Health Counseling?
Are you ready to start advocating for mental wellness in your community? If so, earn your degree at Liberty today! We can help you gain the skills and credentials needed to pursue a career as a licensed counselor.
Here are some of the benefits of choosing Liberty for your master's degree:
Respected Credentials
Liberty is accredited by the Southern Association of Colleges and Schools Commission on Colleges (SACSCOC). Additionally, our master's in clinical mental health counseling is accredited by the Council for Accreditation of Counseling Related and Educational Programs (CACREP).
Hands-On Training
You will gain real-world experience by completing extensive practicum and internship hours. Additionally, we offer research and study abroad opportunities in the United States and around the world. For instance, you could work with various organizations to help serve victims of sex trafficking and trauma.
Valuable Mentorship
In this program, you'll study under professors with terminal degrees and years of counseling experience. Our faculty are ready and eager to help you prepare for a career as a licensed mental health professional.
Career Preparation
Our master's in clinical counseling can help you prepare to sit for licensure exams in the state of Virginia. If you want to pursue licensure in a state other than Virginia, be sure to research the requirements for licensure in your state.
---
Frequently Asked Questions
What are the job and pay outlook prospects for a career as a counselor?
What can you do with a clinical mental health counseling master's degree?
How long does it take to earn a master's degree in mental health counseling?
---
What Will You Learn in Our Master's in Clinical Mental Health Counseling Program?
At Liberty University, we seek to Train Champions for Christ. Our master's degree in clinical mental counseling can help you develop an approach to counseling based on leading research and biblical principles.
This degree provides a foundational series of core courses to help you develop a diverse skill set. Some of the topics you'll study include ethical and legal issues, multicultural counseling, counseling theories, and psychopathology. Within the specialization courses, you will receive advanced training in crisis counseling, clinical diagnosis, and substance abuse treatment.
Most importantly, you will complete practicum and internship courses so you can apply your knowledge in a real-world setting. You'll gain experience working directly with clients while meeting regularly with an onsite supervisor. These field experience courses aim to help hone your skills and professionalism by offering exposure to the counseling field.
Throughout this program, you will:
Analyze the dynamics of marriage and family relationships

Explore how spirituality — particularly the Christian worldview — informs counseling practice

Have the freedom to select an elective course based on your interests and career goals

Learn how to design and evaluate effective mental health programs

Prepare to assess, diagnose, and counsel clients according to the Diagnostic and Statistical Manual of Mental Disorders

Receive training in group dynamics, leadership approaches, and group counseling methods

Study critical methods in evidence-based practice and assessment techniques
View the Degree Completion Plan, and check out our featured courses below for more information about what you will study.
Featured Courses
COUC 504 – Multicultural Counseling
COUC 515 – Research and Program Evaluation
COUC 546 – Psychopathology
COUC 667 – Clinical Diagnosis and Treatment Planning
Highlights of Our Clinical Mental Health Counseling Master's Program
Our master's degree in clinical mental health counseling is accredited by

CACREP

.

Our

faculty members

have years of professional counseling experience. They have worked in agencies, schools, churches, and private practices around the world.

Graduate assistantships

are available for this program.

Our clinical mental health counseling master's program can help equip you to become a Licensed Professional Counselor (LPC), Licensed Clinical Mental Health Counselor (LCMHC), or National Certified Counselor (NCC).

We offer opportunities to work with anti-sex trafficking organizations in the United States and abroad.

Our chapter of

Chi Sigma Iota (CSI)

, the international counseling honor society, provides valuable opportunities to build your network.
Clinical Mental Health Counseling Graduate Program Information
What Can You Do with a Master's Degree in Mental Health Counseling?
This degree can help equip you to work as a clinical counselor in the following settings:
Faith-based mental health institutions

Mental health agencies

Mental health hospitals

Public or private practices

Residential treatment facilities
Admission Requirements for Our Master's in Clinical Counseling Program
Every application is reviewed on a case-by-case basis, and all applicants must submit the following documents and meet the minimum requirements for admission:
Admission application

Self-certification form

(for students who are in the final term of their bachelor's degree)

Current Liberty undergraduate students seeking preliminary acceptance into a graduate program must complete a

degree completion application

through their ASIST account

A regionally or nationally accredited bachelor's degree with at least a 2.7 GPA

Contact information for 2 recommenders

from professional sources (i.e., not family/friends)

Agreement to the

Mission Statement and Diversity Statement

Undergraduate prerequisites (can be taken after admission): 3 credit hours in statistics (can be MATH 201)

Students seeking admittance into this program and planning to finish it outside of the U.S. will be required to sign an

International Disclosure Agreement

(login required)

Personal Statement

Please describe in 200-250 words why you desire to become a counselor and indicate the type of counselor certification you plan to seek after graduation.

Describe in 200-250 words an occasion in which you have interacted with an individual or a group of individuals

from another culture

. Identify the cultural differences which were present and

how you demonstrated respect

for those differences.

Describe in 200-250 words

how

you form effective interpersonal relationships with others in individual and group settings.

Students must include a sentence stating their agreement to the Department of Counselor Education and Family Study's Master of Arts in Clinical Mental Health Counseling Mission Statement and Diversity Statement. See the Master of Arts Clinical Mental Health Counseling Handbook.
---
*Bureau of Labor Statistics, U.S. Department of Labor, at Substance Abuse, Behavioral Disorder, and Mental Health Counselors (viewed online September 16, 2021). Cited projections may not reflect local and/or short-term economic or job conditions and do not guarantee actual job growth.