Serve Others Professionally by Joining Our School of Behavioral Sciences
Have you always had a desire to help others? This is a noble goal, but what type of profession allows you to serve others as your career? With our School of Behavioral Sciences, you'll find out! We have degrees in psychology, social work, and more, all designed to give you the necessary tools and training to help others.
In our School of Behavioral Sciences, our Department of Psychology and Department of Social Work offer you undergraduate degrees that will make you career-ready and open the door to graduate school. By completing one of our programs, you can go on to become a psychologist, counselor, or caseworker. You can work with children, adolescents, the elderly, or special populations like refugees or sex trafficking victims.
So what are you waiting for? Our society is in desperate need of people who are trained and willing to spend their lives serving others. We want to equip you with the tools you need to help people professionally and effectively. Any program in our School of Behavioral Sciences is going to help you do just that.
Available School of Behavioral Sciences Degrees
---
Why Choose Liberty's School of Behavioral Sciences?
We're excited you're interested in joining the "helping profession" by pursuing one of our School of Behavioral Sciences degrees! Our program offers you many benefits from research projects, to internship opportunities, and learning from professionals in the field. You're going to be well-equipped to pursue your career or apply to graduate school after completing one of our degrees.
In the School of Behavioral Sciences, we have 2 departments that offer undergraduate degrees. With our Department of Psychology, you can study counseling, criminal psychology, developmental psychology, sport psychology, and more. Additionally, you may choose our Department of Social Work, which offers our Bachelor of Science in Social Work. This program equips you to work in any social work-related field.
Check out more about our School of Behavioral Sciences departments below to see their benefits and find out what degree will fit your career goals.
Award-Winning Campus
At Liberty, you'll find an affordable, high-quality education that equips students like you for the real world. Our commitment to excellence helped us rank among Niche.com's Top 3 college campuses in America. Earning your degree from a nonprofit university with state-of-the-art resources like ours can help set you apart from your peers.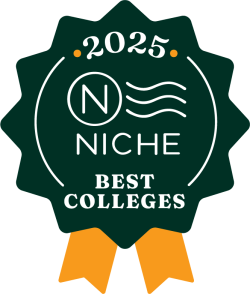 ---
Department of Psychology Benefits
Christ-centered courses that give you an edge in research and counseling techniques
Multiple areas of study to help you specialize in the career you want to pursue
Faculty-student mentoring in research projects with the potential of presentation publication of your research as an undergraduate student. Recently purchased operant boxes allow you to engage in animal research with faculty
Multiple psychology events and internship opportunities are available to give you real work and training experience
Academic trips available to Ecuador, New York, and Poland
Our psychology club — Club Psych — allows you to interact with professors and peers in the field
Available Programs
Department of Social Work Benefits
Real-life experience available in shadowing, volunteer work, field trips, and internship opportunities
Internship opportunities available in the following locations abroad: Uganda, Australia, Philippines, Cambodia, Dominican Republic, Greece, and Spain
Practice classes give you the opportunity to work on the skills needed to succeed in social work with peers and professors in smaller classes
Eligibility to sit for licensure as a Bachelor of Social Work in over 30 states
Eligibility for Advanced Standing for Masters of Social Work, meaning you can complete your masters in one year instead of two
Available Programs
Learn more about meeting requirements for licensure or certification in your state.