Learn to Create Culturally Diverse Christian Songs with Liberty's Master of Arts in Worship Studies!
Are you interested in taking your love for worship and expressing it in a culturally diverse context? If you desire to understand the music and culture around you and use it to reach other cultures with the gospel, then Liberty University's Master of Arts in Worship Studies – Ethnomusicology is for you! Create awareness of varied musical expressions, guide worship teams, or provide training to those preparing for music ministries in other cultures by earning your ethnomusicology degree.
At Liberty, we take music seriously. Our School of Music is the seventh-largest school of music in the nation, and our Center for Worship has been voted "Best of the Best in Higher Education" six years in a row by Worship Leader Magazine! If you love music as much as we do, partner with us and see your career goals realized.
Your success is our success. Our professors will show you how to take what you learn in your local church and apply it to this worship studies degree. Learn how to create Christian songs that fit into indigenous cultures and promote the exposure of such music in the community. Spread your passion for worship and cross-cultural barriers. A rewarding career in a field you love is calling!

Award-Winning Campus
At Liberty, you'll find an affordable, high-quality education that equips students like you for the real world. Our commitment to excellence helped us rank as Niche.com's #4 college campus in America. Earning your degree from a nonprofit university with state-of-the-art resources like ours can help set you apart from your peers.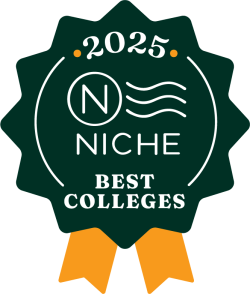 ---
Why Choose Liberty's Master of Arts in Worship Studies – Ethnomusicology?
Your career in worship and global ministry outreach starts right here at Liberty. Our campus houses a 141,000-square-foot Center for Worship with countless rehearsal rooms, Mac labs, and a $2.2 million recording studio. Gain the hands-on experience you need to enter the field of ethnomusicology with confidence.
As a worship studies student, you will have access to all of these resources, as well as our Liberty Music Group (LMG) publishing company. Many of our graduates have gone on to become award-winning Christian artists and songwriters using the skills they developed on our industry-standard equipment. 
All of our music degrees are accredited by the National Association of Schools of Music (NASM). This means you can be confident that your résumé will be well-respected among churches and schools across the country. The most important part of studying at Liberty University is that we share your passion for the gospel and your desire to do all you can to fulfill the Great Commission.
---
What Will You Learn in Our M.A. in Worship Studies – Ethnomusicology?
Gain a better understanding of the theology, cultural influencers, and historical events that have laid the foundation for contemporary worship. As a master's student in worship studies, you will examine doctrine with an emphasis on Christ, the Holy Spirit, salvation, and the church as a whole. This will better prepare you to use your worship leadership position to spread the gospel.
Our worship studies courses highlight the role and responsibilities of a worship leader. The relationship you have with your pastor, staff members, and worship team members sets the tone for the worship experience. Forming and maintaining a cohesive worship team provides a firm foundation for the vision of your church and plays a vital role in its connection to the individual worshipper.
If you choose to pursue our ethnomusicology specialization, you will explore the field of ethnomusicology and the various belief systems, traditions, and practices of world cultures. You will learn how to apply your knowledge of other cultures and create indigenous Christian songs that cross-cultural barriers with the gospel. You will also learn the various technical aspects of video and audio using our state-of-the-art equipment available on campus.
Our courses are designed to help you implement your passion for worship into a rewarding and fulfilling career upon graduation.
View the Degree Completion Plan, and check out our featured courses below for more information!
Featured Courses
WRSP 520 – The Role of the Worship Leader
WRSP 510 – Biblical Foundations of Worship
ETHM 511 – Introduction to Ethnomusicology
ETHM 613 – Applied Ethnomusicology
Highlights of Our Master's in Worship Studies – Ethnomusicology Degree
Nearly a 100% job placement rate for our recent residential graduate students.
141,000-square-foot Center for Worship has been voted "Best of the Best in Higher Education" six years in a row by Worship Leader Magazine.
We offer exceptional opportunities for our students including our 2.2 million dollar state-of-the-art recording studio and songwriting labs. In partnership with the Michael W. Smith Center for Commercial Music, students also have the opportunity to have their original music published before they graduate!
Designated as an "All Steinway" school.
Liberty University is an accredited institutional member of the National Association of Schools of Music (NASM) and is regionally accredited by SACSCOC.
School of Music was rated #1 Christian Music School by Christian Universities Online.
One of the nation's largest music schools.
44 full-time faculty with degrees from many of the most prestigious music schools in the nation.
Our students have produced albums that have been nominated for awards with Liberty alumni going on to become Dove award-winning Christian artists and songwriters.
Worship Studies – Ethnomusicology Master's Degree Information
Career Opportunities for Worship Studies – Ethnomusicology Graduates
Choir director
Director of international worship ministries
Minister of music
Missionary
Professor
Program director for contemporary worship
Admission Requirements for Graduate Degrees
Every application is reviewed on a case-by-case basis, and all applicants must submit the following documents and meet the minimum requirements for admission:
Admission application
Self-certification form (for students who are in the final term of their bachelor's degree)
Current Liberty undergraduate students seeking preliminary acceptance into a graduate program must complete a degree completion application through their ASIST account
Completion of an earned baccalaureate degree from an institution accredited by an agency recognized by the U.S. Department of Education in one of the following areas: bachelor's degree in music, music education, or music and worship
3.0 GPA for admission in good standing