Study the Bible In-depth With a Master of Arts in Religion (M.A.R.) – Biblical Studies
Are you looking for a degree that will combine your love for serving God's people and deep-rooted interest in understanding God's Word? Liberty University's Master of Arts in Religion (M.A.R.) – Biblical Studies provides an in-depth study of God's Word through learning from the original biblical languages. Besides the classes that provide training in church administration and leadership, our biblical studies specialization will provide a thorough examination of key books, topics, and themes of the Bible.
Liberty University's M.A.R. in Biblical Studies will prepare you for work in the ministry and give you a deeper understanding of God's Word so you can share it with others. As you study books from both the Old and New Testament, you will discover the overarching message of each book and how it relates to the rest of the Bible.
Accreditation
Your divinity degree is approved by the Commission on Accrediting of the Association of Theological Schools (ATS) and has met rigorous accreditation standards. You can feel confident that your degree is both academically excellent and well-respected among churches, ministries, and nonprofit organizations.


---
Why Choose Liberty's Master of Arts in Religion – Biblical Studies Degree?
As one of the largest Christian universities in the nation, Liberty University has the resources to provide you with the most up-to-date training in biblical studies. Throughout this degree, you'll learn how to write sermons that have important and timely lessons for your congregation. Furthermore, you will learn how to convey the important messages in the Bible through rigorous theological studies under the mentorship of Liberty University School of Divinity theologians, such as Dr. Elmer L. Towns, Dr. Harold Wilmington, and Dr. Gary R. Habermas.
With the state-of-the-art facilities in our School of Divinity building, you will gain the knowledge you need to lead and teach your congregation as well as gain a deeper personal understanding of the Bible and how its teachings relate to your life. You will also benefit from the instruction our excellent and experienced professors provide.  If you have previous college credit or professional experience, you can complete Institutional Challenge Exams (ICE) to get college credit for personal studies and expertise in ministry.

Award-Winning Campus
At Liberty, you'll find an affordable, high-quality education that equips students like you for the real world. Our commitment to excellence helped us rank among Niche.com's Top 5 college campuses in America. Earning your degree from a nonprofit university with state-of-the-art resources like ours can help set you apart from your peers.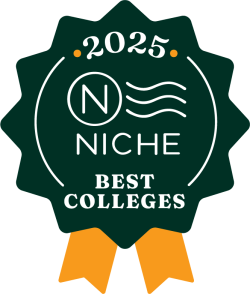 ---
What Will You Learn in Our Master of Arts in Religion – Biblical Studies Degree?
Liberty University's Master of Arts in Religion provides extensive, well-rounded training in ministry, theology and biblical studies. The core courses of our MAR look at the Old and New Testament, the history of Christianity, systematic theology, and the research, writing, and sermon preparation process. You will also learn how to interpret the Bible and provide a deeper understanding of the Word of God to your congregation.
Our biblical studies specialization focuses on some of the more prominent books in the Bible and the significance of the messages contained in these religious texts.
An in-depth study of the Gospel of John provides historical context and the basic background of the life of Christ as well as explains the chronology, geography, and social customs of that time.
Hebrews is the major work on Jesus' high priestly ministry.
Genesis is important not only for its major themes and for events, but it serves as the Old Testament's book of beginnings.
A review of Isaiah helps students interpret the prophetic nature of the Old Testament. Isaiah is also one of the most quoted Old Testament books in the New Testament.
We invite you to look at our featured courses for an exciting preview of this M.A.R. program we offer at Liberty University. You can also review the Degree Completion Plan.
Featured Courses
Here's what you'll learn:
An intensive exegetical study of the Gospel of John, including an investigation of the uniqueness of this Gospel compared with the synoptic Gospels, and a study of the life and teachings of Christ, which are distinctive in this Gospel.
Here's what you'll learn:
The course includes an intensive exegetical study, as well as an investigation of the doctrines of Christ, especially His mediatorship and priesthood and the use of the Old Testament in this book.
A verse-by-verse exposition will follow a brief study of authorship, background, destination, and theme.
Here's what you'll learn:
An examination of Genesis with particular emphasis on the major themes and events: creation, flood, patriarchal narratives, and the Abrahamic Covenant.
Attention given to significant historical and archaeological details relative to the cultural environment as well as to crucial theological concepts found in key chapters in the book.
Here's what you'll learn:
Careful attention is given to the introductory aspects of Isaiah including authorship/date, historical background, themes, motifs, and purpose(s), and finally literary features.
A detailed exposition of major portions of the text will be presented, especially the Messianic sections.
Highlights of Our Master of Arts in Religion Degree
Monday-only classes for masters' programs allow students to complete large portions of their M.A. degree by only attending class one day a week.
We have a state-of-the-art homiletics/teaching lab in our School of Divinity building.
Our Scriptorium houses the Rawlings Foundation rare books collection valued at over $1 million, a 111 ft.-long Torah scroll that dates to the 16th century, and a functioning replica of the Gutenberg Printing Press.
Local church ministry training is embedded within our programs.
We provide experiential learning opportunities through church and parachurch ministries.
Master of Arts in Religion Degree Information
Career Opportunities for Master of Religion Graduates
Associate pastor
Church education administrator
Lay leader
Missionary
Teaching pastor
K – 12 Religion Teaching
Admission Requirements for Graduate Degrees
Every application is reviewed on a case-by-case basis, and all applicants must submit the following documents and meet the minimum requirements for admission:
Admission application
Official bachelor's degree transcripts with a 2.0 GPA or higher
Self-certification form for students in the final term of their bachelor's degree
Current Liberty undergraduate students seeking preliminary acceptance into a graduate program must complete a degree completion application through their ASIST account