Spread God's Word Through Ministry with a Master of Arts in Religion (M.A.R.)
Have you felt the calling to work in ministry? If you have a passion for spreading the gospel, Liberty University's Master of Arts in Religion (M.A.R.) will prepare you to enter ministry by giving you an in-depth look at theology, biblical studies, and ministry practice. Our practical education will better equip you to work in the ministry field through classroom training and working with the local church and parachurch organizations.
Liberty University offers several specializations for you to pursue. These specializations provide you with the chance to shape your degree based on your own personal and career goals. You can prepare for ministry in your local community with a specialization in community chaplaincy or prepare to bring God's Word to those abroad with a global studies track.
Accreditation
Your divinity degree is approved by the Commission on Accrediting of the Association of Theological Schools (ATS) and has met rigorous accreditation standards. You can feel confident that your degree is both academically excellent and well-respected among churches, ministries, and nonprofit organizations.


Award-Winning Campus
At Liberty, you'll find an affordable, high-quality education that equips students like you for the real world. Our commitment to excellence helped us rank among Niche.com's Top 5 college campuses in America. Earning your degree from a nonprofit university with state-of-the-art resources like ours can help set you apart from your peers.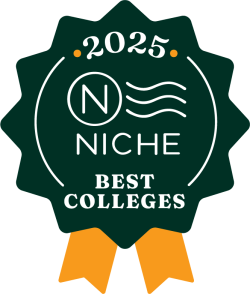 ---
Why Choose Liberty's Master of Arts in Religion Degree?
Whether you want to work with a large congregation or a small group, Liberty University's M.A.R can give you the in-depth knowledge you need to lead with authority. You will learn how to convey the important messages in the Bible through rigorous theological studies under the mentorship of Liberty University School of Divinity theologians, such as Dr. Elmer L. Towns, Dr. Harold Wilmington, and Dr. Gary R. Habermas.
By using our state-of-the-art facilities, like our homiletics/teaching lab, you will gain the knowledge you need to lead and teach your congregation as well as gain a deeper personal understanding of the Bible and how its teachings relate to your life.
---
What Will You Learn in Our Master of Arts in Religion Degree?
Liberty University's Master of Arts in Religion provides extensive, well-rounded training in ministry, administration of Christian organizations, and theology and biblical studies. The core courses of our Master of Arts in Religion provide in-depth studies of the Old and New Testament, history of Christianity, systematic theology, and the research, writing, and sermon preparation process. You will also learn how to understand, interpret, and apply biblical principles to provide a deeper understanding of the Bible to your congregation.
In addition to the core courses within this degree, you can also focus your studies in an area that best matches your goals and interests. Learn to fill key leadership roles and overcome the challenges of heading a church organization with a specialization in leadership. You can also pursue the role of developing worship through music at your church by pursuing a worship track.
Featured Courses
APOL 500 – Introduction to Apologetics
Here's what you'll learn:
This course surveys the basic issues in apologetics such as apologetic method, the biblical basis for apologetics, and the relationship between faith and reason.
Then it turns to consideration of various apologetic issues, including the inerrancy of the Bible, the resurrection of Jesus Christ, and the existence of God.
Finally, the student will be exposed to major worldviews extant today and will consider responses to modern apologetic challenges to Christianity, such as postmodernism, and religious pluralism.
DSMN 500 – Discipleship Ministries
Here's what you'll learn:
The biblical, general and specific steps that enable a person first to be a disciple, then to discover systems, biblical principles, and methods that create a disciple-making context.
EVAN 525 – Contemporary Evangelism
Here's what you'll learn:
A study of the evangelistic imperative and various methods of personal witnessing.
Follow-up, discipleship, and memorizing key Bible verses.
LEAD 510 – Biblical Foundations of Leadership
Here's what you'll learn:
This course explores the topic of leadership from a biblical and theological perspective.
Essential biblical principles bearing on the purpose and character of leadership will be examined.
Instances of leadership in the Old and New Testaments will be analyzed within their biblical context, and in terms of contemporary understanding of leadership, with a special focus on the leadership of Jesus Christ as seen in the New Testament.
Highlights of Our Master of Arts in Religion Degree
Monday-only classes for masters' programs allow students to complete large portions of their M.A. degree by only attending class one day a week.
We have a state-of-the-art homiletics/teaching lab in our School of Divinity building.
Our Scriptorium houses the Rawlings Foundation rare book collection valued at over $1 million, a 111 ft.-long Torah scroll that dates to the 16th century, and a functioning replica of the Gutenberg Printing Press.
We provide experiential learning opportunities through church and para-church ministries.
Master of Arts in Religion Degree Information
Career Opportunities for Master of Religion Graduates
Associate pastor
Church education administrator
Church planter
Counselor
Evangelist
Lay leader
Missionary
Worship pastor
Youth pastor
Admission Requirements for Graduate Degrees
Every application is reviewed on a case-by-case basis, and all applicants must submit the following documents and meet the minimum requirements for admission:
Admission application
Official bachelor's degree transcripts with a 2.0 GPA or higher
Self-certification form for students in the final term of their bachelor's degree
Current Liberty undergraduate students seeking preliminary acceptance into a graduate program must complete a degree application through their ASIST account
Church Ministry in the Digital Age
Discipleship and Church Ministry
Evangelism and Church Planting