Provide Support to Patients and Healthcare Workers with a Degree in Professional Chaplaincy
Healthcare chaplaincy is a career field that is in need of well-trained, caring professionals. There are many situations where healthcare workers, patients, and families need spiritual guidance and support – which makes chaplains a valuable asset. As a chaplain, you could come alongside someone who is facing the reality of a terminal illness, help them process their grief, and even read them their last rites. Chaplains are spiritual leaders who serve outside of a regular church setting, and healthcare chaplains, in particular, tend to the spiritual needs of those who are at their most vulnerable state – whether in hospitals, treatment facilities, hospice, or palliative care.
At Liberty University, you can receive the training and knowledge you'll need to pursue this career field by earning our Master of Divinity (M.Div.) in Professional Chaplaincy – Healthcare. Our program contains foundational knowledge needed for any spiritual leader, courses relating specifically to chaplaincy, and information on working with people who are a part of the healthcare system.
You can also complete Clinical Pastoral Education (CPE) units as a part of your program, which can make you immediately employable upon graduation. CPE is designed to take you outside of the typical ministry setting and receive guidance under a Liberty-trained mentor. You will learn to better engage with peers, formulate your calling to chaplaincy from your faith tradition, and articulate the core values of your spiritual heritage and theological understanding.
Accreditation
Your divinity degree is approved by the Commission on Accrediting of the Association of Theological Schools (ATS) and has met rigorous accreditation standards. You can feel confident that your degree is both academically excellent and well-respected among churches, ministries, and nonprofit organizations.


Award-Winning Campus
At Liberty, you'll find an affordable, high-quality education that equips students like you for the real world. Our commitment to excellence helped us rank among Niche.com's Top 5 college campuses in America. Earning your degree from a nonprofit university with state-of-the-art resources like ours can help set you apart from your peers.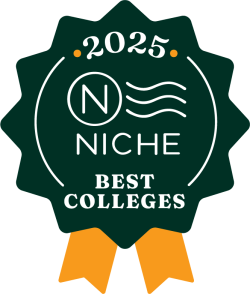 ---
Why Choose Liberty's Healthcare Chaplaincy Degree?
At Liberty University, our mission is Training Champions for Christ – so we strive for excellence in all that we do. We believe that choosing where to pursue your degree is an important decision. Here are some of the reasons that Liberty stands out:
Experienced professors are available to help you through your academic journey, provide you with valuable first-hand knowledge in the field, and guide you in your continued walk with Christ.
Our residential program provides you with the flexibility to continue to dedicate time to your ministry and family while pursuing your degree. We have optional online and Monday-only classes as well as the option to pursue CPE units or an internship.
You'll receive hands-on training in your program so you can be fully prepared to step into ministry as a chaplain upon graduation.
We incorporate biblical principles into all of our classes preparing you to start your career with integrity.
CPE Training
To work as a healthcare chaplain, you'll typically need to be board certified by a chaplaincy organization – which requires completion of Clinical Pastoral Education (CPE) training. Liberty University is an ACPE (Association for Clinical Pastoral Education)-accredited CPE Center. Upon completion of the appropriate CPE units through Liberty's MDiv program, you may be eligible for board certification.
With mentorship from experienced chaplaincy professionals,  you can gain the skills you need without compromising your principles in order to serve as a chaplain. Our flexible format allows you to choose how you complete your CPE units – either as residential intensives or with a CPE program in your community. These units are available as on-campus modules accredited by the Association for Clinical Pastoral Education (ACPE) or as online courses to guide you through your local CPE program.
CPE Residential Intensives Vs. Online Mentoring
Liberty University's professional chaplaincy degrees offer 2 paths to complete your CPE training:
Residential Intensives
These ACPE-accredited courses are taught as 1-week on-campus intensives by Liberty's ACPE-certified educators.
You will work at a clinical site near you with guidance and approval from our CPE program director.
Online Mentoring
These 100% online courses are taught by Liberty's chaplaincy professors.
You will work through an accredited CPE training program in your area and gain additional skills and training with the mentorship of Liberty's experienced chaplaincy professionals.
---
What Will You Learn in Our Master's in Chaplaincy and Healthcare Degree?
As a chaplain, you will need the same foundational training as pastors and other evangelical leaders. Our professional chaplaincy degree will provide you with courses covering these foundational topics. You'll study subjects like biblical leadership, world religions, expository preaching, theology, and more. Upon successful completion of this program, you will be able to:
Develop a global Great Commission perspective that demonstrates the proclamation and application of the Gospel and disciple-making process.
Examine major critical issues in the Old and New Testaments from a conservative evangelical perspective while exhibiting knowledge of the literature appropriate to the discipline of biblical studies.
Examine theological positions on key doctrinal questions and issues in Christian thought.
For your healthcare concentration, you will take courses on resilient leadership and healthcare chaplaincy. You can also personalize your degree to fit your specific career goals. You may choose to complete CPE units as residential intensives or with a CPE program in your community – or you could choose to complete an internship. Either of these options will provide you with hands-on experience in chaplaincy prior to graduation.
Review the Degree Completion Plan, and check out our featured courses below to learn more about what you'll be studying!
Featured Courses
CHPL 500 – Introduction to Chaplaincy Ministry
CHPL 598 – Spiritual and Professional Development of the Chaplain
CHPL 615 – Chaplain Ethics for Advisement and Pastoral Care
CHPL 681 – Healthcare Chaplaincy
Highlights of Our M.Div. in Professional Chaplaincy Degree
Monday-only classes for master's programs allow students to complete large portions of their M.Div. degree by only attending class one day a week.
We have a state-of-the-art homiletics teaching lab in our John W. Rawlings School of Divinity building.
Study under theologians and missionaries with real-world experience.
Institutional Challenge Exams (ICE) are available to test out of foundational biblical and theological studies content for the M.Div. program.
Our Scriptorium houses the Rawlings Foundation rare books collection valued at over $1 million, a 111-foot-long Torah scroll that dates to the 16th century, and a functioning replica of the Gutenberg Printing Press.
You will have the option of completing Clinical Pastoral Education (CPE) units as a part of your program.
Local church ministry training is embedded within our programs.
We provide experiential learning opportunities through church and parachurch ministries.
M.Div. in Professional Chaplaincy – Healthcare Degree Information
Career Opportunities for M.Div. in Professional Chaplaincy – Healthcare Graduates
Hospice chaplain
Hospital chaplain*
Pastor
*May require 4 units of CPE and board certification
Admission Requirements for the Master of Divinity Program
Every application is reviewed on a case-by-case basis, and all applicants must submit the following documents and meet the minimum requirements for admission:
Admission application
Official bachelor's degree transcripts with a 2.0 GPA or higher
Self-certification form (for students in the final term of their bachelor's degree)
Current Liberty undergraduate students seeking preliminary acceptance into a graduate program must complete a degree completion application through their ASIST account