Promote a Healthy, Physically Active, and Christ-Centered Lifestyle in Today's Youth
Are you interested in leading our youth to foster a lifetime of being physically, mentally, and spiritually fit? Our Bachelor of Science in Physical Education and Health degree prepares graduates to become competent, problem-solving, and innovative professionals able to design, deliver, and assess health and physical education instruction for grades Pre-K through 12.
There are two tracks to follow, Virginia licensure through the Bachelor of Education (B.Ed.) in Health and Physical Education P-12 and this non-licensure degree. The non-licensure track will give you the same great training as the B.Ed. program but with additional training in coaching in lieu of the student teaching and time spent working as a student aide.
---

Award-Winning Campus
At Liberty, you'll find an affordable, high-quality education that equips students like you for the real world. Our commitment to excellence helped us rank among Niche.com's Top 3 college campuses in America. Earning your degree from a nonprofit university with state-of-the-art resources like ours can help set you apart from your peers.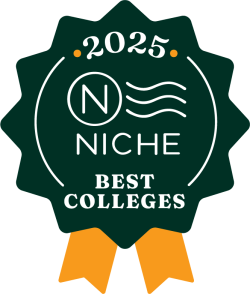 ---
Why Choose Liberty's Physical Education and Health Degree?
At Liberty, our desire is to provide you with a college experience that is spiritually, academically, and socially fulfilling. You'll learn from experienced professionals and enjoy the active spiritual and social aspects of our campus, all while pursuing a degree that will help you enter the field of physical education and health.
Your professors have real-life experience in the field. They are in the classroom and lab with you, teaching and guiding you throughout your coursework. Throughout this program, you're getting hands-on experience in our state-of-the-art labs and in fieldwork related to physical education. By the time you graduate, you will have invaluable experience teaching physical education (PE) classes and working in the various motor development labs.
We want you to have a fulfilling social life while you're here on campus. We have weekly convocation services, campus church, and small groups meant to provide you with a meaningful spiritual life. Additionally, you have plenty of opportunities to get involved with over 200 student-led clubs.
---
What Will You Learn in Our Physical Education and Health Bachelor's Degree?
Pursuing a Bachelor of Science in Physical Education and Health degree from Liberty University means that you will gain practical hands-on training to prepare you for a career in health and physical education.
Throughout this degree, you will:
Learn how to create a dynamic PE or health program in your school or organization.
Review a history of curricular programs and current problems and issues of physical education.
Get an introduction to coaching that will be useful for both school programs and other extra-curricular sporting events.
Study how drug abuse affects individuals and society as a whole.
Study a variety of sport and motor learning development techniques and methods as well as appropriate teaching techniques and skill competencies.
Learn the fundamental skills, relevant strategies, and applicable rules of the major sports and physical activities.
As you progress in the degree program, you will have the opportunity to obtain first-hand experience by observing PE classes at local elementary schools. This will be a great opportunity for you to learn from seasoned professionals and gain invaluable insight into the development and management of PE classes.
View the Degree Completion Plan, and check out our featured courses below for more information on what you'll be studying!
Featured Courses
HLTH 252 – Drugs in Society
In this course, you will learn about alcohol, tobacco, and other drug effects upon individuals, schools, and community.
HLTH 402 – The School Health Program
Here's what you'll learn:
School health program philosophy and K-12 curriculum
Policies, procedures, and methods for the teaching of health education
PHED 189 – PE Observations in Schools
Here's what you'll learn:
How to teach physical education in the elementary school setting and adapt physical education for the exceptional child
The student must observe a minimum of twenty hours in an elementary program
SMGT 300 – Introduction to Coaching
Here's what you'll learn:
The roles, qualifications, responsibilities, and skills required of coaches during and off-season
Issues affecting coaches both on and off the field
Highlights of Our Physical Education & Health Degree
Gain hands-on experience in our Human Performance Lab, Motion Analysis Lab, Functional Assessment Labs, and Standardized Patient Assessment Lab.
If you are interested in getting your license as a physical education teacher, check out the Bachelor of Education (B.Ed.) in Health and Physical Education P-12.
There are opportunities to be involved in research projects with faculty as an undergraduate student.
Physical Education & Health Degree Information
Career Opportunities for Physical Education & Health Graduates
Athletic administrator
Coach/referee
Director of youth camps/sports programs
Health education teacher
Physical education (PE) teacher
Admission Requirements for Undergraduate Degrees
Every application is reviewed by the admission committee on a case-by-case basis, meaning there are no set minimums for acceptance. However, all applicants must submit the following documents* for admission:
Admission application
Official high school transcripts
Official college transcripts (if applicable)
Results from the CLT, SAT, or ACT are not required for admission, but may be used in consideration for merit-based aid.
Admission essay
*Note that additional documentation may be requested by the admission committee after your application has been received.