Teach Healthy Habits with a Degree in Health and Physical Education
Physical health and exercise are vital components of living a full, happy, and healthy life. As someone who understands this, you may be ready to share your knowledge with the next generation. By pursuing Liberty University's Bachelor of Education (B.Ed.) in Health and Physical Education P-12, you can learn how to teach health and P.E. to students so they can lead active, fulfilling lives.
With our health and physical education degree, you will also be taking steps towards your teaching license. This can prepare you to enter your career as a health and P.E. teacher upon graduation. Partner with us today so you can start making an impact on young lives.
Upon successful completion of Liberty University's Virginia state-approved Bachelor of Education program, you may apply for your teaching license in another state through reciprocity, which may or may not result in additional requirements based on your state's Department of Education regulations.
---
Award-Winning Campus
At Liberty, you'll find an affordable, high-quality education that equips students like you for the real world. Our commitment to excellence helped us rank among Niche.com's Top 3 college campuses in America. Earning your degree from a nonprofit university with state-of-the-art resources like ours can help set you apart from your peers.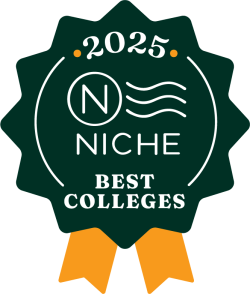 ---
Why Choose Liberty's Health and Physical Education Degree?
Earning your teaching license is an essential step in your path to becoming an educator. We want to come alongside you to make the process as seamless as possible. Since true work experience is the best way to gain confidence as a teacher and is required for licensure, we offer practicum and student teaching opportunities to provide you with valuable classroom training.
Our School of Education has a team dedicated to overseeing your practicum experience to ensure that you are prepared to take on a class full of students. You will have the chance to complete your student teaching in various locations throughout Virginia as well as in Washington, D.C., through one of our fellowship programs. Here, you can experience the urban school setting while staying in the heart of D.C. for an entire semester!
Schools and students alike are desperate for teachers who are well-educated, enthusiastic, and compassionate toward their students. As one of the largest providers of teachers in the Commonwealth of Virginia, Liberty wants to help prepare you to teach with integrity and strong Christian ethics. Because as an educator, you have the chance to make a huge impact on the lives of children from all types of backgrounds. Prepare for this responsibility by partnering with us.
---
What Will You Learn in Our B.Ed. in Health and Physical Education?
Throughout your degree, you will learn valuable professional skills including oral and written communication, mathematics, and Christian principles. Your major will consist of courses that focus on education, hands-on learning, and physical education.
You will learn how to properly teach a classroom of students by learning topics like content measurement and evaluation, curriculum fundamentals, and in-class teaching. Through your health and physical education courses, you will learn about human anatomy, nutrition, drugs in society, and motor learning. You will also learn how to teach a variety of sports, including:
Basketball
Flag football
Soccer
Tumbling
Volleyball
Weightlifting
Review the Degree Completion Plan, and check out our featured courses below to learn more about what you'll be studying!
Featured Courses
EDUC 360 – Foundations of Education
Here's what you'll learn:
A comprehensive survey of the historical, philosophical, psychological, and sociological foundations of American education
How to articulate your personal philosophy of education
The educational foundations that are found in Scripture and the applicability of these to both the Christian School Movement and the public school system
EXSC 310 – Physiology of Exercise
Here's what you'll learn:
A study of the effects of exercise on the major systems of the human body including the cardiorespiratory, neuro-muscular, glandular, and digestive systems
Influencers on human exercise including climate, altitude, and ergogenic aids
PHED 101 – Physical Fitness
Here's what you'll learn:
Aerobic exercise, strength, and flexibility development
Fundamentals of personal physical fitness
PHED 207 – History and Foundations of Physical Education
Here's what you'll learn:
An overview of the physical education teaching profession
The historical development, philosophical perspectives, curricular programs, and current problems and issues of physical education
Highlights of Our Bachelor of Education Degree
Liberty University's School of Education meets rigorous national standards for educator preparation set by the Council for the Accreditation of Educator Preparation (CAEP).
Pursuing one of our Bachelor of Education licensure tracks may make you eligible for the Federal TEACH Grant.
You will complete

90 practicum hours and at least 1 full semester of student teaching prior to graduation

.
The Educational Technology Lab provides students with resources, software, and equipment to help promote learning with technology.
All of our faculty who oversee licensure courses have K-12 experience and a current teaching license.
You will have the opportunity to complete your student teaching in various locations throughout Virginia, including the Washington, D.C., public school system through our Washington Fellowship.
Career Opportunities for B.Ed. in Health and Physical Education Graduates
Upon successful completion of the Bachelor of Education, you will be prepared with a well-respected degree in education and endorsement for Virginia licensure as well as 90 practicum hours and at least 1 full semester of student teaching. This degree will equip you with all the necessary resources, tools, and knowledge needed to succeed as a P-12 health and physical education teacher.
Admission Requirements for Undergraduate Degrees
Every application is reviewed by the admission committee on a case-by-case basis, meaning there are no set minimums for acceptance. However, all applicants must submit the following documents* for admission:
Admission application
Admission essay
Official college transcripts (if applicable)
Official high school transcripts
Results from the CLT, SAT, or ACT are not required for admission, but may be used in consideration for merit-based aid.
*Note that additional documentation may be requested by the admission committee after your application has been received.