Teach, Research, and Contribute with a Doctorate in Engineering
With your expertise, you already have the necessary skills to be a successful engineer. Now, you can advance your career to the next level by engaging in research projects that contribute new knowledge to the engineering field. Publish papers that display your acumen in the field and gain hands-on experience as you teach an actual engineering class. You will be partnered with another instructor to guide you through the initial steps of teaching until you are able to teach a course of your own.
Through Liberty University's doctoral engineering program, you can gain the technical knowledge and experience you desire as well as work on new projects that will contribute to the field as a whole. If you are interested in advanced aspects of engineering, applied physics, materials engineering, material science, or system design, then our doctoral engineering degree program may be for you. You can contribute to the field of research, further your career, and collaborate with other engineering professionals as you work together to increase your skills in business and the engineering process.
Available Degree Program
Doctor of Philosophy (Ph.D.) in Engineering — Our Ph.D. in Engineering degree covers advanced fields of engineering, applied physics, materials engineering, material science, and system design.
Why Choose Liberty's Doctorate in Engineering?
Our engineering doctoral degree provides you with the chance to develop and establish your credentials as a well-rounded senior engineer. You will gain skills in engineering, and you will increase your teaching abilities. In addition, you will be involved in research projects where you will gain hands-on experience as you are contributing to the overall knowledge base in the field of engineering.
Throughout this program, you will have access to the Center for Engineering Research and Education (CERE) facility, where you will be able to work with some of the latest in technology and equipment. You will also have the ability to gain funding for your research from corporations, national labs, and research labs.
Here are some of the additional resources that will be available to you while you're pursuing Liberty's Ph.D. in Engineering:
The School of Engineering plans to host a yearly workshop with other institutions both nationally and internationally in which research progress is promoted and discussed.
You will graduate with 3 published articles and at least 1 conference presentation to strengthen your résumé.
50% of your assistantship will be dedicated to research.
You will have access to the latest technology and qualified faculty members who want to know you personally and provide you with opportunities for education, research, and training in a Christ-centered environment.
You may have the opportunity to collaborate with local engineering firms on projects that will benefit communities around the world.
Liberty University's Center for Engineering Research and Education (CERE), located in nearby Bedford County, Va., promotes research and development of all forms of energy generation, storage, transmission, and this state-of-the-art facility.
Award-Winning Campus
At Liberty, you'll find an affordable, high-quality education that equips students like you for the real world. Our commitment to excellence helped us rank among Niche.com's Top 3 college campuses in America. Earning your degree from a nonprofit university with state-of-the-art resources like ours can help set you apart from your peers.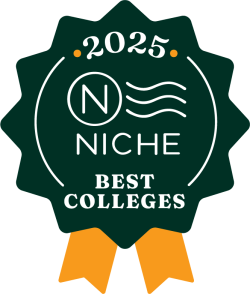 Ph.D. in Engineering Degree Information
Residential format
63 total hours
Transfer in up to 42 credits
View this program's course catalog
Admission Requirements for Doctoral Engineering Degrees
Every application is reviewed by the admission committee on a case-by-case basis, meaning there are no set minimums for acceptance. However, all applicants must submit the following documents* for admission: