Learn How to Teach Mathematics to the Next Generation with a Bachelor of Education in Mathematics
Do you want to teach middle or high school students how math can be useful, fun, and interesting? With a math education degree, you can become more prepared to help students grow into successful adults and encourage them to pursue careers in science, technology, engineering, and math (STEM). Pursuing educational studies in mathematics can help you prepare to teach math to students so they can move toward a brighter future.
Liberty's B.Ed. in Mathematics Education (6-12) seeks to help provide the preparation and credentials you'll need to teach upon graduation. With hands-on experience applying what you learn in a classroom, you can be better prepared to develop the teaching skills you need to help students engage with your lessons. Our teacher preparation program combines many courses found in a traditional mathematics degree with those of a secondary education degree so that you can effectively teach the next generation of business professionals, engineers, and educators.
So don't wait any longer! You want to start your career journey, and we want to help you get there. Pursue our teacher licensure track in mathematics education, so you can get the tools you need to be career-ready upon graduation. Start changing the world by molding the future.
Upon successful completion of Liberty University's Virginia state-approved Bachelor of Education program, you may apply for your teaching license in another state through reciprocity, which may or may not result in additional requirements based on your state's Department of Education regulations.
---
Award-Winning Campus
At Liberty, you'll find an affordable, high-quality education that equips students like you for the real world. Our commitment to excellence helped us rank among Niche.com's Top 5 college campuses in America. Earning your degree from a nonprofit university with state-of-the-art resources like ours can help set you apart from your peers.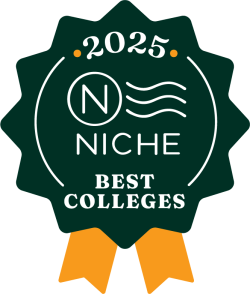 ---
Why Choose Liberty's B.Ed. in Mathematics Education (6-12) Degree?
Pursuing your teaching license is a big deal! We want to partner with you as you seek to earn our secondary math degree and teach students. Our professors will help mentor you so that the process of becoming a licensed teacher is as straightforward as possible. They have years of teaching experience and work in the field of mathematics education, so you can be confident that they are providing you with a world-class education.
Within our School of Education, we have a team dedicated to overseeing your practicum experience to ensure that you are prepared to take on a class full of students. With practical and hands-on experience in the classroom, you can receive the perfect combination of theory and praxis. 
You will have the chance to complete your student teaching in various locations throughout Virginia as well as in Washington, D.C., through one of our fellowship programs. Here, you can see the urban school setting and stay in the heart of the district for an entire semester!
Our nation is desperate for teachers who are well-educated, enthusiastic, and compassionate toward their students. Liberty is one of the largest suppliers of teachers in the Commonwealth of Virginia. We seek to help prepare you to teach with integrity and strong Christian ethics – because as an educator, you have the chance to make a huge impact on the lives of children from all types of backgrounds. Prepare yourself for this responsibility by partnering with us.
---
What Will You Learn in Our B.Ed. in Mathematics Education (6-12)?
Earning teacher licensure in mathematics for grades 6-12 means that you will need to be prepared to tackle challenges in many important teaching areas. That's why this degree provides the curriculum and experience you'll need to be career-ready.
With a B.Ed. in Mathematics Education, you'll take all the foundational math courses you need like calculus and analytic geometry, mathematical reasoning, statistics, linear algebra, and abstract algebra. We seek to partner with you so that you can also gain a strong foundation in teaching topics and learn how to develop effective lessons and exercises.
Additionally, you'll study all the areas you need as an educator as well as participate in 90 practicum hours and at least 1 full semester of student teaching. Some of the education courses you'll take include:
Content instructional design
Foundations of education
Introduction to applied education technology practicum
Seminar in classroom management
Teaching math in secondary schools
View the Degree Completion Plan, and check out our featured courses below to learn more about what you'll be studying!
Featured Courses
EDUC 235 – Content Instructional Design
Here's what you'll learn:
Course development processes
Learning objectives
Systematic approaches to instruction for diverse classrooms
Systems of evaluation
MATH 131 – Calculus and Analytic Geometry
Here's what you'll learn:
Continuity
Exponential, logarithmic, and inverse trigonometric equations
Functions and graphs
L'Hopital's Rule
Limits and derivatives
Techniques and applications of differentiation
The integral
MATH 200 – Introduction to Mathematical Reasoning
Here's what you'll learn:
Direct and indirect methods and proof by induction
Set theory, discrete structures, axiomatic systems, recursion, and basic algebraic structures (groups, rings, fields)
Symbolic logic
The principles of mathematical reasoning and the construction of proofs
MATH 321 – Linear Algebra
Here's what you'll learn:
Determinants, abstract vector spaces, bases, linear independence, spanning sets, linear transformations, characteristics and minimal polynomials, eigenvalues and eigenvectors, diagonalization, similarity, coordinate change, orthogonality, and matrix factorizations
Linear algebra and its applications, including systems of linear equations, linear programming, null space, and rank of matrices
Highlights of Our Bachelor of Education Degree
Liberty University's School of Education meets rigorous national standards for educator preparation set by the Council for the Accreditation of Educator Preparation (CAEP).
Pursuing our Bachelor of Education licensure tracks may make you eligible for the Federal TEACH Grant.
You will complete

90 practicum hours and at least 1 full semester of student teaching prior to graduation.

The Educational Technology Lab provides students with resources, software, and equipment to help promote learning with technology.
All of our faculty who oversee licensure courses have K-12 experience and a current teaching license.
You will have the opportunity to do your student teaching in various locations throughout Virginia, including the Washington, D.C., public school system through our Washington Fellowship.
Career Opportunities for Mathematics Education Graduates
Upon successful completion of the 100% online B.Ed. in Mathematics Education, you will be prepared with a well-respected degree in education and Virginia licensure as well as 90 practicum hours and at least 1 full semester of student teaching. This degree will equip you with all the necessary resources, tools, and knowledge needed to succeed as a middle school or high school teacher.
Liberty's Bachelor of Education in Mathematics Education degree provides the possibility of obtaining a variety of mathematics-related jobs, such as:
Accountant
Actuarial mathematics advisor
Applied mathematics advisor
Computer science technician
Data processor
Engineer
Finance/insurance consultant
Mathematician
Mathematics educator
Meteorologist
National defense/military mathematician
Operations researcher
Statistics engineer
Admission Requirements for Undergraduate Degrees
Every application is reviewed by the admission committee on a case-by-case basis, meaning there are no set minimums for acceptance. However, all applicants must submit the following documents* for admission:
Admission application
Admission essay
Official college transcripts (if applicable)
Official high school transcripts
Results from the CLT, SAT, or ACT are not required for admission, but may be used in consideration for merit-based aid.
*Note that additional documentation may be requested by the admission committee after your application has been received.