Combine Two Growing Fields with Our B.S. in Informatics – Healthcare Informatics Degree
In the field of healthcare, information technology is revolutionizing how hospital professionals manage and utilize data to improve patient care. The need for healthcare information technicians is expected to grow 13 percent by 2026, which is faster than most career fields.* For those who love technology and working with computers, there is no better time than now to pursue a degree that can get you into this career field.
If you are looking to become part of this growing field, Liberty University's Bachelor of Science in Informatics – Healthcare Informatics will help you get there. Our experienced professors, grounded in their Christian faith, will prepare you for a rewarding career combining information technology and healthcare. You will learn about information systems, databases, and information technology security as well as the medical coding system used in the United States to identify medical procedures and information. The training you get will help you serve patients as you serve God and ensure that your career is both financially rewarding and spiritually fulfilling.
Bureau of Labor Statistics, U.S. Department of Labor, Occupational Outlook Handbook, Medical Records and Health Information Technicians, (visited October 25, 2020). Cited projections may not reflect local and/or short-term economic or job conditions and do not guarantee actual job growth.
---
Award-Winning Campus
At Liberty, you'll find an affordable, high-quality education that equips students like you for the real world. Our commitment to excellence helped us rank among Niche.com's Top 5 college campuses in America. Earning your degree from a nonprofit university with state-of-the-art resources like ours can help set you apart from your peers.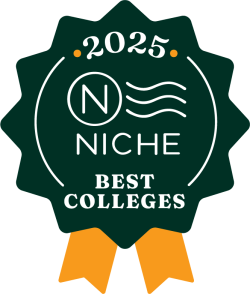 ---
Why Choose Liberty's Bachelor's Degree in Informatics – Healthcare Informatics?
A bachelor's degree in healthcare informatics from Liberty University will help you enter a career field that is both stable and expanding. Our experienced professors will train you in the skills and knowledge you need to manage and safeguard patient information. You can look forward to receiving hands-on training with our state-of-the-art information technology equipment.
During your time with us, you can look into joining some of the student organizations we have on campus! You can meet other like-minded individuals and have more opportunities to hone your skills with special events and competitions. Student organizations are a great chance to make connections for future career opportunities.
Another way you can make the most of your degree is through our Business Internship Program. As one of the largest Christian universities in the nation, we have the resources to help you find an internship with companies and government organizations all around the country. This is an excellent opportunity to get the work experience you need in a professional setting. Working alongside professionals in the field, you can learn things not taught in class and turn your classroom knowledge into real-life experience.
---
What Will You Learn in Our B.S. in Informatics – Healthcare Informatics Program?
Liberty University's B.S. in Healthcare Informatics provides advanced training in the use of information technology in the healthcare field. From IT experts, you will learn about database management systems, web architecture, and system development. Since your interest also extends into the healthcare field, you will study medical terminology through a course given by a healthcare professional. As you will be working with many healthcare professionals, you'll need to feel comfortable using their medical language. Our healthcare informatics courses will cover everything from pharmacology to the coding and classification systems used in the healthcare industry.
Throughout this degree, you will explore the overall planning and development process of a healthcare enterprise system. How to implement, maintain and update such a system will be covered so that you have the tools you need to be successful in the healthcare informatics field.
Download and review our healthcare informatics Degree Completion Plan.
Featured Courses

INFO 310 – Foundations of Pharmacology
Here's what you'll learn:
Foundational review of the relationship between pharmacologic and pharmacokinetic knowledge; safe administration of medication; emphasis on the reasoning behind selection of route, dosage, and dosing schedules of medications provided to patients across their lifespan; legal and professional issues surrounding the safe administration of medication.
INFO 320 – Healthcare Informatics
Here's what you'll learn:
Evaluates the needs of end-users within the healthcare system; multi-phase project planning, evaluation, adoption, and management of new technologies centered on effectively and efficiently exchanging electronic health information; evaluation of medical practice workflows and exploration of the functional needs of end-users while analyzing the fiscal and human resource commitments needed in diverse settings.
INFO 321 – Healthcare Coding and Classification
Here's what you'll learn:
Development of coding and classification systems; analysis of the structure and organization of the medical coding function within the healthcare system; emphasizing the importance of ICD and CPT coding considerations, process evaluation and improvement, billing reimbursement, and related reporting issues central to effective and efficient operation and compliance.
INFO 410 – Healthcare Enterprise Systems
Here's what you'll learn:
Healthcare enterprise architecture planning, methodology, and frameworks; medical classification and coding systems including health record system design and implementation.
Our Healthcare Informatics Bachelor's Degree Information
Career Opportunities for Our B.S. in Informatics – Healthcare Informatics Graduates
Clinical informatics specialist
Director of clinical informatics
Health information systems manager
Healthcare project manager
Informatics systems analyst
Admission Requirements for Undergraduate Degrees
Every application is reviewed by the admission committee on a case-by-case basis, meaning there are no set minimums for acceptance. However, all applicants must submit the following documents for admission:
Admission application
Official high school transcripts
Official college transcripts (if applicable)
Results from the CLT, SAT, or ACT are not required for admission, but may be used in consideration for merit-based aid.
Admission essay
 *Note that additional documentation may be requested by the admission committee after your application has been received.
Highlights of Our Bachelor's in Informatics- Healthcare Informatics Degree Program
Our School of Business has its own 78,000 square foot building with computer labs, a networking and data center, student and faculty common areas, and modern classrooms outfitted with the latest technology.
We have industry experts teaching you on the different aspects of this healthcare informatics degree. Healthcare professionals will teach you about medical information, and IT professionals will teach you about information technology.
Like Liberty's entire faculty, our professors care about the success and outcomes of each student.
You have the opportunity to train and graduate with a variety of certificates such as Microsoft, SAP, Cisco, etc.