Develop Skills in a Variety of Business Areas with Our BSBA in Interdisciplinary Business
Are you looking to gain a variety of business skills to help prepare you for your future? Explore the exciting intersection of business administration and data analysis through our Bachelor of Science in Business Administration (BSBA) and Data Analysis – Interdisciplinary Business. With this academic path, you can gain knowledge in a wide range of practical aspects of business along with the transformative potential of key business principles.
In today's fast-paced, digital world, businesses and organizations are increasingly realizing the power of data to drive decision-making and strategic planning. This degree offers you the chance to be part of that shift. The skills you gain can help you become a highly valued asset to companies and communities alike. Organizations are constantly seeking professionals who have knowledge of business principles and can decipher complex data sets and extract meaningful insights to help them grow, become more efficient, and better serve their customers or constituents. With the interdisciplinary skills you can develop with our business degree, you could fill this critical role, contributing to societal progress and economic success.
As a BSBA – Interdisciplinary Business program graduate, you can find yourself at the forefront of a data-driven world, equipped with the knowledge and skills to make a significant impact. Embarking on this academic journey with a specialization in Interdisciplinary Business can be a rewarding and transformational experience, opening doors to a future of endless possibilities.
---
Award-Winning Campus
At Liberty, you'll find an affordable, high-quality education that equips students like you for the real world. Our commitment to excellence helped us rank among Niche.com's Top 5 college campuses in America. Earning your degree from a nonprofit university with state-of-the-art resources like ours can help set you apart from your peers.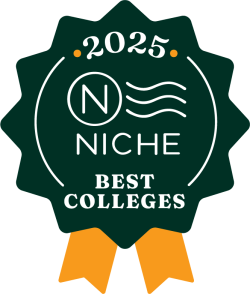 ---
Why Choose Liberty's Bachelor's in Business Administration and Data Analysis – Interdisciplinary Business Degree?
As a residential student at Liberty, you can experience the unique blend of academic rigor and spiritual enrichment our university offers. The on-campus experience at Liberty allows you to build strong connections with faculty and fellow students, fostering a vibrant community of believers committed to academic excellence. You will also have access to our state-of-the-art facilities, which can provide you with the ideal environment to study, explore, and grow.
Liberty's faculty consists of seasoned professionals who bring their practical experience and academic expertise to the classroom. They are passionate about helping you develop professional skills that you can use to succeed in the business world. Furthermore, our curriculum is designed to cater to the needs of the modern business landscape, where data analysis and business strategy go hand in hand.
Being on campus gives you the opportunity to engage in numerous extracurricular activities, clubs, and events that further enhance your skills and enrich your university life. These experiences can broaden your horizons and foster personal growth, leadership, and teamwork abilities. As a residential student, you can fully immerse yourself in Liberty's culture, experiencing firsthand our commitment to developing Champions for Christ in the business world and beyond.
Choosing our School of Business for your BSBA – Interdisciplinary Business can help prepare you for a rewarding career path in the ever-evolving world of business and data. At Liberty, we strive to provide you with an enriching on-campus experience that resonates beyond the classroom, shaping not just your career but also your character.
---
What Will You Learn in Our BSBA – Interdisciplinary Business Degree?
Our interdisciplinary business degree has been meticulously designed to offer you a comprehensive understanding of various crucial aspects of business and data analysis. As you navigate through our BSBA curriculum, you can gain a thorough understanding of different concepts, principles, and practices in these fields.
The BS in Business Administration – Interdisciplinary Business program helps develop fundamental principles that are at the core of any business endeavor. You can gain insights into the intricate workings of the business experience and intermediate business computer applications. You'll explore personal finance, equipping you with the knowledge to make astute financial decisions. In conjunction with this, you'll study managerial principles that can offer you a broader perspective on how to lead, motivate, and manage teams efficiently. This program will cover strategies for effective management and help you develop leadership skills that could potentially enhance your career prospects.
In addition, our financial principles course can enable you to understand, interpret, and use financial statements to assess a company's performance and make informed business decisions. The course in legal and ethical concepts for decision-makers can help you understand essential aspects of the American legal system in the context of business decision-making, equipping you with the knowledge to navigate complex legal landscapes and uphold ethical standards. Our human resource management course offers you insights into the management of an organization's most vital assets – its people. From recruitment to performance assessments, you can study various aspects of human resource management that can help in creating productive and positive workplaces.
Our interdisciplinary business specialization allows you to combine electives from different programs to create a degree tailored to your professional goals. With this unique blend of courses, you can explore a broad spectrum of business concepts and prepare for a successful career in an ever-evolving business landscape.
View the Degree Completion Plan and check out our featured courses below to learn more about what you'll be studying!
Featured Courses
ACCT 211 – Financial Principles
BUSI 301 – Legal and Ethical Concepts for Decision Makers
BUSI 330 – Principles of Marketing
ECON 214 – Principles of Macroeconomics
Highlights of Our BS in Business Administration – Interdisciplinary Business Degree
BS in Business Administration – Interdisciplinary Business Degree Information
Potential Career Opportunities for BSBA – Interdisciplinary Business Graduates
Brand manager
Business analyst
Economist
Human resource manager
Marketing specialist
Admission Requirements for Our BSBA Undergraduate Degrees
Every application is reviewed by the admission committee on a case-by-case basis, meaning there are no set minimums for acceptance. However, all applicants must submit the following documents* for admission:
Admission application
Official high school transcripts
Official college transcripts (if applicable)
Results from the CLT, SAT, or ACT are not required for admission, but may be used in consideration for merit-based aid.
Admission essay
*Note that additional documentation may be requested by the admission committee after your application has been received.