Make an Impact on Your Community with a BS in Business Administration and Data Analysis – Nonprofit Management
Are you ready to make a real difference in the world? Imagine yourself at the forefront of an organization using your skills in business administration and data analysis to create a meaningful impact for the greater good. Our Bachelor of Science in Business Administration (BSBA) and Data Analysis – Nonprofit Management program is designed just for you! This unique program can help equip you with the knowledge and tools needed to excel in the nonprofit sector, where you can have the opportunity to truly transform lives.
As you embark on this exciting journey, you can develop a strong foundation in business principles while also gaining a deep understanding of the nonprofit world. Our program can teach you how to effectively manage budgets, analyze data, and make data-driven decisions that can help your organization thrive. Additionally, you can learn about the unique challenges and opportunities that nonprofits face, preparing you to be a successful leader who's ready to tackle any obstacle.
Picture yourself in the classroom learning from experienced professors who are passionate about empowering the next generation of nonprofit leaders. Together, you can explore topics like personal finance, data analytics for decision-making, marketing, and leadership essentials, all tailored specifically for nonprofit organizations. Your education can be hands on, with plenty of opportunities for internships, real-world projects, and networking events. Get ready to roll up your sleeves and make a lasting impact on the world – it all starts here with our BS in Business Administration and Data Analysis – Nonprofit Management program.
---
Award-Winning Campus
At Liberty, you'll find an affordable, high-quality education that equips students like you for the real world. Our commitment to excellence helped us rank among Niche.com's Top 5 college campuses in America. Earning your degree from a nonprofit university with state-of-the-art resources like ours can help set you apart from your peers.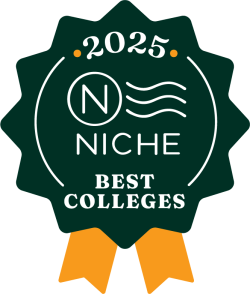 Why Choose Liberty's BS in Business Administration and Data Analysis – Nonprofit Management Degree?
Why should you choose Liberty University's BS in Business Administration and Data Analysis – Nonprofit Management degree? The answer is simple: at Liberty, we believe in providing you with an education that combines cutting-edge business skills with a strong sense of purpose. When you join our program, you're not just becoming a student – you're joining a community of like-minded individuals who are passionate about making a positive impact on the world.
At Liberty, our expert faculty will guide you every step of the way, ensuring you receive a top-notch education that can help prepare you for success in the nonprofit sector. Liberty is proud to hold accreditation through the Southern Association of Colleges and Schools Commission on Colleges (SACSCOC), demonstrating our ongoing commitment to helping students pursue excellence.
But it's not just about academics. At Liberty, you can be part of a supportive community that shares your passion for making a difference. From networking events to student clubs, you can find countless opportunities to connect with others who share your vision for a better world. And with our strong commitment to ethics and integrity, you can be confident that you're receiving an education that aligns with your values.
---
What Will You Learn in Our BS in Business Administration and Data Analysis – Nonprofit Management Degree?
Our bachelor's in business administration with a specialization in nonprofit management can provide you with a comprehensive curriculum that covers essential business and data skills, all tailored to the unique needs of nonprofit organizations. As you progress through the program, you can gain the knowledge and expertise required to excel in this dynamic field.
As a student in the BS in Business Administration program, you'll have the opportunity to learn core business and data analysis concepts, including personal finance, business research methods, and financial principles. You can develop the skills you need to make effective management decisions and lead organizations to success. The courses throughout this program can also help prepare you to navigate various challenges in business operations, including political, economic, social, and technological aspects.
Additionally, as part of the nonprofit management specialization, you can gain critical skills in leadership and management. You'll explore important practices and requirements related to nonprofit financial reporting. Furthermore, as you study the fundamentals of project management, you can learn how to lead a project from creation to completion. Not only that, but you can gain an understanding of ways to cultivate donor relationships. This includes making the "ask," overseeing various levels of giving, using effective communication strategies, and managing campaigns. With the skills learned through our BSBA in Nonprofit Management, you can enter the nonprofit career field prepared to make a meaningful impact.
View the Degree Completion Plan, and check out our featured courses below to learn more about what you'll be studying!
Featured Courses

ACCT 409 – Financial Reporting for Nonprofit Entities
BUSI 313 – Foundations of Project Management
BUSI 409 – Nonprofit Management and Governance
BUSI 459 – Donor Development and Fundraising
Highlights of Our BS in Business Administration and Data Analysis – Nonprofit Management Degree
BS in Business Administration and Data Analysis – Nonprofit Management Degree Information
Potential Career Opportunities for BS in Business Administration and Data Analysis – Nonprofit Management Graduates
Brand manager
Business analyst
Human resources manager
Nonprofit marketing specialist
Nonprofit organization director
Admission Requirements for Undergraduate Degrees
Every application is reviewed by the admission committee on a case-by-case basis, meaning there are no set minimums for acceptance. However, all applicants must submit the following documents* for admission:
Admission application
Official high school transcripts
Official college transcripts (if applicable)
Results from the CLT, SAT, or ACT are not required for admission, but may be used in consideration for merit-based aid.
Admission essay
*Note that additional documentation may be requested by the admission committee after your application has been received.