Help Your Organization Win with Our Bachelor of Science in Sport Management Degree
Our Bachelor of Science in Sports Management degree program will help you develop your sports administration skills, so you are prepared for a variety of sports management careers. Designed to teach you the skills you need to direct sporting organizations and events, our B.S. in Sports Management degree provides you with hands-on learning opportunities in our NCAA sports programs. Accredited by the Commission on Sport Management (COSMA), our bachelor's in sports management degree is an effective business-based program that equips you to lead in the sports industry with excellence and integrity.
With multiple areas of specialization to choose from, you can customize your sports management degree to best fit your career goals. Our degree specializations can prepare you for administrative roles with sports teams, working with marketing and communications, starting a sports outreach program, and even venue and event management. We have an area of study that will align with your aspirations and set you up for success in the sporting industry.
At Liberty, our mission is to prepare you to impact the world for Christ wherever God calls you. We believe in combining a quality education that equips you to reach your goals with an emphasis on biblical values and a dedication to excellence. You want to use your bachelor's of sports management degree to achieve great things, and we can help you do it all to the glory of Christ.
---
Award-Winning Campus
At Liberty, you'll find an affordable, high-quality education that equips students like you for the real world. Our commitment to excellence helped us rank among Niche.com's Top 5 college campuses in America. Earning your degree from a nonprofit university with state-of-the-art resources like ours can help set you apart from your peers.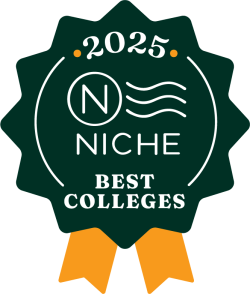 ---
Why Choose Liberty's Bachelor's Degree in Sport Management?
At Liberty University, our sports management program offers a variety of opportunities for professional development while maintaining a close community that encourages and supports you throughout your bachelor's degree. Your professors and classmates will know you by name, pray for you, and mentor you so you, in turn, can reach out to others. Our bachelor's in sports management degree program offers a unique experience demonstrating what it means to have a Christian academic community helping you reach your goals and achieve excellence.
As one of the largest residential Christian colleges in the nation, we have the resources you need to make the most of your bachelor's degree. With programs like our Washington Fellowship, you can gain hands-on experience through exciting internship opportunities without postponing your graduation date. We provide the support and community you need to develop your leadership skills and make the most of your academic achievement.
---
What Will You Learn in Our B.S. in Sport Management Degree Program?
In our sports management bachelor's degree program, you will study the history of the sports industry and how understanding other disciplines such as sociology, finance, and law contribute to the success of a sports team. You will learn how to effectively direct a sports organization and coordinate its communications, marketing, and events to excite fans and draw in sponsors.
Because hands-on experience is essential, our bachelor's in sports management degree requires several internships will build your resume as you test your skills through real-world sports management challenges.
Download and review our B.S. in Sports Management's Degree Completion Plan.
Featured Courses
SMGT 200 – Introduction to Sport Management
This course is designed to provide you with an introduction to the skills and competencies required to pursue career opportunities in the sports industry.
SMGT 310 – Communication in Sports
This course is a macro analysis of the field from personal, organizational, and external perspectives. Special attention is given to historical and theoretical features of the field, personal and organizational communication processes, sports media, services and support systems, and the sociological and legal aspects of the sports industry.
SMGT 406 –Issues and Trends in Sports
This class offers a basic understanding of the developments, trends, and social processes that explain the vast popularity of sporting experiences in society today.
SMGT 410 – Sports Marketing
In this class, you will learn how to apply relevant marketing principles to the sports industry. Special emphasis is placed on strategic planning, product analysis, and the development and presentation of marketing packages to secure sponsorship.
Sport Communications and Public Relations
Highlights of Our Bachelor's in Sports Management Degree Program
In our sports management bachelor's degree program, you will learn from innovative educators who are industry leaders.
You will have opportunities to gain real-world experience with our NCAA Division I programs and 39 club sports teams.
Each semester, you will have the opportunity to attend professional development sessions with our full-time internship coordinator, who will provide you with one-on-one support throughout the internship selection process.
Our sports management program is accredited by the Commission on Sport Management Accreditation (COSMA).
Our B.S. in Sports Management degree program produces graduates of distinction who have earned internships with the MLS National Sales Center and full-time positions with the Florida Panthers, Wake Forest University, the North Carolina High School Athletic Association, and as an account executive with the Portland Timbers.
Our Sports Management Bachelor's Degree Information
Residential 
120 total credit hours
You may Transfer in up to 75% of your total degree.
This bachelor's degree program falls under our School of Business.
View our bachelor's in sports management Degree Completion Plan.
Find more information about our bachelor's degree in sports management program in our Course Catalog.
Career Opportunities for Our B.S. in Sports Management Graduates
Advertising
Collegiate athletic administration
Event management
Facility and arena management
Front office position with a professional team
Marketing
National sport governing bodies
Nonprofit organizations
Private sports enterprises
Resort management
Ticket operations/sales
Admission Requirements for Undergraduate Degrees
Every application is reviewed by the admission committee on a case-by-case basis, meaning there are no set minimums for acceptance. However, all applicants must submit the following documents* for admission:
Admission application
Official high school transcripts
Official college transcripts (if applicable)
Results from the CLT, SAT, or ACT are not required for admission, but may be used in consideration for merit-based aid.
Admission essay
*Note that additional documentation may be requested by the admission committee after your application has been received.