Learn How to Excel at Event Planning with a Conference and Event Management Degree
Many hotels and resorts have large conference rooms and facilities to host events, conferences, and executive meetings. Many pieces have to be perfectly coordinated so your guests can concentrate on their meeting. It takes visualizing what will take place, developing a plan, and then executing that plan to be successful in this industry. Liberty's Bachelor of Science in Hospitality Management – Conference and Event Management can help you gain the skills you need to thrive in this exciting field.
Your conference and event management specialization will help you develop the ability to coordinate the different areas involved in events and conferences. You will learn what kind of staff you need, how to control costs, and what other resources are required. Furthermore, you will learn how meetings are an integral part of the hospitality management industry.
In addition to learning event planning, you will discover a wide range of skills and foundational knowledge that can assist you in a variety of hospitality areas. Hotels, resorts, and even cruise ships need professionals like you. Learn how to oversee food service operations, lodging management, and the marketing of goods and services available at the various locations you where might find yourself. Plus, your leadership skills will come into play when you motivate your staff to provide the best service possible for your guests.
Our experienced faculty are focused on providing you with an action-oriented curriculum. Our student-centered classes will provide you with the latest in market-driven instruction – all integrated with a Christian worldview.
Award-Winning Campus
At Liberty, you'll find an affordable, high-quality education that equips students like you for the real world. Our commitment to excellence helped us rank among Niche.com's Top 3 college campuses in America. Earning your degree from a nonprofit university with state-of-the-art resources like ours can help set you apart from your peers.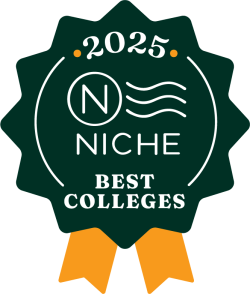 ---
Why Choose Liberty's Bachelor's in Hospitality Management Degree?
At Liberty, we are committed to developing individuals with the values, knowledge, and skills to make a positive impact on tomorrow's world. Our B.S. in Hospitality Management – Conference and Event Management degree can help you act as a Champion for Christ in the event planning industry. Our Department of Sport, Event, and Tourism Management (SETM) has designed this conference and event management degree to give you a wide range of knowledge. This can enable you to work in almost any segment of hospitality, event planning, or conference management.
Our hospitality management program has partnered with local businesses to offer you the kind of experiential learning you need to be successful in the service industry. You will get practical learning in classrooms as well as on-site learning with our industry partners – SODEXO and the Fairfield Inn. Partner with Liberty and get the interdisciplinary training you need to be successful in this exciting industry.
What is event management?
As an event manager, you will often wear many different hats. You may work at creating and developing large-scale events such as conferences, product launches, trade shows, sporting events, and executive meetings. Your job is to make sure that everything goes smoothly so your clients can concentrate on the meeting or event without worrying about the little things. Some of your duties may include selecting and reserving the venue, coordinating with outside vendors, preparing a team of professionals to help you execute the plan, and developing emergency contingency plans in case something goes wrong.
It's an exciting field with lots of moving parts to keep track of like security and crisis management. The reward comes when you see a happy guest or client who tells all of his friends about your hotel or organization.
If you are looking for a career that will always keep you engaged, then this is it!
---
What Will You Learn in Our Bachelor's in Conference and Event Management Degree?
Liberty's conference and event planning management degree can give you the training you need to be successful in a wide variety of areas. We will supply you with the knowledge you need to recommend strategies, processes, and solutions for hospitality organizations that are informed by research outcomes and industry best practices.
The courses in this program will teach you the basic accounting and finance skills you need to run a business successfully. You will also learn human resources skills like recruitment, motivation, development, and labor relations. Additionally, there have been many advancements in technology that are prevalent in all service industry locations. You will learn how these can help you record food costs, keep track of sales, and even manage specific properties that you may have to oversee in your career.
Your conference and event management specialization will further focus on how to successfully plan and execute events, conferences, and meetings. You will learn how to manage product launches as well as the legal issues you might encounter with contracts and using various organizations to execute your event.
Review the Degree Completion Plan, and check out our featured courses below to learn more about what you'll be studying!
Featured Courses
BUSI 313 – Foundations of Project Management
Here's what you'll learn:
How to estimate project times and costs, develop project plans, manage risk, and schedule operations
Modern project management and the fundamental processes of initiating, planning, executing, monitoring, controlling, and closing projects

The inputs, outputs, tools, and techniques

of defining the project
EMGT 320 – Special Events Management
Here's what you'll learn:
The coordination of human, financial, and physical resources
The principles of special event management including the process of planning special events, marketing events, contract management, and legal/ethical issues
EMGT 420 – Conference and Meeting Management
Here's what you'll learn:
The functions of meeting planning, sales, the execution of the event, economic impacts, and connections to the hospitality industry
The theories and practices in the management of meetings, conventions, and expositions
HGMT 200 – Introduction to Hospitality Management
Here's what you'll learn:
An overview of the hospitality industry and professional opportunities
The concepts and practices of hospitality
Highlights of Our B.S. in Hospitality Management Program
Gain hands-on training with local service industry organizations, like SODEXO and the Fairfield Inn.
Learn from professors who are hospitality management professionals with years of experience.
The growing hospitality industry provides excellent career opportunities for graduates.
Your hospitality management training will cover a wide variety of areas, offering you the most flexibility for a career path upon graduation.
The confidence you will gain in your practicum and internship can

help you become successful

in the field.
Our degrees stress ethics and integrity. As a nonprofit, Christian university, we aim to help raise the next generation of hospitality industry professionals who are academically and spiritually prepared to be leaders in the service industry.
Bachelor's in Hospitality Management Degree Information
Career Opportunities for Conference and Event Management Bachelor's Degree Graduates
Administrative services manager
Conference coordinator
Conference planner
Convention service manager
Corporate planner
Event planner
Hotel convention manager
Meeting/event planner
Admission Requirements for Undergraduate Degrees
Every application is reviewed by the admission committee on a case-by-case basis, meaning there are no set minimums for acceptance. However, all applicants must submit the following documents* for admission:
Admission application
Official high school transcripts
Official college transcripts (if applicable)
Results from the CLT, SAT, or ACT are not required for admission, but may be used in consideration for merit-based aid.
Admission essay
*Note that additional documentation may be requested by the admission committee after your application has been received.