Learn How to Better Serve the People in Your Community by Earning a Master of Social Work Degree
Are you passionate about aiding the hurting and oppressed? Do you want to help fight injustice in your community? Are you ready to take the next step in your education and become a licensed social worker?
If so, Liberty's Master of Social Work (MSW) – Advanced Generalist is for you! Our program can help you pursue administrative and supervisory roles in the field of social work. You can also become equipped to sit for social work licensure exams* — so you can pursue the credentials you need to further your career.
This MSW program with the advanced generalist specialization offers a general cognate and an individual and family clinical cognate. No matter which cognate you choose, you'll receive advanced generalist training in social policy, research, and practice — as well as the opportunity to apply what you've learned in the real world.
Partner with us and prepare to promote social justice in your community — and beyond.
*Please note: Each state has unique requirements for becoming a licensed social worker. Be sure to research the requirements in your state.
---
Award-Winning Campus
At Liberty, you'll find an affordable, high-quality education that equips students like you for the real world. Our commitment to excellence helped us rank among Niche.com's Top 5 college campuses in America. Earning your degree from a nonprofit university with state-of-the-art resources like ours can help set you apart from your peers.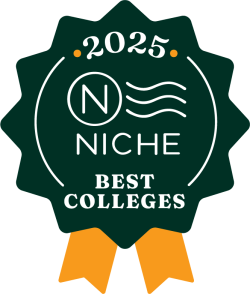 ---
Why Choose Liberty's Master of Social Work Program?
We've designed our MSW program to help you thrive as a student and professional. At Liberty, you can develop the tools needed to serve diverse populations, engage in research-informed practice, and develop social policies rooted in biblical truth.
Here are some of the benefits of choosing Liberty for your Master of Social Work degree:
Practical Learning | You will complete at least 1,000 hours of field experience, allowing you to gain marketable skills and on-the-job training.
Valuable Mentorship | At Liberty, you'll learn from the best. Our MSW professors are experts in the field of social work. Additionally, you'll complete at least 600 hours of social work experience under the supervision of a master's-level social worker.
Biblical Worldview | We believe Scripture provides the most solid foundation for social justice efforts. In our MSW courses, you'll learn how to synthesize biblical principles with best methods in research and practice. That way, you can approach social work with an emphasis on the God-given value of every individual.
Flexible Degree Options | At Liberty, you can personalize your MSW degree and explore the subjects you're most passionate about. Our general cognate allows you to mix and match courses so you can develop a diverse skill set. Or, if you want to specialize in working with families and children, our individual and family clinical cognate is a great option.
---
What Will You Learn in Our MSW Degree Program?
Liberty's Master of Social Work is designed to build on your previous education and experience. Whether you're looking to work directly in the field or help with policy development, our program can help provide the tools you need to succeed.
Throughout our MSW courses, you will learn how to advance social, economic, and environmental justice as well as offer clinically sound interventions. These skills can help you serve a variety of populations, including those struggling with disabilities, substance abuse, unemployment, domestic conflict, or poverty.
Throughout this program, you will:
Advocate for socially just policies that align with biblical truth.
Develop a holistic approach to social work

—

one that accounts for the social, biological, psychological, and spiritual aspects of the human experience.
Discuss national and international events that relate to issues of human rights and social justice.
Examine social policy in America in light of a Christian worldview.
Explore advanced generalist methods for serving individuals, families, groups, organizations, and communities.
Hone your research skills by writing a literature review, proposing a research study, conducting program evaluation research, and completing a research project.
Learn how to create social work programs based on cutting-edge research, ethical principles, and needs evaluation.
Prepare to offer advanced social work services in military, international, mental health, and nonprofit settings.
Understand the cultural values of various groups and evaluate how those values influence day-to-day living.
View the Degree Completion Plan for the general cognate and check out our featured courses below for more information about what you'll learn in our MSW program.
Featured Courses
SOWK 501 – Generalist Social Work Concepts
SOWK 530 – Human Behavior and the Social Environment
SOWK 625 – Social Policy, Justice, and Advocacy
SOWK 650 – Diversity and Cultural Humility