Improve the Workplace with a Degree in Industrial Organizational Psychology
Have you always wanted to improve the lives of others? An exciting degree option for you may be our Bachelor of Science in Psychology: Industrial Organizational Psychology. A program like this will allow you to work with companies to improve the workplace and employee satisfaction. The field of industrial organizational psychology is a unique and exciting way to make a difference in the lives of others. You could go on to a career in human resources, or you could work as a consultant to companies.
Your purpose will be to understand the psychological undercurrents that are impacting morale, employee satisfaction and productivity, and management. So why wait any longer? Start working towards your career today. This industry needs people like you who are passionate about making a positive impact in the lives of others. We're going to help you get there with our industrial organizational psychology degree.
Award-Winning Campus
At Liberty, you'll find an affordable, high-quality education that equips students like you for the real world. Our commitment to excellence helped us rank among Niche.com's Top 3 college campuses in America. Earning your degree from a nonprofit university with state-of-the-art resources like ours can help set you apart from your peers.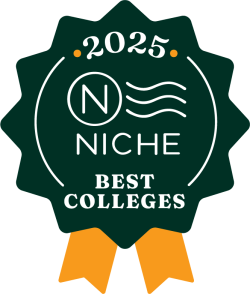 ---
Why Choose Liberty's Psychology: Industrial Organizational Psychology Degree?
At Liberty, we care about offering you the best. That's why we have made sure your professors are professionals, your curriculum is challenging and enriching, and you're getting the experience you need to be successful in your field. We are a teaching university. This means that the professors in the classroom teaching you every week care about your academic journey and will mentor, guide, and support you while you're studying with us.
Plus, our professors have degrees and real-life experience in their field. You're truly learning from the best! Another great opportunity in our industrial organizational psychology degree is the required internship. This will give you the experience you need to be successful in your career or in a graduate school program. You could intern with a school, church, company, or even in Washington D.C.
---
What Will You Learn in Our Psychology: Industrial Organizational Psychology Degree?
We want you to be well-prepared for the career or graduate school you choose after completing your degree with us. That's why we've curated a curriculum that will provide all the foundational and specialized knowledge you need to succeed in your field. You need a strong base of knowledge in psychology to excel in the industrial organizational field. Some of the courses you'll study include personality, research, behavioral modification, multicultural counseling, statistics, and psychological foundations of learning.
Additionally, your industrial organizational courses are going to prepare you for this special field. These courses include:
Consumer Psychology
Experimental Design in Research
Group Dynamics
Industrial and Organizational Psychology
Organizational Behavior and Management
View the Degree Completion Plan, and check out our featured courses below for more information on what you'll be studying!
Featured Courses
PSYC 312 – Social Psychology
Here's what you'll learn:
How the presence of other people affects an individual's behavior
How an individual forms opinions and attitudes about others
Interpersonal attraction, accuracy of eye-witness testimony, impact of television on aggression, and more
PSYC 341 – Psychology of Personality
In this course, you will study the major historical and contemporary theories of the origin and development of personality, emphasizing the role of the dynamics of personality.
PSYC 365 – Psychological Foundations of Learning
Here's what you'll learn:
A study of human learning, including an examination of conditioning, behavioral modeling, cognitive development, and high level thought processes
Models of behaviorism
Social learning, cognitive development, memory, and motivation
Attribution theories
PSYC 420 – Psychology and Christianity
Here's what you'll learn:
The relationship between Christian theology and the science of psychology
Philosophical foundations
The major models of conceptualizing the relationship between the two disciplines
Highlights of Our Psychology: Industrial Organizational Psychology Degree
Christ-centered courses that give you the cutting edge in research and counseling techniques
Multiple areas of study to help you specialize in the career you want to pursue
Faculty-student mentoring in research projects with the potential of presentation publication of your research as an undergraduate student
Multiple psychology events and internship opportunities are available to give you real work and training experience
Academic trips available to Ecuador, New York, and Poland
Our psychology club—Club Psych—allows you to interact with professors and peers in the field
Psychology: Industrial Organizational Psychology Degree Information
Career Opportunities for Psychology: Industrial Organizational Psychology Graduates
Counselor/psychologist with a private practice
Human resources counselor
Occupational psychologist
Residential treatment counselor/psychologist
Substance abuse counselor
Treatment center counselor/psychologist
Workplace improvement consultant
Admission Requirements for Undergraduate Degrees
Every application is reviewed by the admission committee on a case-by-case basis, meaning there are no set minimums for acceptance. However, all applicants must submit the following documents* for admission:
Admission application
Official high school transcripts
Official college transcripts (if applicable)
Results from the CLT, SAT, or ACT are not required for admission, but may be used in consideration for merit-based aid.
Admission essay
*Note that additional documentation may be requested by the admission committee after your application has been received.