Expand Your Studies Beyond History with a Bachelor's in Social Sciences
Do you have an interest in teaching history while expanding your knowledge base in other relevant subject areas? With a Bachelor of Science in Social Sciences from Liberty University, you can receive training in history, geography, government, and economics while learning the necessary skills to become a successful teacher. Your studies will provide you with a global perspective and enable you to understand world societies and cultures.
A degree in social sciences can prepare you for the job market by giving you the writing and research skills needed in many careers. Through your studies, you will gain the ability to express yourself clearly and concisely while you increase your knowledge of the lessons learned from world leaders throughout history.
Students Learning at Liberty University's Mead's Tavern
Award-Winning Campus
At Liberty, you'll find an affordable, high-quality education that equips students like you for the real world. Our commitment to excellence helped us rank among Niche.com's Top 5 college campuses in America. Earning your degree from a nonprofit university with state-of-the-art resources like ours can help set you apart from your peers.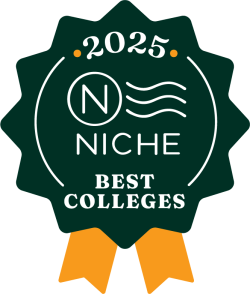 ---
Why Choose Liberty's Bachelor's in Social Sciences Degree?
If you have an interest in history, then you will find Liberty University's campus to be a prime location for historical tours and research. Our location in Central Virginia is close to many historical sites, from Thomas Jefferson's Monticello and Poplar Forest to Liberty's own Mead's Tavern. You can see first-hand documents, artifacts, and architecture that are rich in historical significance to America. Besides being able to visit these locations, Liberty University itself holds a collection of historical books and artifacts in our Scriptorium.
Besides the many opportunities to study history, our social sciences program provides you with even more training in areas like economics, government, and geography. This degree will prepare you to work in areas that require the skills needed to conduct research and analyze large amounts of data. In addition, our chapter of Phi Alpha Theta provides the professional development opportunities you need to start a successful career in social sciences.
---
What Will You Learn in Our Bachelor's in Social Sciences Degree?
Our Bachelor of Science in Social Sciences degree provides you with the well-rounded education you need to be successful in a variety of fields. Your studies focus on U.S. and world history with courses that provide an overview of our nation's founding up until modern times. Understanding the formation of Western civilization will also be a large part of your studies continuing up to present-day Europe and the current situations modern society faces.
Besides history, you will also learn about the relationship between a limited constitutional government and the free enterprise economy and how a Christian worldview relates to government and economics. Learning the effects that international trade can have on local financial and labor markets will also be an area of expanded focus in this social sciences bachelor's degree. 
View the Degree Completion Plan, and check out the featured courses below to learn more about what you'll be studying!
Featured Courses
ECON 213 – Principles of Microeconomics
Here's what you'll learn:
Free market thought, evaluated from the Christian perspective
The supply and demand model used to analyze microeconomic issues including market structures, government regulations, labor market, financial market, and international trade
GOVT 200 – Constitutional Government and Free Enterprise
Here's what you'll learn:
Political and economic ideas, government institutions, free market processes, public issues, economic policy, and political and economic activity
The close relationship between a system of limited constitutional government and the free enterprise economy
Provides an overview of the Christian worldview with regard to government and economics
HIUS 360 – American Economic History
Here's what you'll learn:
The growth of the American economy from the 18th century to the present
The interaction between government, business, and labor with an emphasis on the development of the modern business corporation
HIWD 370 – Comparative Civilizations
This course provides a comparative study of selected world civilizations with attention to the interaction with the West and the dynamics of cultural change.
Highlights of Our Bachelor of Science in Social Science Degree
Mead's Tavern, built in 1763 and now owned by Liberty, serves as an onsite laboratory for hands-on training in history, archaeology, and more! 
A key focus in the Senior Capstone Seminar is connecting students to our Career Center for job searches, mock interviews, etc.
Our chapter of Phi Alpha Theta provides a variety of professional development opportunities. It is dedicated to recognizing and encouraging excellence in the study of history.
Our Phi Alpha Theta chapter has won Chapter of the Year twice in the past 8 years.
Three history majors won the Provost Award for Excellence in Research in 2018.
Bachelor's in Social Sciences Degree Information
Career Opportunities for Bachelor's in Social Sciences Graduates
Archaeologist
Information consultant
Lawyer
Market researcher
Museum curator
Social scientist
Teacher
Admission Requirements for Undergraduate Degrees
Every application is reviewed by the admission committee on a case-by-case basis, meaning there are no set minimums for acceptance. However, all applicants must submit the following documents* for admission:
Admission application
Official high school transcripts
Official college transcripts (if applicable)
Results from the CLT, SAT, or ACT are not required for admission, but may be used in consideration for merit-based aid.
Admission essay
 *Note that additional documentation may be requested by the admission committee after your application has been received.