Prepare to Serve the Deaf Community with Our B.A. in American Sign Language and Interpretation Degree
The need for equal access in public and private forums has never been more prevalent. Whether you desire to be an American Sign Language (ASL) interpreter for a major corporation like Disney or interpret for students in the classroom, partner with Liberty to learn ASL and prepare to engage the deaf community in new and exciting ways. As a top college for sign language,* Liberty is dedicated to providing you with a world-class education.
Our ASL degree program is designed to equip students with the knowledge and skill set needed to bridge communication and cultural gaps as skilled ASL interpreters. Besides the opportunities a degree in ASL interpreting provides for a vocation, there are many other reasons to learn American Sign Language.
There Are Many Opportunities to Use ASL
The Rewards Are More Than Financial
Use Your Skills to Interpret for the Deaf
*Niche.com, 2022 Best Colleges with Sign Language Degrees in America (viewed online February 1, 2022).
**JAMA, Otolaryngology – Head & Neck Surgery, at Declining Prevalence of Hearing Loss in US Adults Aged 20 to 69 Years (viewed online February 1, 2022).
Award-Winning Campus
At Liberty, you'll find an affordable, high-quality education that equips students like you for the real world. Our commitment to excellence helped us rank among Niche.com's Top 5 college campuses in America. Earning your degree from a nonprofit university with state-of-the-art resources like ours can help set you apart from your peers.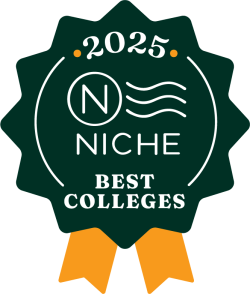 ---
Frequently Asked Questions
What education do American Sign Language interpreters require?
Our ASLI is designed in such a way that graduating students will have taken and passed the Virginia State Quality Assurance screening. After graduating from this program, you can be qualified to interpret in the Commonwealth of Virginia; however, the goal for professional sign language interpreters is to become nationally certified.
The National Interpreter Certification (NIC) assessment is conducted by the Registry of Interpreters for the Deaf (RID) and has both a written and performance component. You are encouraged to take the written portion of this exam immediately upon graduation; however, the performance component may require years of experience before candidates are ready to take the exam. Many recent Liberty graduates have received national certification, and our talented faculty have years of experience in the field — so you can be confident that you're receiving a world-class education!
What is the difference between a Deaf studies major and an American Sign Language interpreting major?
A Deaf studies major typically focuses on the study of Deaf culture and history but not necessarily on American Sign Language or interpretation. Our American Sign Language interpreting degree consists of American Sign Language classes, classes in Deaf studies, and a rich study of the Deaf culture.
Is a degree in American Sign Language interpreting worth it?
A degree in American Sign Language Interpreting is worth it as this field has a 20% (much faster than average) job outlook through 2029!**
**Bureau of Labor Statistics, U.S. Department of Labor, at Interpreters and Translators (viewed online April 23, 2021). Cited projections may not reflect local and/or short-term economic or job conditions and do not guarantee actual job growth.
---
Why Choose Our Bachelor's in American Sign Language Degree?
At Liberty University, we strive to give you the foundation you need to serve as an American Sign Language interpreter who understands, advocates for, and ministers to the Deaf community. When you earn your degree at Liberty, you can be confident that your courses are taught from a Christian worldview by professors who are passionate about living out their faith. You will study under both Deaf and hearing professors, and they will mentor you throughout your degree program and as you begin your career. 
As one of the largest Christian universities in the nation, we're dedicated to giving you the spiritual support you need to be successful in completing your degree. From spending time with your hall leadership to attending convocation and campus community, you'll have many opportunities to seek spiritual guidance and growth.
While you're here, you can build friendships that will last a lifetime. You'll meet students from all 50 states and more than 70 different countries, and you'll have opportunities to connect with them outside of classes through prayer groups, clubs, and other student organizations.
---
What Will You Learn in Our American Sign Language Bachelor's Degree Program?
In the first 2 years of our B.A. in American Sign Language and Interpreting program, you will take general education and introductory ASL courses designed to lay the foundation for your degree. Then you will explore the history and culture of the American Deaf community, preparing you to interact with, serve, and advocate for the Deaf. Whether you're taking a deaf culture class or a sign language class, your professors will seek to challenge and strengthen you as you prepare for an American Sign Language career. 
As you finish your degree, you will complete a practicum and an internship that might include working with Liberty University's Interpreting Services, with the Washington Fellowship, or with various other organizations nationwide.
Because our mission is to Train Champions for Christ, our ASL interpreter program emphasizes integrity and ethical behavior in both interpreting and in life. In fact, the Code of Professional Conduct (CPC) from the Registry of Interpreters for the Deaf (RID) is an integral part of the training that you will receive in our program. Our ASL classes are taught from a biblical worldview and will give you the tools you need to integrate your faith into your professional and personal life.
Whether you want to use your American Sign Language skills in full-time ministry or professional interpreting, our bachelor's in ASL interpretation is designed to prepare you to share the love and truth of Christ with compassion wherever God calls you. 
Featured Courses

ASLI 101 – American Sign Language I
Here's what you'll learn:
Development of functional grammar, basic vocabulary, and practical conversational skills.
Introduction to American Sign Language (ASL).
Production, comprehension, and an introduction to the Deaf community.
ASLI 212 – Theory and Application of Fingerspelling and Numbers
Here's what you'll learn:
A theory-based approach for developing and improving fingerspelling recognition.
A unique training method will be used to improve your comprehension of this vital aspect of American Sign Language (ASL).
Various number systems used within ASL.
Here's what you'll learn:
The history and culture of the American Deaf community.
Cultural, educational, and political aspects of the Deaf community.
Deaf literature and sociolinguistics.
ASLI 405 – ASL Linguistics
Here's what you'll learn:
Semantics as well as historical and changing aspects of the language.
The phonological, morphological, and syntactical structure of American Sign Language (ASL) as well as features of cross-linguistic universals and their analogs in spoken English.
Highlights of Our Bachelor's in American Sign Language and Interpretation Degree Program
Our small class sizes offer you the chance to engage with professors on a one-to-one basis and develop a solid relationship with the faculty in both your core and general education classes.

You'll have the chance to get real-life experience in preparation for your future career through a hands-on practicum and an internship. You can even choose to minister and work in Guatemala serving with the Guatemalan Deaf Ministries while earning your degree!

Join our ASL Club and develop your language skills while participating in fun activities with other ASLI majors and faculty members. 
Participate in silent dinners and church services that will help you get to know our local Deaf community. 
Learn from our experienced Deaf and hearing faculty members who are passionate about mentoring you on your ASL journey. 
Our Bachelor of Arts in American Sign Language and Interpretation Degree Information
Career Opportunities for Graduates of Our ASL Interpreter Program
Corporate interpreting
Educational interpreting
Freelance interpreting
Video relay services
Admission Requirements for Our Undergraduate Degree Programs
Every application is reviewed by the admission committee on a case-by-case basis, meaning there are no set minimums for acceptance. However, all applicants must submit the following documents* for admission:
Admission application
Official high school transcripts
Official college transcripts (if applicable)
Results from the CLT, SAT, or ACT are not required for admission, but may be used in consideration for merit-based aid.
Admission essay
*Note that additional documentation may be requested by the admission committee after your application has been received.