Find Justice for Victims with a Degree in Forensic Science
Does the idea of using science to bring justice to victims of crimes interest you? If so, our FEPAC accredited Bachelor of Science in Forensic Science degree is an amazing opportunity for you. Combine the disciplines of biology, chemistry, and criminal justice into a degree and pursue a career as a forensic scientist. You'll gain an understanding of the law as well as the scientific procedures and DNA analytics needed to make accurate convictions.
Maybe you want to be an evidence technician, criminal investigator, DNA analyst, or forensic scientist. With our degree in forensic science, you'll have the credentials to quickly enter into the criminal justice system and start your career. You'll also be ready to go on to medical or law school if you want to advance your education even further.
So what are you waiting for? The criminal justice system needs people like you who are passionate and excited about righting the wrongs of crimes. With our degree in forensic science, you'll get the training and knowledge you need to use science to bring justice to victims.
---
Award-Winning Campus
At Liberty, you'll find an affordable, high-quality education that equips students like you for the real world. Our commitment to excellence helped us rank among Niche.com's Top 3 college campuses in America. Earning your degree from a nonprofit university with state-of-the-art resources like ours can help set you apart from your peers.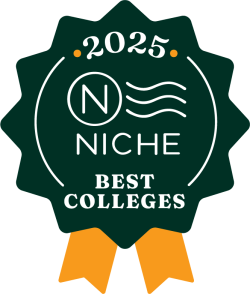 ---
Why Choose Liberty's Forensic Science Degree?
At Liberty, we want your degree to give you all the knowledge, experience, and resources you need to be successful in your field upon graduation or to pursue a graduate program. That's why our Bachelor of Science in Forensic Science prepares you with an excellent curriculum, professors who are professionals in the field, and exciting experiential opportunities. Not only that, but Liberty University's forensic science program has been awarded accreditation from the Forensic Science Education Programs Accreditation Commission (FEPAC). Only a total of 37 institutions nationwide hold this distinction!
One of our favorite resources available to you is our professors. These men and women are professionals in the field with years of experience and master's or doctoral level degrees. In fact, Dr. Thomas McClintock, one of our professors and the director of our forensic science program, is a renowned DNA expert who worked on the 1985 murders of Nancy and Derek Haysom, as well as the 2008 missing person case of Florida toddler Caylee Anthony. All our professors, including Dr. McClintock, are excited about passing along their knowledge while they guide, mentor, and support you through your academic journey with us.
Another exciting resource for you is our internship opportunities. You have the option of participating in our Washington Fellowship in D.C., where you could work with Congress, the FBI, or the NCIS. Because of the experience you'll receive with the program, you can be well-prepared to start your career upon graduation.
---
What Will You Learn in Our Forensic Science Degree?
Our desire is to provide you with a degree that will give you all you need to pursue your future career. Our forensic science degree equips you with foundational scientific knowledge as well as an understanding of the criminal justice system to allow you to work in this field.
Some of your courses will include the following:
Analytical Chemistry
Clinical Human Anatomy
Criminal Instigations I and II
Forensic Chemistry
Forensic DNA Analysis
Genetics
Microbiology
Trace Evidence
View the Degree Completion Plan, and check out our featured courses below for more information on what you'll be studying.
Featured Courses
BIOL 224 – General Biology I
Here's what you'll learn:
An introduction to the fundamental principles of biology
Emphasis is placed upon scientific methodology, molecular, cellular and energetic bases of life, major metabolic processes, cellular and organismic reproduction, Mendelian and population genetics, speciation, phylogenetic reconstruction, ecological interactions, and a brief survey of organisms
Here's what you'll learn:
A study of the principles of heredity
Emphasis is on the inheritance in individuals and populations, chromosomal rearrangements, genes in DNA structure and replication, transcription, translation, gene expression, mutations and their repair, genetic engineering, and epigenetics
BIOL 361 – Forensic DNA Analysis
Here's what you'll learn:
The general principles and methodologies used in forensic DNA profiling (or typing)
Topics covered include the historical development of DNA profiling methods, alternative procedures employed in forensic laboratories, current DNA typing techniques, and the ongoing development of new forensic DNA typing methods
Presentation of forensic DNA evidence through a mock trial, complete with a judge, a counsel for the prosecution and for the defense, and a jury
CJUS 420 – Criminal Investigations I
Here's what you'll learn:
The constitutional requirements for conducting criminal investigations
Essential techniques for processing a crime scene
Methodology for collecting evidence via subpoenas and interviews
Highlights of Our Forensic Science Degree
You will have diverse internship opportunities in Washington, D.C.
Labs are associated with nearly every course in the Department of Biology and Chemistry, giving you hands-on experience in your field before graduation.
Liberty University is one of only 37 institutions nationwide whose forensic science program has been awarded accreditation from the Forensic Science Education Programs Accreditation Commission (FEPAC).
Courses and labs are taught by faculty with real-life experience and doctoral degrees.
There is an emphasis placed on creationism, but evolution is also taught for a well-rounded perspective of the earth's origins.
There are many opportunities to be involved in research projects with faculty as an undergraduate student.
Medical school acceptance rate is over 80% for the Department of Biology and Chemistry, which forensic science falls under.
Forensic Science Degree Information
Career Opportunities for Forensic Science Graduates
Criminal investigator
Criminalist
Evidence technician
Forensic chemist/toxicologist
Forensic consultant
Forensic DNA analyst
Forensic entomologist
Forensic examiner
Forensic quality assurance specialist
Forensic scientist
Microbiologist
Serologist
Trace evidence technician
Admission Requirements for Undergraduate Degrees
Every application is reviewed by the admission committee on a case-by-case basis, meaning there are no set minimums for acceptance. However, all applicants must submit the following documents* for admission:
Admission application
Official high school transcripts
Official college transcripts (if applicable)
Results from the CLT, SAT, or ACT are not required for admission, but may be used in consideration for merit-based aid.
Admission essay
*Note that additional documentation may be requested by the admission committee after your application has been received.