Gather, Analyze, and Defend with a Bachelor's in International Relations- Strategic Intelligence Studies
Liberty University's bachelor's degree in International Relations – Strategic Intelligence Studies will prepare you to be a valuable asset in America's defense against attacks both in the U.S. and abroad.
Prepare for an exciting career as an intelligence analyst or federal agent.
Learn how to collect and analyze intelligence gathered from many different sources.
Study the different types of military intelligence that keep service members safe on the battlefield.
Learn how organizations like the Defense Intelligence Agency (DIA) and the Department of Homeland Security are hard at work every day anticipating the actions of our enemies and creating a safe environment for hard-working Americans.
Because of our special relationship with and close proximity to government offices in Washington D.C. and the surrounding area, there are opportunities to gain real-life experience by interning at intelligence-related agencies. There are internships with the Washington Fellowship, and as part of GOVT 499, all juniors and seniors majoring in international relations who have met the proper requirements will have the opportunity to spend a semester as an intern with an approved organization in their respective disciplines.
---

Award-Winning Campus
At Liberty, you'll find an affordable, high-quality education that equips students like you for the real world. Our commitment to excellence helped us rank among Niche.com's Top 3 college campuses in America. Earning your degree from a nonprofit university with state-of-the-art resources like ours can help set you apart from your peers.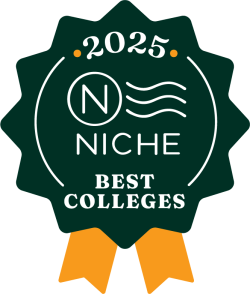 ---
Why Choose Liberty's International Relations – Strategic Intelligence Studies Degree?
Our campus in scenic Lynchburg, Virginia has many great facilities and extra-curricular activities to take part in, but the real focus is our amazing programs in the Helms School of Government. Our experienced professors have real-world experience working for the White House, government organizations, and offices of elected officials.
Throughout your time with Liberty pursuing an international relations degree, you can utilize resources and take part in the following opportunities:
Advanced Intelligence Analysis Project
This project has been awarded the Provost Research Initiative Grant.
Strategic Intelligence students have the opportunity to produce open-source research for the Defense Intelligence Agency (DIA).
Award-Winning Professors
One of our professors recently was awarded the Center for Research and Scholarship Mentor Award.
Amazing Internships
Research some of our internship opportunities on our Internships page. Because of our relationships with and proximity to Washington, D.C., our students have had the chance to intern at these locations:
Department of Homeland Security
House Committee on Homeland Security
S. Department of State
House Committee on Foreign Affairs
Foreign policy advisor for the Office of Senator Marco Rubio
Israeli Embassy
Liberty International Affairs Society
Join with other students who are interested in International Affairs and preparing for a job in the government.
Prepare for employment within the intelligence community. The Strategic Intelligence Society encourages critical thinking that leads to the analysis of current events. Discern intelligence from information within the fields of politics, technology, transnational issues, economics, and military policy.
---
What Will You Learn in Our Bachelor's in International Relations – Strategic Intelligence Degree?
The core curriculum of our international relations bachelor's degree will provide training in constitutional government and the free enterprise system. You will also study political geography and theory. Our specialization in strategic intelligence studies will increase your knowledge of intelligence, how it is gathered and analyzed, and how to make informed decisions on the use of military and civilian assets.
Throughout this degree, you will learn by studying some of the failures and successes in intelligence gathering. You will also learn how to integrate your Christian worldview into applying ethical standards on the use of human assets and how to best conduct yourself in intelligence-related operations.
Featured Courses
GOVT 380 – Introduction to Intelligence and National Security
Introduction to the field of intelligence and Intelligence Community and how it all works within the framework of the Department of Homeland Security.
GOVT 381 – Intelligence Analysis
Study the field of intelligence analysis to gain a basic understanding of what it takes to be an analyst within the Intelligence Community. The course looks at some classic intelligence failures as well as some of the unpublished successes.
GOVT 483 – Military Intelligence
An upper-division study of tactical military intelligence and the related military branch intelligence agencies as well as the Defense Intelligence Agency.
GOVT 487 – Ethics in Intelligence
Here's what you'll learn:
This course examines, from a distinctly Christian worldview, how ethical standards apply to human conduct when related to intelligence work and the implications for the collection, analysis, and production of information.
It combines lectures, discussion, case studies, and student presentations to critically analyze assumptions and alternatives, and to address issues of social, political, environmental perspectives in support of national security objectives.
---
Highlights of Our International Relations Degree
Our Strategic Intelligence students have the opportunity to participate in an intelligence simulation exercise that is observed by officials from federal intelligence agencies.
Many opportunities to intern in government organizations through our Washington Fellowship program and GOVT 499 These internships can give you valuable experience and allow you to network for career opportunities.
You have the opportunity to join the Liberty International Affairs Society.
You also have the chance to join the only honor society for college and university government students in the United States. Pi Sigma Alpha, the National Political Science Honor Society, is a member of the Association of College Honor Societies.
International Relations Degree Information
Career Opportunities for International Relations – Strategic Intelligence Studies Graduates
Foreign service officer
Federal agent (CIA, FBI, DEA, etc.)
Intelligence analyst
Diplomat
Admission Requirements for Undergraduate Degrees
Every application is reviewed by the admission committee on a case-by-case basis, meaning there are no set minimums for acceptance. However, all applicants must submit the following documents* for admission:
Admission application
Official high school transcripts
Official college transcripts (if applicable)
Results from the CLT, SAT, or ACT are not required for admission, but may be used in consideration for merit-based aid.
Admission essay
*Note that additional documentation may be requested by the admission committee after your application has been received.