Become an Asset to Your Organization by Earning a Military Studies Leadership Degree
Turn your military experience into a fulfilling career — or enhance your current military career — with Liberty's military studies degree program. If you have served in the armed forces and want a degree that will reinforce the skills you gained serving our nation, then Liberty University's Bachelor of Science in Military Studies – Leadership will more than meet your needs.
Civilian academic programs that provide an awareness of military values and culture are rare. Rarer still are programs that adequately train military personnel and contractors to effectively handle large-scale strategic and professional operations. Liberty's program does both.
If you're currently serving or have served your country, this leadership degree is designed to enhance the knowledge and skills you gained while serving. Your military training may even help you finish your degree faster because college credit is granted for some experience. If you haven't served but want to pursue military or DOD contract work, then this program will develop your management skills and familiarize you with the terms and systems you might encounter in the workforce.
Award-Winning Campus
At Liberty, you'll find an affordable, high-quality education that equips students like you for the real world. Our commitment to excellence helped us rank among Niche.com's Top 5 college campuses in America. Earning your degree from a nonprofit university with state-of-the-art resources like ours can help set you apart from your peers.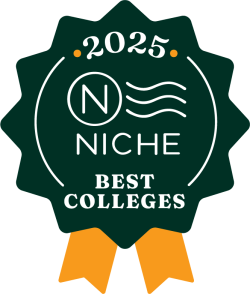 ---
Why Choose Liberty's Bachelor's in Military Studies – Leadership Degree?
If you are looking for a firm foundation in military doctrine and intelligence, then look no further. Liberty University's Department of History has more military history specialists than nearly any other institution of higher education in the United States, except for the service academies and American Military University. Our B.S. in Military Studies incorporates relevant security studies so you are well-prepared for future work in defense intelligence or other related agencies.
The international security specialization offers extensive knowledge of military operations and can prepare you to be a leader in the intelligence industry. Here at Liberty, you'll gain access to our cadre of faculty with experience in military history and intelligence operations. You can be confident in the fact that several field-grade and higher-ranking officers were instrumental in examining the ability of this program to meet current needs in employability, research skills, and career opportunities related to the U.S. military, suppliers, educational services, the Department of Defense, and related agencies.
Liberty University – A Top Military-Friendly School
It's our privilege to serve those in the military community — whether service members, veterans, or military families. Through benefits for military students and degree programs — like this one — that train professionals to serve the military community well, Liberty's commitment to our nation's armed forces shines.
And others have noticed:
Liberty University was recognized for its standout academic programs and military-supportive culture by Military Times, earning the number 2 rank on the list of Best Online & Nontraditional Schools of 2020.
Liberty University is Virginia's first Purple Heart University!
A recent Military Times ranking shows Liberty as the seventh-ranked overall tuition assistance (TA) usage for military members. Further, Liberty is the second-highest ranked for TA usage among private universities.
---
What Will You Learn in Our Bachelor's in Military Studies – Leadership Degree?
Liberty's military studies degree can give you the knowledge and skills you need to support those who defend the United States — both at home and abroad. Through it, you can train to become a leader of integrity while you develop a strong Christian foundation and appreciation for our country's Judeo-Christian heritage.
Liberty University's military studies degree explores military history as well as the deep and ancient cultural contexts for existing military policy and the threats faced in our world today. By studying both historical and current global situations you gain an understanding of the critical needs in today's intelligence analysis profession. Through extensive research, you will be equipped to tackle the challenge of complex cultural and religious traditions in light of current military doctrine.
This program will also provide an in-depth study of some of the great American and British leaders in military history. Through this study, you will learn how to implement the lessons learned from these leaders to enhance your military or civilian career. In addition to the foundational courses in our program, you will be able to further specialize in additional military studies electives of your choice. This flexible degree can be adapted to best suit your personal or professional goals.
 Review the Degree Completion Plan, and check out our featured courses below to learn more about what you'll be studying!
Featured Courses
HIUS 380 – Modern American Military History
You will learn about United States military history in the 20th century.
MISC 300 – Methods of Military Analysis
Here's what you'll learn:
Foundational skills and fields for executing effective military operations
How we defend the United States of America at home and its interests abroad
MISC 350 – Military Leaders and Leadership
You will learn about great military leaders and their unique styles of leadership
MISC 490 – Research in Military Doctrine
Here's what you'll learn:
Analysis and history of military operations and campaigns
Basic strategy of the intelligence cycle
Established and new military doctrine
Highlights of Our B.S. in Military Studies – Leadership Program
Ground your academic career in a program with strong success in research expertise.
Our military studies program goes beyond military history and combines this study with other important skill sets in intelligence, resiliency, cultural awareness, and military leadership.
Our degrees are career-focused and have been designed to help you gain the skills you need to work for the U.S. military, suppliers, educational services, the Department of Defense, and other related agencies.
We have more military history specialists in our Department of History than any other civilian institution of higher education.
You will gain the knowledge and skills needed to support the defense of the United States at home and abroad as well as develop a strong Christian foundation that emphasizes leadership and respect for our Judeo-Christian heritage.
Our degrees stress integrity. As a nonprofit, Christian university, we aim to help raise the next generation of military and defense professionals with unshakable ethics grounded in the Christian faith.
Bachelor's in Military Studies – Leadership Degree Information
Career Opportunities for Military Studies Bachelor's Degree Graduates
Defense contractor
Department of Defense employee
Intelligence analyst
Military analyst
Security contractor
Admission Requirements for Undergraduate Degrees
Every application is reviewed by the admission committee on a case-by-case basis, meaning there are no set minimums for acceptance. However, all applicants must submit the following documents* for admission:
Admission application
Official high school transcripts
Official college transcripts (if applicable)
Results from the CLT, SAT, or ACT are not required for admission, but may be used in consideration for merit-based aid.
Admission essay
*Note that additional documentation may be requested by the admission committee after your application has been received.