Focus on your Future by Studying the Past with a Bachelor of Science in History
Marcus Garvey once said, "A people without the knowledge of their past history, origin and culture is like a tree without roots." As the root system is the foundation for the success of the tree, our understanding of history is the root of our success as a people. By pursuing a Bachelor of Science in History, you can earn the credentials you need to make a difference in the education and understanding of the past in people of all ages.  
In addition to studying U.S. and world history, you will also acquire the writing, research, data analyzing, and archival skills that can be of use in many different fields. If you are interested in a career in government, education, law, business, intelligence, and many other fields, then a Bachelor of Science in History can prepare you for success.
Prepare for your future by studying the past with our professors who are grounded in their Christian faith. They will show you how to integrate your faith and become a leader in your chosen career path with a high ethical standard. Develop as a role model and mentor to others as you gain the knowledge and skills that will allow you to succeed in life as well as your job.
---
Award-Winning Campus
At Liberty, you'll find an affordable, high-quality education that equips students like you for the real world. Our commitment to excellence helped us rank among Niche.com's Top 5 college campuses in America. Earning your degree from a nonprofit university with state-of-the-art resources like ours can help set you apart from your peers.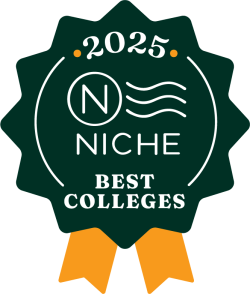 ---
Why Choose Liberty's Bachelor of Science in History Program?
At Liberty University, your success is our success. We are driven to see our graduates succeed in both their careers and life.
Lynchburg is perfectly situated in the heart of Virginia, with hundreds of historical sites within a four-hour radius. As you study American history, visit places like Jamestown, Williamsburg, and Yorktown. Check out Gettysburg, Winchester, and Richmond when you learn about the Civil War. If you are interested in a hands-on learning experience, drive 15 minutes from campus to Mead's Tavern, built in 1763 and now owned by Liberty, where you can study archeology, architecture, and history of the era in which the house was built.
There are internships and externships available throughout the country that provide the opportunity for you to discover your passions and gain useful experience that can help your future. Many of our students have worked in history-related positions locally as well as in government or lobbying groups in Washington, D.C. Additionally, the senior capstone seminar is focused on connecting students to our Career Center for job searches, mock interviews, and much more.
---
What Will You Learn in Our B.S. in History Degree?
Our Bachelor of Science in History is a degree that can be customized to meet your specific career goals and passions. With close to 30 hours of space to fill with elective courses, you can focus your studies on areas of history that interest you most.
The core curriculum of our history degree covers geography, Western civilization, American history, and the study of historical methodology and research techniques that can be helpful in a variety of occupations. Additionally, you will choose an area of European, American, and World History you want to focus on in three elective courses.   
View the Degree Completion Plan, and check out the featured courses below to find out more about what you'll be studying!
Featured Courses

HIEU 201 – History of Western Civilization I
This course provides a survey of the major events in Western civilization from its beginnings in the ancient Near East to 1648.
HIST 300 – Historical Methodology
This course explores the meaning and interpretation of history, methodology, research techniques, and career opportunities related to the field.
HIUS 221 – Survey of American History I
This course provides a survey of the political, social and economic developments of America from the colonizing experience through the Civil War with emphasis on the development of the American democratic tradition.
This course acts as a survey of the knowledge and skills required for conducting research in either the humanities, sciences, or creative arts. 
Highlights of Our Bachelor of Science in History Degree
Mead's Tavern, built in 1763 and now owned by Liberty, serves as an onsite laboratory for hands-on training in history, archeology, and more!
A key focus in the senior capstone seminar is connecting students to our Career Center for job searches, mock interviews, etc.
Liberty's College of Arts and Sciences has won the Phi Alpha Theta Chapter of the Year twice in the past eight.
Three history majors won the Provost Award for Excellence in Research in 2018.
Bachelor of Science in History Degree Information
Career Opportunities for Bachelor of Science in History Graduates
Archaeologist
Archival manager
Bibliographer
Diplomat
Genealogist
Historian
Research assistant
Admission Requirements for Undergraduate Degrees
Every application is reviewed by the admission committee on a case-by-case basis, meaning there are no set minimums for acceptance. However, all applicants must submit the following documents for admission:
Admission application
Official high school transcripts
Official college transcripts (if applicable)
Results from the CLT, SAT, or ACT are not required for admission, but may be used in consideration for merit-based aid.
Admission essay
*Note that additional documentation may be requested by the admission committee after your application has been received.