Be a Light to the Next Generation with a Youth Ministries – Biblical Studies Degree
You're passionate. We are too. We understand that you love the Word of God, and you care about the future. So we've created our youth ministries – biblical studies degree to equip you with the skill set you need to pass on God's truth to the next generation.
Making an impact on the world is what you care about, and it's what we care about too. What better way to make a positive impact than by positively influencing future generations? You're going to learn how to turn this passion for the future into a career with our youth ministries – biblical studies degree.
Don't wait any longer! Future generations are in desperate need of leaders like you. Leaders who are passionate about God and others. Live out God's calling on your life and start your youth ministries degree today.
Award-Winning Campus
At Liberty, you'll find an affordable, high-quality education that equips students like you for the real world. Our commitment to excellence helped us rank among Niche.com's Top 5 college campuses in America. Earning your degree from a nonprofit university with state-of-the-art resources like ours can help set you apart from your peers.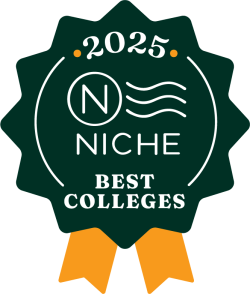 ---
Why Choose Liberty's Youth Ministries – Biblical Studies Degree?
At Liberty, we want you to succeed. Part of your success is pursuing a degree program that suits your career goals and has the resources you need to excel. That's why we have provided exciting opportunities within our John W. Rawlings School of Divinity with degree programs like our youth ministries – biblical studies degree.
We believe in giving you the best we have to offer. Our top professors are in the classroom with you every week, teaching, mentoring, and guiding you throughout your academic journey.
One of the most valuable resources available to you will be your internship. We want you to get hands-on experience in your field. Working with the Church and young people will help you develop and enhance the skills you're learning in the classroom, so you can utilize them after graduation.
---
What Will You Learn in Our Youth Ministries – Biblical Studies Degree?
If you pursue a degree with our John W. Rawlings School of Divinity, you'll receive the biblical foundation you need to succeed in ministry. You'll study courses on apologetics, hermeneutics, and inductive Bible study.
Since you're going to be pursuing a youth ministries degree, you'll get all the knowledge and experience you need to excel in teaching young people about God's Word. Some of the things you'll study include global youth culture, strategies of youth ministry, and ministering to adolescents in crisis.
Because you'll be specializing in biblical studies, you're going to get a more robust degree with unique biblical knowledge. Some of your courses will include in-depth studies of the books of Acts, Genesis, Daniel, and Revelation.
Review the Degree Completion Plan, and check out our featured courses below to learn more about what you'll be studying!
Featured Courses
YOUT 201 – Survey of Youth Ministries
Here's what you'll learn:
Biblical principles in establishing and maintaining a ministry to adolescents
Emphasis is placed upon a system of philosophy and general principles for adolescent ministry
Special attention is given to developing a youth ministry mission statement, objectives, and strategy
YOUT 310 – Strategies for Student Outreach
Here's what you'll learn:
Various strategies in building bridges to the local adolescent community in order to effectively communicate the gospel of Jesus Christ.
Special attention will be given to the role of the local church in training its own adolescents to reach their peers, creating a culture of outreach within the church, and having each student develop an effective outreach strategy
YOUT 460 – Programs for Youth Ministry
Here's what you'll learn:
The planning and implementation of a ministry vehicle
Specific programming aspects of the large meeting, small group meeting, activities, camping, and missions projects
Annual calendar planning and organization skills
BIBL 324 – Pastoral Epistles and Leadership Development
Here's what you'll learn:
An expositional study of I Timothy, II Timothy, and Titus with emphasis on themes pertaining to the local church
Attention given to current issues which relate to selected controversial passages
Highlights of Our Youth Ministries – Biblical Studies Degree
John W. Rawlings School of Divinity professors are active in the classroom, as well as in research and publishing original works.
Our School of Divinity is committed to the authority of Scripture and conservative evangelical theology.
Benefit from the teaching and professor involvement of a small Bible college with the experience and amenities of a university.
Internship opportunities with churches and parachurches locally, nationally, and globally.
The Freedom Tower, where our School of Divinity is located, houses a 7-projector immersive classroom, an interactive classroom that utilizes teleconferencing capabilities, and a state-of-the-art homiletics teaching lab.
The Rawlings Foundation's rare book collection is valued at over 1 million dollars and contains a 111-foot long Torah scroll dating back to the 16th

century and a functioning Gutenberg Printing Press replica.
Youth Ministries – Biblical Studies Degree Information
Career Opportunities for Youth Ministries – Biblical Studies Graduates
Associate pastor
Church administrator
College ministry pastor/director
Ministry associate
Next-generation pastor
Parachurch leader
Youth pastor
Youth camp director
Youth ministry director
Admission Requirements for Undergraduate Degrees
Every application is reviewed by the admission committee on a case-by-case basis, meaning there are no set minimums for acceptance. However, all applicants must submit the following documents* for admission:
Admission application
Official high school transcripts
Official college transcripts (if applicable)
Results from the CLT, SAT, or ACT are not required for admission, but may be used in consideration for merit-based aid. 
Admission essay
*Note that additional documentation may be requested by the admission committee after your application has been received.