Learning and career outcomes
Share Your Talent and Teach the Next Generation of Musicians with a Master's Degree in Music Education from Liberty
Do you want to impact students at all levels with the power and beauty of music? Do you enjoy sharing your love of instrumentation and vocalization and seeing that excitement spread to others? If so, you should consider an MA in Music Education from Liberty University.
Gain the skills you need for an exciting career where you could work as a collegiate educator, education consultant, curriculum administrator, or even the director of a community performing arts program. Open the door to new opportunities in the field of music and study the different ways you can make a life-changing impact on the students of tomorrow.
You will have the option to choose from a variety of specializations so that you can tailor your degree to your needs and your future students. At Liberty, we strive to bolster your talents and abilities so that you can impact the world for Christ. Our campus in beautiful Lynchburg, VA, is home to a thriving student body and professors who are excited to partner with you as you pursue your master's degree. 
Earn your MA in Music Education and become equipped to meet market demands and employer expectations. We provide innovative teaching, so you can provide the same caliber of excellence to your future pupils! Most importantly, earning a degree from Liberty — a school known for its strong Christian ethics — can help you stand out in this competitive field with excellence and integrity.
---

Award-Winning Campus
At Liberty, you'll find an affordable, high-quality education that equips students like you for the real world. Our commitment to excellence helped us rank among Niche.com's Top 3 college campuses in America. Earning your degree from a nonprofit university with state-of-the-art resources like ours can help set you apart from your peers.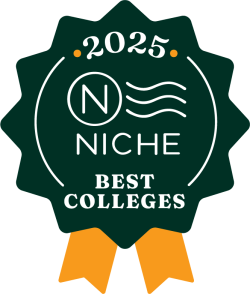 ---
Why Choose Liberty's Master of Arts in Music Education?
Become the teacher you want to be by studying under professors who have mastered the ability to teach music studies. You will study under faculty who hold degrees from many of the most prestigious schools in the nation. Allow their expertise to become your own!
Not only is Liberty academically rigorous, but our professors seek to partner with you in a unique way. Our professors will seek to mentor you and pray for you as part of fulfilling our mission of Training Champions for Christ.
What Resources Will You Have as a Liberty Music Student?
Our 141,000-square-foot Center for Worship, which has been voted "Best of the Best in Higher Education" 6 years in a row by Worship Leader Magazine
A $2.2 million recording studio and Liberty Music Group (LMG) publishing company for our students to take advantage of
A designated "All Steinway" school
45 full-time faculty with degrees from many of the most prestigious music schools in the nation
Our Standard of Academic Excellence
Our music degrees are accredited by the National Association of Schools of Music (NASM).
Our students have produced award-winning albums with Liberty alumni going on to become Dove Award-winning Christian artists and songwriters.
All coursework is market-driven, focusing on developing your skills for the current industry. 
Master of Arts in Music Education Specializations
One of the strengths of our music education master's degree is that it is dynamic. We know that you have specific interests, which is why we have different specializations so that you can focus on what matters most to you. All of our core classes are the same, but our specializations allow you to focus on a unique area of study. Explore our specializations below!
What Will You Learn in Our MA in Music Education?
Our music education master's degree provides an overview of major principles, philosophies, and practices in music education. As a student in the program, you will examine the purpose of school music programs as well as gain a better understanding of how students learn. Our courses focus on pedagogy, so you can develop specific teaching skills for a variety of student learning styles.
Our program has a unique blend of teaching, music education, research and hands-on experience. Our School of Music has pianos and other instruments in many of its classrooms, helping to provide an environment of immersion. That way, you can turn your knowledge into wisdom.
Additionally, your core classes dive into the history, philosophy, and status of music in America. With classes like these, you can ncrease your awareness of cultural influences and their impact on music. Additionally, you can discover musical nuances from all corners of the globe, including European and Native American influences. By gaining a better appreciation for music history, you can feel confident teaching historical content to your music students.
Check out our featured courses below for more information about the type of classes you will be taking!
Featured Courses
MUSC 510 – Foundations of Music Education
MUSC 620 – Music in America
MUSC 640 – History and Philosophy of Music Education in America
MUSC 670 – Principles of Curricula and Pedagogy for Music Education
Highlights of Our Master's in Music Education Degree
Nearly a 100% job placement rate for our recent residential graduate students
141,000-square-foot Center for Worship has been voted "Best of the Best in Higher Education" six years in a row by Worship Leader Magazine
We offer exceptional opportunities for our students including our 2.2. million dollar state-of-the-art recording studio and songwriting labs. In partnership with the Michael W. Smith Center for Commercial Music, students also have the opportunity to have their original music published before they graduate!
Designated as an "All Steinway" school
Liberty University is an accredited institutional member of the National Association of Schools of Music (NASM) and is regionally accredited by SACSCOC.
School of Music was rated #1 Christian Music School by Christian Universities Online
One of the nation's largest music schools.
44 full-time faculty with degrees from many of the most prestigious music schools in the nation
Our students have produced albums that have been nominated for awards with Liberty alumni going on to become Dove award-winning Christian artists and songwriters
---
Music Education Master's Degree Information
Residential
39 total credit hours
Transfer in up to 50% of your credits
This program falls under the School of Music
View the course catalog for additional information
Master of Arts in Music Education Admission Requirements
Every application is reviewed on a case-by-case basis, and all applicants must submit the following documents and meet the minimum requirements for admission:
Admission application
Self-certification form (for students who are in the final term of their bachelor's degree)
Current Liberty undergraduate students seeking preliminary acceptance into a graduate program must complete a degree completion application through their ASIST account
Completion of an earned baccalaureate degree from an institution accredited by an agency recognized by the U.S. Department of Education in one of the following areas: bachelor's degree in music, music education, or music and worship
3.0 GPA for admission in good standing