Train for Success with a Master's Degree in Sports Management from Liberty
Take your passion for professional, recreation, or adventure sport to the next level with Liberty's Master of Science in Sport Management degree. The industry is constantly changing and growing, so let us help you get up to speed and stay ahead.
Where exactly does a master's degree in sport management lead? The answer to that depends on the specific career path you want to take. We offer a general degree track, where you can choose elective courses yourself, or you can pick one of four industry-specific specializations. The four specializations you have to choose from include:
Coaching and athletic administration
Outdoor adventure sport
Sport administration
Tourism
Depending on which path you choose, you can tailor your degree to a more specific career track. Within each of these specializations, you have the option of pursuing a thesis or a non-thesis track. If you go the non-thesis route, you will complete a 400-hour internship to gain more field experience, which will help you stand out to future employers.
Once you've chosen your unique degree path, you'll open the door to countless job opportunities. Pick outdoor adventure sport as your specialization, for example, and prepare for an exciting career in outdoor recreation! Interested in event planning and game day operations? Choose our sport administration specialization. Let us take your career further with a degree in sport management. You deserve a job that you are passionate about and excited to show up for day in and day out. Partner with Liberty to make your dream of working with athletes and sport fans a reality. 
Award-Winning Campus
At Liberty, you'll find an affordable, high-quality education that equips students like you for the real world. Our commitment to excellence helped us rank among Niche.com's Top 5 college campuses in America. Earning your degree from a nonprofit university with state-of-the-art resources like ours can help set you apart from your peers.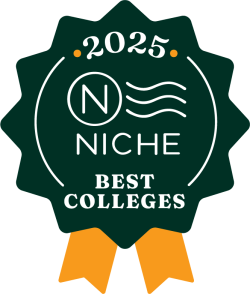 ---
Why Choose Liberty's Master of Science in Sport Management Degree?
At Liberty, we strive to provide you with the best quality education. That means top facilities, professional teaching, and experiential opportunities. Not only that, but our master's in sports management program is accredited by the Commission on Sport Management Accreditation (COSMA).* This means that your degree will be recognized by employers and institutions across the nation.
Wondering what else our program has to offer? First, you'll learn from professionals who have real-life experience and advanced degrees in the field they teach. They care about your education and your career, and they're here to guide and teach you as you make this investment in your future.
Additionally, this degree provides the hands-on experience you need for a rewarding career. We offer state-of-the-art facilities like our FBS football stadium and natatorium, not to mention the 20 NCAA Division I teams, as well as 39 club sports teams. With your sports management degree, you have all of these resources at your disposal, including the option of choosing an internship to give you additional experience.
*Excludes the Coaching and Athletic Administration specializations
---
What Will You Learn in Our M.S. in Sport Management Degree?
You will gain a foundational understanding of each major aspect of the sport management industry through 21 credit hours of sports management specific courses. By choosing to pursue a specialization from our list below, you will have the chance to make your degree even more specific to your career goals.
With all of our sport management degrees, you will examine the implications and impact of sports on communities and society as a whole. As a nonprofit, Christian university, we integrate a faith-based approach to these issues. You will take a course on ethics in sport ministry and management, which will prepare you to handle any issues that arise in a Christ-like manner. Additionally, we will make sure you are prepared in the legal and financial aspects of sport management.
View the Degree Completion Plan, and check out our featured courses below for more information.
Featured Courses
SMGT 501 – Social Issues in Sport Management
SMGT 502 – Sport Marketing and Public Relations
SMGT 506 – Economics and Financial Management of Sport
SMGT 520 – Understanding Research in Sport, Recreation, and Tourism
---
Highlights of Our Sport Management Master's Degree
Master of Science in Sport Management Degree Information
Career Opportunities for Sport Management Master's Degree Graduates
Adventure Sport Administrator
Advertising Sport Manager
Athletic Administrator
Collegiate Athletic Administration
Corporate Partnerships Manager
Director of Operations for Facility and Arena Management
Event Management and Ticket Operations Manager
Financial and Contract Analyst
Fitness and Health Industry Manager
Game Day and Event Coordinator
Guest Relations Manager
Outdoor Recreation and Park Planner
Professional Sport Manager
Recreation and Tourism Manager
Resort Manager
Sport Communication and Public Relations Practitioner
Sport Compliance/Governance Facilitator
Sport Marketer
Admission Requirements for Graduate Degrees
Every application is reviewed on a case-by-case basis, and all applicants must submit the following documents and meet the minimum requirements for admission:
Admission application

Self-certification form (for students who are in the final term of their bachelor's degree)

Current Liberty undergraduate students seeking preliminary acceptance into a graduate program must complete a degree completion application through their ASIST account
A regionally or nationally accredited bachelor's degree with at least a 3.0 GPA for admission in good standing. 2.5 to 2.99 may grant admission on caution.
Coaching and Athletic Administration
Coaching and Athletic Administration (Non-Thesis)
Outdoor Adventure Sport (Non-Thesis)
Sport Administration (Non-Thesis)