Prevent, Evaluate, and Rehabilitate Injuries with Our Degree in Athletic Training
Are you passionate about sports? Do you want to make a positive impact on patients' lives as a healthcare professional? Liberty University's Master of Science in Athletic Training degree can equip you to turn these desires into a reality. Develop the skills you need to become a certified athletic trainer by studying the prevention, examination, and rehabilitation of injuries and medical conditions.
We understand that you care about health. Through our degree in athletic training, you can get the classroom and practical experience you need to make a difference for your patients. Learn how to use your skills to keep others active and make a positive impact on the field of athletic training. You will learn in the classroom, then put that training to use in a clinical environment under the mentorship of our experienced faculty.

This degree program is an excellent next step for students who have a B.S. in Exercise Science – Therapeutic Science. Find out if you have met the prerequisites and apply today. We are here to support you as you pursue your dream/goal of becoming a professional in the health sciences through Liberty's athletic training degree.
This program will be accepting enrollment through the Athletic Training Centralized Application System (ATCAS). To apply please use the link below:
Please note: Due to the requirements in this program, you may only start the M.S. in Athletic Training during the summer semester. Please see the Degree Completion Plan for more details.
---
Award-Winning Campus
At Liberty, you'll find an affordable, high-quality education that equips students like you for the real world. Our commitment to excellence helped us rank among Niche.com's Top 3 college campuses in America. Earning your degree from a nonprofit university with state-of-the-art resources like ours can help set you apart from your peers.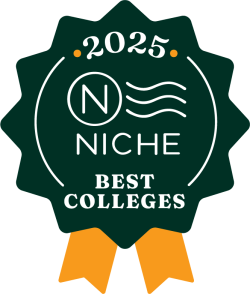 ---
Why Choose Liberty's Master's Degree in Athletic Training?
At Liberty, we believe in providing you with the best we have to offer. With our athletic training program, you'll learn from top professors, work on labs in state-of-the-art facilities, and receive a top-notch education. You can be sure that after successfully completing our degree, you'll be equipped to secure a job in athletic training.
Our professors have years of experience in their fields. Every course is taught by a faculty member with clinical experience and a doctorate. Not only are they highly trained, but they are also dedicated to providing mentorship and guidance to you throughout your time in the classroom, clinic, and labs.
While studying in our athletic training program, you'll learn all you need to be successful as an athletic trainer. The curriculum and experience provided in this program can give you the tools you need to pass the Board of Certification Exam to become a Certified Athletic Trainer.
---
What Will You Learn in Our M.S. in Athletic Training Degree?
Liberty's master's of athletic training focuses on practical experience so you can graduate with the confidence you need to be a successful athletic trainer. Your first classes will focus on the basics of human anatomy, bracing, taping, and wrapping. You will then put your knowledge to use in a clinical setting as you integrate your new skills.
Clinical Experience Opportunities
Clinical Experiences will give you the opportunity to apply the knowledge and skills you learn. You will complete eight different clinical experience rotations over two years. The rotations will consist of two immersive and six non-immersive experiences. Liberty University's Athletic Training Program has over 20 clinical education sites in the Lynchburg, Va. area. 
First-year experiences will be in the Lynchburg, Va. area.
Second-year experiences will be local or across the United States or the world.
A licensed athletic trainer or another health-care professional (preceptor) will supervise/mentor you during the clinical experiences.
The culmination of your studies will be collaborating with a faculty mentor to collect, analyze, and synthesize data for your thesis or a needs assessment and collected patient outcomes project. Either of these options will give you scientific reading and writing experience. Your thesis will produce a manuscript that will be sent for peer-review publication. If you choose a clinical reasoning project, you will develop a publishable, critically appraised topic that will also be sent for publication.
View the Degree Completion Plan and check out our featured courses below for more information about what you'll learn!
Featured Courses
ATTR 503 – Emergency Care
Here's what you'll learn:
Advanced level of emergency care and risk management
Basic anatomy review
Patient assessment
Spine board use
ATTR 510 – Clinical Integrations
Here's what you'll learn:
Emergency care of athletic injuries through standard patient scenarios
Hands-on clinical integration experiences to prepare you to interact with a wide variety of patients
How to wrap and tape extremities
ATTR 620 – Manual Therapy Techniques
Here's what you'll learn:
The application, instruction, progression, and clinical outcomes of manual therapy techniques used in sports medicine to provide advanced care to patients during rehabilitation

Training in manual therapy techniques that include certifications in Graston technique and Corrective Exercise Specialist
ATTR 625 – Musculoskeletal Diagnostic Imaging
Here's what you'll learn:
Theories and principles of uses of different diagnostic testing to enhance the diagnosis of injuries
Training will include lecture, laboratory, and clinical experiences
---
Highlights of Our M.S. in Athletic Training
The athletic training profession is recognized as an Allied Health Profession by the American Medical Association, Health Resources Services Administration, and the Department of Health and Human Services.
Get the opportunity to apply your knowledge and skills while working directly with patients in one of over 20 clinical education sites. Here, you will be supervised and mentored by a licensed athletic trainer or other licensed healthcare professionals with a student to preceptor ratio of 3:1. In some settings, you may even receive one-on-one mentorship.
The program is accredited by the Commission on Accreditation of Athletic Training Education (CAATE).
Get hands-on experience in our state-of-the-art Athletic Training Lab and Standardized Patient Center facilities.
You can finish your athletic trainer's degree in just 2 years.
M.S. in Athletic Training Degree Information
Use the button below to apply through ATCAS:
Career Opportunities for Athletic Training Graduates
Athletic trainers treat a range of patients and can work in a variety of settings. As a health care professional, you may work with physicians to enhance patients' abilities in athletics and everyday life. 
Here are some of the locations where athletic trainers (ATs) may find themselves:
Clinics and hospitals
Colleges and universities
Professional sports
Secondary schools
Here are some of the types of services an AT might provide:
Wellness promotion and education
Emergent care
Examination and Clinical Diagnosis
Therapeutic intervention
Some emerging settings where you may find work as an athletic trainer include performing arts, public safety, the military, and occupational health.
Admission Requirements for Graduate Degrees
Every application is reviewed on a case-by-case basis, and all applicants must submit the following documents and meet the minimum requirements for admission:
Completion of ATCAS application
A regionally or nationally accredited bachelor's degree with at least a 2.75 GPA for admission in good standing 
Statement of purpose (Please submit a statement of 1,000 words or less answering the following questions) 

How did you hear about Liberty University's Athletic Training Program?
Why did you choose to apply to Liberty University's Athletic Training Program?
What personal and professional characteristics do you possess that would make you stand out compared to other applicants?
Discuss your professional and personal goals during the program and after graduation.
Describe your dream job.

Completion of an on-campus or virtual interview & campus tour.
Acceptance into Liberty University's Graduate School
---
Admissions Process
Students interested in pursuing a master's degree in Athletic Training at Liberty University will complete their application through Athletic Training Centralized Application System (ATCAS). The Athletic Training Program Admission Committee will meet to review the applications and determine who is eligible for acceptance. Upon acceptance through ATCAS, students are required to complete additional paperwork/trainings to complete the admissions process. The additional paperwork/trainings include the following:
Criminal Background Check (MUST be through Liberty's approved service)
Health Data/Physical Form
Immunization Records
Confidentiality Statement
Direct Supervision Form
Athletic Training Handbook Signature Page
All of the above paperwork/trainings must be completed by June 1, except for the Background Checks which are due by July 1.
---
Additional Requirements
Students must complete the following prerequisite courses either in their first semester or prior to acceptance:
Anatomy & Physiology I  & Lab – (Liberty University Course:

BIOL 213 & 214)

Anatomy & Physiology II  & Lab –

(Liberty University Course:

BIOL 215 & 216)

General Biology 

–

(Liberty University Course: 

BIOL 224)

General Chemistry & Lab 

–

(Liberty University Course:

CHEM 121 & 121L)

General Physics & Lab – 

(Liberty University Course:

PHYS 201 & 201L)

Biomechanics – 

(Liberty University Course: 

EXSC 350)

Exercise Physiology 

– 

(Liberty University Course:

EXSC 310)

Pathophysiology 

– 

(Liberty University Course:

EXSC 433)

Medical Terminology –

 

(Liberty University Course:

ATTR 205)

Nutrition

– 

(Liberty University Course:

HLTH 333)

General Psychology

– 

(Liberty University Course:

PSYC 101)

Statistics

– 

(Liberty University Course: MATH 202

)