Pursue Your Love for Worship with Liberty's Music and Worship Master's Degree
Allow your passion for worship and your musical talent to translate into a rewarding career in ministry! Whether you feel called to serve the church as a worship leader, or you dream of becoming a contemporary Christian artist, Liberty's School of Music can help. Our master's degree in music and worship will help equip you with the theology, technical skill, and integrity necessary for success in this competitive field.
Get ready to make a lasting impact on the evangelical community with your worship ministry expertise. Our master's in music and worship will help you develop your teaching, training, and cultural analysis skills, so you can provide a more holistic approach to worship leadership. By understanding the way the church has handled worship since the very beginning, you will be greatly strengthened in your personal ministry style.
From your research of cultural influences and worship of the past to hands-on training in Liberty's 141,000-square-feet, award-winning Center for Worship, you can walk away with a degree that prepares you for the path God has placed on your heart. Our faculty hold degrees from some of the most prestigious music schools in the nation, and they can't wait to invest their wealth of knowledge into students like you! Learn from the best teachers with the best equipment to become the best tool for the Lord that you can be. Your future at Liberty is waiting.
---
Award-Winning Campus
At Liberty, you'll find an affordable, high-quality education that equips students like you for the real world. Our commitment to excellence helped us rank among Niche.com's Top 5 college campuses in America. Earning your degree from a nonprofit university with state-of-the-art resources like ours can help set you apart from your peers.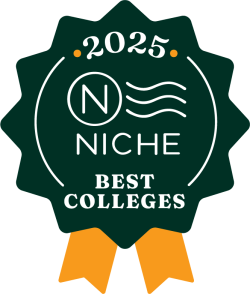 ---
Why Choose Liberty's Master of Arts in Music and Worship Degree?
Your career in music and worship truly begins when your training starts. Get the best start you can by pursuing Liberty's Master of Arts in Music and Worship! We are proud of the extremely talented and passionate faculty that teach in our School of Music, as well as our long list of incredible facilities, resources, and state-of-the-art industry equipment readily available. You deserve to earn a master's degree that gives you the mentorship and hands-on experience needed to stand out in the competitive field of Christian music and worship.
As a student in our music and worship graduate program, you will gain access to our 45 full-time faculty members. Soak up as much of their industry expertise and years of field experience as you can! Additionally, our School of Music contains a $2.2 million recording studio and our very own Liberty Music Group (LMG) publishing company. Take advantage of our facilities, including various rehearsal halls, Mac labs, and concert halls that are housed right on campus.
Your degree from Liberty means more. As the nation's seventh largest school of music, rated #1 Christian music school by Christian Universities Online, and with programs accredited by the National Association of Schools of Music (NASM), you can walk away truly prepared for the professional music field. Whether you are looking to work for a mega church, own your own record label, or serve as a worship evangelist, your degree will be recognized across the nation. Stand out for all the right reasons with Liberty.
---
What Will You Learn in Our M.A. in Music and Worship Degree?
The courses in our music and worship degree focus on advanced music theory. You will learn how to apply various melodic concepts and music forms to contemporary worship, including jazz and extended harmonies. As a music and worship student, you will analyze the historical differences in music literature and practice, from the Old Testament through the modern period.
Other vital training you'll receive is learning how to effectively lead and serve those you do ministry with. Relationship development between the worship leader, staff members, singers, instrumentalists, the pastor, and the congregation is emphasized. Your coursework will help you create a personal assessment of your own responsibility to your talent, music, preaching, and corporate ministry in general.
Check out our featured courses below for more information about the type of classes you will be taking!
Featured Courses
WMUS 524 – Analytical Techniques for the Worship Leader
Here's what you'll learn:
Graduate contemporary music theory practices
Jazz and extended harmonies used in contemporary worship music
Analytical technique to various music styles
Melodic concepts and music form in the literature from historical music periods and compared to present worship music literature and practice
Principles of harmonic function are taught and applied to representative worship literature forms
WRSP 501 – The Dynamics of Corporate Worship
Here's what you'll learn:
The dynamic influences of personal, biblical, historical, professional, and practical worship to the corporate ministry of the local church
Application to the presentation and influence of singing, praying, preaching, evangelism, and the great modern revival movements on corporate worship in the church today
Completion of a personal assessment that relates honest, genuine, unhindered, and biblical worship to your own responsibility to music, prayer, evangelism, preaching, and corporate ministry.
WRSP 502 – History and Philosophy of Worship
Here's what you'll learn:
The history of worship from the Old Testament, the early church, through the modern period.
Emphasis given to changes in worship practices resulting from the Reformation, the Great Awakenings, revival movements, large evangelistic crusades of the 1940s and 1950s, Jesus Movement, and the Praise and Worship movement
WRSP 520 – The Role of the Worship Leader
Here's what you'll learn:
A study of the varied roles and relationships of the worship leader
Special emphasis on the relationship between the worship leader and pastor as well as the worship leader and other staff members, singers/instrumentalists, and the congregation
Highlights of Our Master's in Music and Worship Degree
Nearly a 100% job placement rate for our recent residential graduate students.
141,000-square-foot Center for Worship has been voted "Best of the Best in Higher Education" six years in a row by Worship Leader Magazine.
We offer exceptional opportunities for our students including our 2.2 million dollar state-of-the-art recording studio and songwriting labs. In partnership with the Michael W. Smith Center for Commercial Music, students also have the opportunity to have their original music published before they graduate!
Designated as an "All Steinway" school.
Liberty University is an accredited institutional member of the National Association of Schools of Music (NASM) and is regionally accredited by SACSCOC.
School of Music was rated #1 Christian Music School by Christian Universities Online.
One of the nation's largest music schools.
44 full-time faculty with degrees from many of the most prestigious music schools in the nation.
Our students have produced albums that have been nominated for awards with Liberty alumni going on to become Dove award-winning Christian artists and songwriters.
Music and Worship Master's Degree Information
Commercial Music Performance
Career Opportunities for Music and Worship Graduates
Concert ministry program director
Contemporary Christian artist
Director of worship and drama
Director of worship technology
Minister of music
Music and worship evangelist
Worship leader or pastor
Admission Requirements for Graduate Degrees
Every application is reviewed on a case-by-case basis, and all applicants must submit the following documents and meet the minimum requirements for admission:
Admission application
Self-certification form (for students who are in the final term of their bachelor's degree)
Current Liberty undergraduate students seeking preliminary acceptance into a graduate program must complete a degree completion application through their ASIST account
Completion of an earned baccalaureate degree from an institution accredited by an agency recognized by the U.S. Department of Education in one of the following areas: bachelor's degree in music, music education, or music and worship
3.0 GPA for admission in good standing