Advance to Leadership and Management with a Master's Degree in Engineering
It's time to take your engineering degree to the next level. You've achieved so much already, but you aren't finished yet. At Liberty, we want to equip you for the next step in your career. By investing in your people skills, values, and communication abilities, you can take your current engineering expertise even further.
Our Office of University Research and Analysis reports that there were almost 15,000 posted jobs requesting a Master of Science related to engineering in the past year. These jobs are for experienced professionals like architectural and engineering managers who receive a median salary of $112,000. If you continue your education and complete a doctoral degree like our Ph.D. in Engineering, that income increases to an average of $124,000 a year.
Liberty University's M.S. in Engineering is focused on the "Creationeering" philosophy of melding business and engineering. You'll graduate prepared to lead a team of engineers, and together, you will better your company and the world around you. With our vision to Train Champions for Christ, you'll get an added edge to your degree that demonstrates a level of integrity that companies need in their engineering leaders.
What is Creationeering?
At Liberty, we define Creationeering as the joining of engineering processes with basic business concepts. For the engineering side of things, this includes the design, synthesis, procurement, logistics, assembly, performance, sustainability, and recycling of a process. The business side of Creationeering focuses on the value of people, finances, moral law, communications, and organizational structure.
---
Why Choose Liberty's M.S. in Engineering with a Thesis Track?
Pursuing your master's degree is more attainable than you might think. Imagine gaining the skill set you need to feel confident and prepared for a position of upper management in just 2 years. At Liberty, we have the program to help you do so.
In this program, you will advance in your engineering abilities as well as complete research and apply new knowledge to the field through your thesis project. Our faculty of industry-leading engineers will come alongside you throughout the program, providing vital support during your thesis process. You have a vision, and we have the tools to help you make it a reality.
Award-Winning Campus
At Liberty, you'll find an affordable, high-quality education that equips students like you for the real world. Our commitment to excellence helped us rank among Niche.com's Top 3 college campuses in America. Earning your degree from a nonprofit university with state-of-the-art resources like ours can help set you apart from your peers.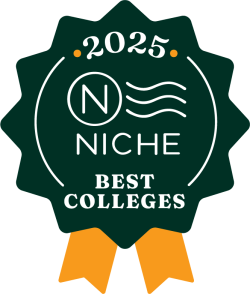 ---
What Will You Learn in Our M.S. in Engineering Degree?
Companies are looking for engineers with a very specific skill set. To meet these requirements, you'll need to hone your project management, product development, strategic planning, and quality management expertise. These skills are vital if you want to go beyond your current work and land an upper management position in this growing field. At Liberty, we have the degree you'll need to continue advancing your engineering proficiency while also developing your management style.
Additionally, employers want their top engineers to think creatively to solve complex system issues with integrity. Here are some of the major principles our M.S. in Engineering students will learn:
How to integrate qualitative and quantitative tools to perform effective engineering analysis and research
How to evaluate and present scholarship relevant to engineering contexts that reflects an understanding of the discipline and related literature
How to incorporate Christian worldview perspectives when solving engineering challenges
View the Degree Completion Plan and check out our featured courses below for more information.
Featured Courses
ENGR 637 – Materials Characterization Methods
ENGR 505 – Finite Element Analysis
ENGR 525 – Continuum Mechanics
Highlights of Our Engineering Master's Degree
Liberty University's Center for Engineering Research & Education (CERE) promotes research and development of all forms of energy generation, storage, and transmission.
Through the CERE, you will have the opportunity to observe and assist with research in Liberty's state-of-the-art facility.
You will have access to the latest technology and qualified faculty who seek to know you personally and to provide you with opportunities for education, research, and training in a Christ-centered environment.
M.S. in Engineering Degree Information
Career Opportunities for Engineering Graduates
Architectural project manager
Chief engineer
Director of engineering
Engagement director
Engineering manager
Head of technology and development
Project engineer
Senior project engineer
Technology development owner
Admission Requirements for Graduate Degrees
Every application is reviewed on a case-by-case basis, and all applicants must submit the following documents and meet the minimum requirements for admission:
Admission application
Current Liberty undergraduate students seeking preliminary acceptance into a graduate program must complete a degree completion application through their ASIST account
Official bachelor's degree transcripts showing a completed engineering or STEM-related degree with a 3.0 GPA or higher
A Self-certification form for students in the final term of their bachelor's degree