Be a Defender of Cyberspace with Liberty's Cyber Security Master's Program
With Liberty University's Master of Science in Cyber Security degree, you will take exciting classes that can help provide you with knowledge about advanced defense of computer and network security. This program can help equip you to combat existing threats and bolster systems to withstand future attacks. Our courses cover a wide range of topics, including the analytical framework necessary for the prevention, detection, countering, and recovery from security vulnerabilities and cyber incidents.
Additional items you'll study include the tools, standards, and practices related to an organization's cyberspace infrastructure. In 2 years, your goal to become a cybersecurity expert can become a reality with our Master of Science in Cyber Security degree program.
Cybersecurity specialists are the gatekeepers for most of the sensitive information in the world. Our MS in Cyber Security degree program professors are waiting for you to join them as they walk you through the intricacies of digital forensics and teach you methods and the rationale for ethical hacking.
Our cybersecurity master's program at Liberty University seeks to produce men and women who are committed to the Christian faith and ready to bring their ethical and spiritual standards into the workforce. Whether you are pursuing a position of added responsibility or just getting started, Liberty's cybersecurity program is a great next step to take in your cybersecurity journey.
Award-Winning Campus
At Liberty, you'll find an affordable, high-quality education that equips students like you for the real world. Our commitment to excellence helped us rank among Niche.com's Top 5 college campuses in America. Earning your degree from a nonprofit university with state-of-the-art resources like ours can help set you apart from your peers.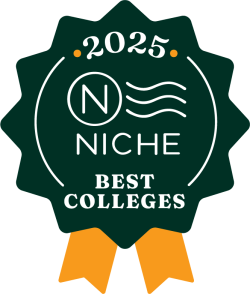 ---
Why Choose Liberty's Master's Degree in Cyber Security?
Liberty University is one of the largest Christian universities in the world and offers a variety of cybersecurity-related degrees at the bachelor's and master's levels. Our primary goal is to develop Christ-centered men and women with the values, knowledge, and skills essential to positively influence computer science-related industries.
With an exploding market for knowledgeable cybersecurity experts, now is the perfect time to advance your IT career or break into the field.

Since our master's of cybersecurity is housed within our School of Business, you will have access to our state-of-the-art, 3-story, 78,000-square-foot building on campus that contains the following resources:
A 2,000-square-foot Entrepreneurship Center for Innovation
A grand lobby and a 500-seat auditorium
A simulated stock trading room
Information technology labs and a networking and data center
Innovative classrooms and meeting spaces
By pursuing your master's in cyber security, you can prepare to take the next steps toward your career. Our computer science degree programs are offered through our School of Business, which contains the Center for Cyber Excellence. Plus, Liberty is a member and supporter of the National Cyberwatch Center through participation in the Mid-Atlantic Collegiate Cyber Defense Competition (MACCDC). 
One of our greatest resources is our professors. With terminal degrees in their field and real-world experience, our talented faculty are ready to invest in you in the form of prayer, mentorship, and partnership through your degree. We believe that by teaching from a Christian worldview and by offering genuine care and support, we fulfill our mission of Training Champions for Christ.
---
What Will You Learn in Our Master's Degree in Cyber Security Degree?
Understanding the legal and technical implications of today's digital age is critical to promoting justice and combating cyberattacks. Liberty's master's in cybersecurity can help you understand the language of the digital world through fascinating computer science courses. Each class will emphasize the importance of ethics as you learn to acquire, examine, and interpret digital evidence through cryptography and hacking.
Our master's in cyber security degree seeks to help make you a valuable defender against cyberattacks through hands-on experience and real-world insight. On campus you can experience our Center for Cyber Excellence, which has a mission of establishing Liberty University as the premier location for cybersecurity study, research, and job placement.
Review the Degree Completion Plan and check out our featured courses below for more information about what you'll study in our Cyber Security program.
Featured Courses
CSCI 511 – Digital Forensics
CSCI 605 – Applied Cryptography
CSCI 620 – Issues in Security, Privacy, and Anonymity 
CSCI 632 – Ethical Hacking