MSN/MBA – Dual Degree Admission Requirements
At this time, our MSN/MBA degree is limited in certain states. Please view the licensure/certification requirements for your state. International students can contact the School of Nursing for questions about admission to their specific degree of interest.
Apply online or call an admissions counselor at (800) 424-9596.
A non-refundable, non-transferable $50 application fee will be posted on the current application upon enrollment (waived for qualifying service members, veterans, and military spouses – documentation verifying military status is required).
Fax/scan unofficial college transcripts. Please note that unofficial transcripts can be used for acceptance purposes with the submission of a transcript request form.
Mail official college transcripts (sealed, unopened copies or via a direct electronic transcript system). Admission requires regionally or nationally accredited bachelor's degree with at least a 3.0 for admission in good standing. Students with a GPA of less than 3.0 may be considered for admission on caution. Applicants who have earned a master's degree or at least 12 graduate credits from an accredited institution will be assessed by the master's-level degree work.
Admission to this program requires:

Current and active nursing license to practice as a registered nurse in your current state of residency.
Minimum of 1 year of nursing practice as a registered nurse. This may be verified verbally by phone or by the submission of a résumé or a curriculum vitae as an attached document by email or sent by fax.

Students without the following coursework on their undergraduate transcript will be required to complete the following classes upon admission to the program (non-BSN applicants may be admitted to the MSN program but must satisfy requirements for the undergraduate bridge courses):

Post-Licensure Health Assessment (NURS 211)
Statistics (math preferred) (MATH 201)
Nursing Management (NURS 491)
Post-Licensure Population Health (NURS 446)
Leadership in Nursing (NURS 489)
Strategies for Community Health Care (NURS 440)
Post-Licensure Research in Nursing (NURS 226)
BSN applicants may be admitted to the MSN program but must satisfy requirements for the following undergraduate prerequisite courses (prerequisites are not an admission requirement, but you must complete them before taking NURS 500 and NURS 502):

Statistics (math preferred) (MATH 201)
Post-Licensure Health Assessment (NURS 211)

Please note: 27 hours of undergraduate business credit are required as prerequisites to the graduate business courses; 15 of these hours must be 300-400 level credit. This requirement can be satisfied by taking BMAL 590 before taking graduate business courses on the Degree Completion Plan.

Applicants whose native language is other than English must submit official scores for the Test of English as a Foreign Language (TOEFL) or an approved alternative assessment. For information on alternative assessments or TOEFL waivers, please call Admissions or view the official International Admissions policy.
Preliminary Acceptance
If you are sending in a preliminary transcript for acceptance, you must:
Be in your final term and planning to start your master's degree after the last day of class for your bachelor's degree.
Submit an official/unofficial transcript to confirm that you are in your final term. The preliminary transcripts must show a minimum of 105 completed credit hours. 
If you are a current Liberty University student completing your undergraduate degree, you will need to submit a Degree/Certificate Completion Application. 
Send in an additional, final official transcript with a conferral date on it by the end of your first semester of enrollment.
Dual Enrollment
Please see the Online Dual Enrollment page for information about starting graduate courses while finishing your bachelor's degree.
MSN Dual Degree CCNE Accreditation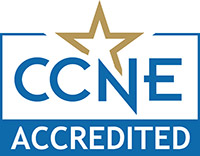 The master's degree program in nursing at Liberty University is accredited by the Commission on Collegiate Nursing Education (CCNE), 655 K Street, NW, Suite 750, Washington, DC 20001, (202) 887-6791.
Southern Association of Colleges and Schools Commission on Colleges
Liberty University is accredited by the Southern Association of Colleges and Schools Commission on Colleges (SACSCOC) to award associate, bachelor's, master's, specialist, and doctoral degrees.
For questions about the accreditation of Liberty University, please contact:
Commission on Colleges
1866 Southern Ln.
Decatur, GA 30033-4097
(404) 679-4500
Inquiries about the institution itself, such as admission requirements, financial aid, educational programs, etc., should be addressed directly to Liberty University.
Unofficial College Transcript Policy
An unofficial copy of the college transcript can either be faxed from the institution, printed from the school's official site or an opened copy that you may have in your possession.
Before sending unofficial college transcripts, please make sure they include the following:
Your previous school's name or logo printed on the document
Cumulative GPA
A list of completed courses and earned credit broken down by semester
Degree and date conferred (if applicable)
---
Official College Transcript Policy
An acceptable official college transcript must be issued directly from the institution in a sealed envelope with a signature across the back. If you have one in your possession, it must meet the same requirements.
Official college transcripts are not required initially for acceptance if unofficial transcripts are provided. However, if the student uses unofficial transcripts to earn acceptance, all official transcripts must be received within 60 days of the admission decision. Failure to send all official transcripts within the 60-day time frame will prevent registration.
---
Liberty University Admissions Office Contact Information
Back to the Master of Science in Nursing/Master of Business Administration (MSN/MBA) – Dual Degree