Liberty University Online Academic Calendar
Liberty University has a unique online course structure that provides more flexibility to students like you. By providing start dates throughout the year, we are confident that you will strike the right balance between pursuing your degree and maintaining your current lifestyle with our flexible scheduling options. 
Not in a Liberty program yet?
Start by getting more information, or apply now!
---
Liberty's Online Course Format
Unlike traditional academic schedules that offer courses in the fall and spring semesters, Liberty University's online academic calendar provides the flexibility of 3 semesters: fall, spring, and summer.
Our semesters are further broken down into sub-terms, B-term, C-term, and D-term. These three sub-terms run for just 8 weeks. We also offer some courses in a semester-long sub-term (A-term), which can range from 14 to 17 weeks. 
You can attend 8-week courses in our summer semester, providing you the ability to complete your online program in less time. Achieve all of your personal and professional goals with Liberty!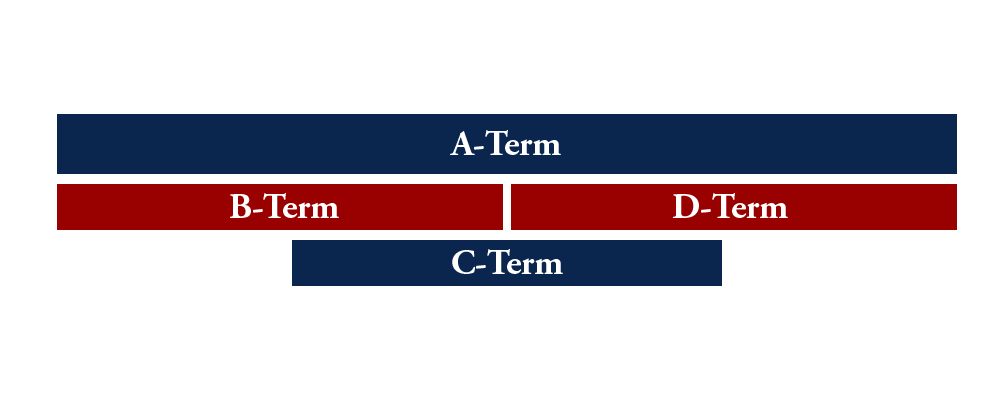 Please note: C-term courses are not available during the summer semester.
---

Important Online Dates and Deadlines
Spring 2021 Academic Calendar
Sub-Term A
Acceptance Deadline: 12/23/2020
Undergraduate Registration Deadline: 1/6/2021
Graduate Registration Deadline: 1/8/2021
Financial Check-In Deadline: 1/11/2021
Class Start Date: 1/18/2021
Sub-Term J
Class Start Date: 1/11/2021
Sub-Term B
Acceptance Deadline: 12/23/2020
Undergraduate Registration Deadline: 1/6/2021
Graduate Registration Deadline: 1/8/2021
Financial Check-In Deadline: 1/11/2021
Class Start Date: 1/18/2021
Sub-Term C
Acceptance Deadline: 1/20/2021
Registration Deadline: 2/3/2021
Financial Check-In Deadline: 2/8/2021
Class Start Date: 2/15/2021
Sub-Term D
Acceptance Deadline: 2/24/2021
Registration Deadline: 3/10/2021
Financial Check-In Deadline: 3/15/2021
Class Start Date: 3/22/2021
Summer 2021 Academic Calendar
Fall 2021 Academic Calendar
---
Liberty University Intensive Course Format
Intensive courses of varying frequency are offered each semester in the J-term. A limited amount of courses are available in the A-term and C-term. 
Financial Check-In Policy for Intensives
---
Military Deadlines
Liberty University is proud to provide quality, flexible, and affordable education to students in the military. Our academic calendar and its deadlines are set up to ensure efficient processing of Tuition Assistance and Veterans Affairs forms and benefits before the Financial Check-In deadline of a given term.
Please review our Military Dates and Deadlines page to ensure you are up-to-date with all important information. 
Liberty University's Military Benefits
Your GI Bill®, Tuition Assistance, and other military education benefits are designed to help you succeed both in military and civilian life, so we want to help you make the most of them.
At Liberty, you'll find competitive tuition pricing for our online programs, including:
Undergraduate tuition rates at $250 per credit hour
Graduate tuition rates at $275 per credit hour
Divinity tuition block rates* that allow you to pay no more than $2,475 per semester
Doctoral** military rates of $275 per credit hour
Application fee waivers for service members, veterans, and their spouses
Additional tuition discounts for First Responders!
Doctoral Military Tuition Discount

Lead your field with the doctoral degree you want — at a price you've earned. As a thank-you for your military service, Liberty University offers current and former service members like you or your spouse multiple pathways to earn a doctoral degree for only $300/credit hour. Find out how you can take advantage of this unique opportunity and reach the pinnacle of your profession — for less.
*Block rate = 9 to 15 credit hours (less than 9 or more than 15 credit hours for military benefits: $275/credit hour)
**Military rate only applies to Ed.D. and Ed.S. programs and the Doctor of Ministry – Pastoral Counseling. Military students pursuing other doctoral programs will be charged the regular part-time/full-time doctoral tuition rate. 
GI Bill® is a registered trademark of the U.S. Department of Veterans Affairs (VA). More information about education benefits offered by VA is available at the official U.S. government website at https://www.benefits.va.gov/gibill.