Helping You Access Campus and Other Services
Our department issues the University's official identification card, the Flames Pass, and provides other services for students, faculty, and staff.
Fall 2020 Announcements
Residential Students: Still need to get your Flames Pass? Upload your photo online and select "Hold for Pick-up." When you arrive, pick up your card at our office in the Montview Student Union, room 1720.
Move-in Office Hours:

Mon.-Fri. August 10-14: 8 a.m.-5 p.m.
Sat., August 15: 12 p.m-4 p.m.
Sun., August 16: 2 p.m.-6 p.m.
Mon.-Fri., August 17-21: 8 a.m.-6 p.m.
Sat., August 22: 12 p.m.-4 p.m.
Sun., August 23: 2 p.m.-6 p.m.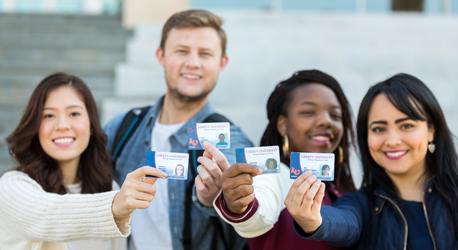 Liberty University's official ID
On and off-campus spending
Find what's right for you
Liberty University's refund management provider
Lost & Found, Info Desk, Notary Services and more!
For department contracted vendors