With Red, White, and Blue as Our School Colors and an Eagle as Our Mascot, Our Commitment to Inspiring Our Nation and Our Nation's Military Here at Liberty University Shows.
Honoring our men and women in uniform is part of university culture, both on campus and online. Every November, Military Emphasis Week highlights those who have served and are serving in the United States military, and we host special ceremonies recognizing our military graduates, whether service members or their spouses, during Commencement celebrations each May.
Many of our faculty members have served in the Armed Forces and are actively involved in research, resource development, and/or ministry to benefit the military community. Our commitment to Training Champions for Christ means we're here to champion you — men and women of character whose impact will extend far beyond your profession to change the world around you.
---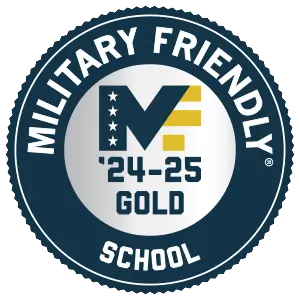 ---
Deployment Assistance
We appreciate your service and the sacrifices you make daily to secure our freedom. When you are faced with a deployment or unexpected duty, we have processes in place to ensure your academic progress is not affected by your military service.
Contact us for more information or review our deployment guide.

---

Student Spotlight
Though Julia Rothenberger never served in the military herself, this Liberty University School of Music student, encouraged by her professor, labored to view life through the eyes of veterans and utilize the power of song to tell their stories.
She composed a cycle of four songs, about 23 minutes in length, based on over a dozen interviews she conducted with veterans who had served in Iraq and Afghanistan.
Faculty Spotlight
Dr. Tim Barclay not only teaches theories of psychotherapies class online, but he also uses those theories in his personal practice to treat veterans suffering from PTSD or traumatic brain injury.
As a former service member and a graduate of the U.S. Army Ranger Course, he understands the heavy cost of war, and he founded the Collateral Damage Project, a specialized treatment program for veterans, in response to the growing need for healing among those returning from the combat field.
---
Family Resources
Department of Veterans Affairs Local Hospitals
Permanent Change of Station (PCS)