Empower Others to Create Positive Change by Earning a Master's in Clinical Mental Health Counseling Degree Online
Liberty University's Master of Arts in Clinical Mental Health Counseling degree online is designed to equip you with the specialized training you need to gain state licensure and become a Licensed Professional Counselor (LPC).* An LPC is a licensed mental health professional who is trained to work with individuals, families, and groups in treating mental health and behavioral problems. By earning this online counseling degree, you will enhance your understanding of human psychology through field-tested techniques and learn best practices for promoting the mental health and holistic wellness of clients in diverse communities.
Our master's in counseling degree online will help you become an ethical, well-trained mental health counselor with the knowledge, values, and skills you need to empower others to make positive changes in their lives. Completing Liberty University's counseling degree online prepares you for counseling practice through rigorous academic courses, dynamic interaction with mentors and faculty, and a carefully structured practicum and internship process.
*Please verify with your state that this program will meet licensure requirements. 
---
Why Choose Liberty's Master's in Clinical Mental Health Counseling Degree?
Do you want to empower others to conquer their challenges and become healthy and productive? Liberty University's online clinical mental health counseling degree prepares you for a rewarding career as a licensed professional counselor (LPC). Learn evidence-based, field-tested skills from professors who not only have years of real-world counseling experience but are also committed to mentoring their students. You'll have the opportunity to meet with some of them personally during your visits to Liberty's beautiful campus, located in Central Virginia, for two on-campus intensives. You'll also observe professional counselors in their own practices during your counseling practicum and start honing your counseling skills throughout a two-semester internship.
Once you complete your master's in mental health counseling degree online and pass your state licensure exam, you'll be equipped to pursue a fulfilling professional counseling career in healthcare, community agencies, education, social services, or private practice. Liberty University's online professional counseling degree provides you with a flexible, effective pathway to licensure that prepares you for a rewarding career.
What Are the Benefits of Liberty University's Clinical Mental Health Counseling Degree Online?
The U.S. Department of Labor projects a 22% growth for mental health counselors through 2028, which is more than the average for all occupations. Insurance companies offer more coverage for mental health services than in the past, so the federal government, community clinics, and local hospitals are expanding their mental health counseling staff to provide effective treatment for patients.*
After completing Liberty University's master's in clinical mental health counseling degree online, you will have many opportunities to choose your preferred area of practice or change your field of expertise later through state-specific alternate pathways.
Highlights that set Liberty's clinical mental health counseling degree apart from others:
Our award-winning online learning environment means you can complete your coursework on a schedule that fits your life.
Our flexible, on-campus intensive options give you the opportunity to visit Liberty University's beautiful campus in the Blue Ridge Mountains of Virginia when it fits into your schedule. 
The practicum and internship provide hands-on, marketable experience working directly with hurting people in your community.
*Bureau of Labor Statistics, U.S. Department of Labor, Occupational Outlook Handbook, at Substance Abuse, Behavioral Disorder, and Mental Health Counselors, 2018-28 (Viewed online October 7, 2019) Cited projections may not reflect local and/or short-term economic or job conditions and do not guarantee actual job growth.
---
Accreditation and Awards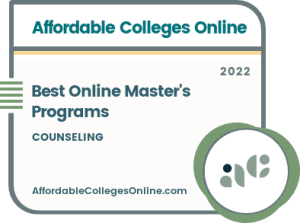 ---
What Will You Learn in Our Online Master's in Mental Health Counseling Degree?
Our master's in clinical mental health counseling degree online provides a foundational series of courses designed to train you in ethical and legal issues in counseling, multicultural counseling, theories in counseling, and many other areas of study for evidence-based best practices that are essential for the counseling practice. 
Our online LPC degree focuses these critical knowledge areas into group counseling, psychopathology, and other important assessment and practical skill areas so that you will be equipped for your observational and hands-on work during your practicum and internship requirements. These courses will give you the necessary skills and knowledge to be an effective mental health caregiver in your chosen field. 
Featured Courses
COUN 601 – Marriage and Family Counseling*
COUN 667 – Clinical Diagnosis and Treatment Planning*
Course guide coming soon*