Empower Others to Create Positive Change by Earning a Master's in Clinical Mental Health Counseling Degree Online
Liberty University's Master of Arts in Clinical Mental Health Counseling degree online is designed to equip you with the specialized training you need to gain state licensure and become a Licensed Professional Counselor (LPC).*
An LPC is a licensed mental health professional who is trained to work with individuals, families, and groups in treating mental health and behavioral problems. By earning this online counseling degree, you will enhance your understanding of human psychology through field-tested techniques and learn best practices for promoting the mental health and holistic wellness of clients in diverse communities.
What is Professional Counseling?
Professional counselors or mental health counselors are licensed professionals who use expert knowledge in human psychology to help people heal from emotional trauma, overcome harmful behavior, and prescribe mental health treatments.
The act of counseling itself may be performed by non-licensed professionals who have experience in helping people overcome emotional and psychological struggles. However, licensed counselors have met specific, rigorous standards for training and broad-based, in-depth study of psychological conditions and their treatment. This background better prepares counselors to handle a wider variety of issues and to help clients find the treatments they need to thrive.
Our master's in counseling degree online will help you become an ethical, well-trained mental health counselor with the knowledge, values, and skills you need to empower others to make positive changes in their lives. Completing Liberty University's counseling degree online prepares you for counseling practice through rigorous academic courses, dynamic interaction with mentors and faculty, and a carefully structured practicum and internship process.
*Individual state licensure requirements may vary, please verify licensure requirements for the state in which you reside.
Common Questions:
How Can You Earn a Counseling Degree Online?
Many students looking for how to get a counseling degree are confused by online formats. While these programs are online, state-recognized counseling licensure requires hands-on experience showing many hours of counselor-patient experience. With Liberty's online LPC program, the hands-on experience is handled through a practicum and internship in the student's local area.
How Long Does it Take to Earn a Master's?
Most online LPC programs can take as long as 3 years to complete, but Liberty University's online LPC program can help you complete your clinical counseling program in as little as 2 years. This time frame includes the internship and practicum requirements that will help you get the hands-on experience you need to pursue licensure.
What is an LPC degree?
An LPC degree is a "license for professional counseling" degree, or a degree designed to help graduates obtain license for professional counseling. Liberty's Master of Arts in Clinical Mental Health Counseling is an LPC degree.
You may also be able to use your state's approved pathways to transition from a general LPC to a specialized field. See your state's board of counseling website for details.
---
Why Choose Liberty's Master's in Clinical Mental Health Counseling Degree?
Do you want to empower others to conquer their challenges and become healthy and productive? Liberty University's online clinical mental health counseling degree prepares you for a rewarding career as a licensed professional counselor (LPC). Learn evidence-based, field-tested skills from professors who not only have years of real-world counseling experience but who are also committed to mentoring their students.
You'll have the opportunity to meet with some of them personally during your visits to Liberty's beautiful campus, located in Central Virginia, for 2 on-campus intensives. You'll also observe professional counselors in their own practices during your counseling practicum and start honing your counseling skills throughout a 2-semester internship.
Once you complete your master's degree in counseling online and pass your state licensure exam, you'll be equipped to pursue a fulfilling professional counseling career. You will be able to pursue roles in many areas such as healthcare, community agencies, education, social services, or private practice. Liberty University's online master's in professional counseling degree provides you with a flexible, effective pathway to licensure that prepares you for a rewarding career.
What Are the Benefits of Liberty University's Clinical Mental Health Counseling Degree Online?
The U.S. Department of Labor projects a 25% growth for mental health counselors through 2029, which is faster than average for all occupations. Insurance companies offer more coverage for mental health services than in the past. This change means that the federal government, community clinics, and local hospitals are expanding their mental health counseling staff to provide effective treatment for patients.*
After completing Liberty University's master's in clinical mental health counseling degree online, you will have many opportunities to choose your preferred area of practice or change your field of expertise. This change can be completed later through state-specific alternate pathways.
Highlights that set Liberty's clinical mental health counseling degree apart from others:
Our award-winning online learning environment means you can complete your coursework on a schedule that fits your life.
Our flexible, on-campus intensive options give you the opportunity to visit Liberty University's beautiful campus in the Blue Ridge Mountains of Virginia when it fits into your schedule.
The practicum and internship provide hands-on, marketable experience working directly with hurting people in your community.
*Bureau of Labor Statistics, U.S. Department of Labor, Occupational Outlook Handbook, Substance Abuse, Behavioral Disorder, and Mental Health Counselors, (Viewed online June 14, 2021). Cited projections may not reflect local and/or short-term economic or job conditions and do not guarantee actual job growth.
Accreditation and Awards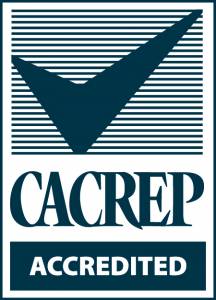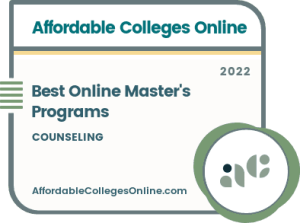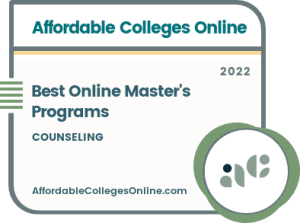 ---
What Will You Learn in Our Online Master's Degree in Mental Health Counseling?
Our master's in clinical mental health counseling degree online provides a foundational series of courses designed to cover the most essential studies in human behavior. These courses are designed to train you in ethical and legal issues in counseling, multicultural counseling, theories in counseling, and many other areas of study for evidence-based best practices. To meet private counseling practice requirements and become a licensed clinical counselor, your online counseling classes will meet specific advanced counseling content areas. Our program is designed to help you receive the hands-on training you need.
What Can You Do With a Master's in Counseling?
Liberty's online Master of Arts in Clinical Mental Health Counseling provides the training, knowledge, and experience you need to become a professional counselor. With a professional counseling licensure and an LPC degree that is accredited by CACREP, your training and expertise will be recognized as meeting a high standard of excellence. There are opportunities for counseling in many areas, including:
Addictions and recovery counseling
Ministry-based counseling
Private counseling practice
School counseling
Trauma response counseling
Our online LPC degree focuses these critical knowledge areas into group counseling, psychopathology, and other important assessment and practical skill areas.
With these skills, you will be equipped for your observational and hands-on work during your practicum and internship requirements.
These courses will give you the necessary skills and knowledge to be an effective mental health caregiver in your chosen field.
Highlights of Liberty University's Online Counseling Degree
We are recognized by multiple institutions for our academic quality, affordability, and accessibility. Our commitment to excellence also helped us rank among Niche.com's top 5 online schools in America. Earning your online Master of Arts in Clinical Mental Health Counseling degree from a nonprofit university with this kind of recognition can help set you apart from others in your field.
Through 2 required on-campus intensive courses, you will meet and collaborate with peers and professors while completing your online degree while taking the steps to obtain your LPC.
Be mentored during your first hands-on counseling experience through the online counseling degree's 2-semester internship, providing necessary state-reported hours for licensure and valuable field experience.
Complete your coursework on a schedule that fits your life with Liberty's award-winning online learning environment.
Program Information for Our Online Degree in Counseling
Master's in Clinical Mental Health Counseling Degree Military Benefits
Liberty University is dedicated to providing world-class educational experiences to military students across the globe. Whether you are a current service member, discharged or retired from service, or the spouse of a service member or veteran, we are here to support you through every step of the journey.
As a thank-you for your dedication and service to our country, Liberty is honored to serve and support you in your pursuit of online education by offering the following benefits:
Tuition discounts – $275 per credit hour for graduate courses

Additional discount for veterans who serve in a civilian capacity as a First Responder (less than $625 per course)

8-week courses, 8 different start dates each year, and no set login times (may exclude certain courses such as practicums, internships, or field experiences)
Potential Career Options with a Master's Degree in Counseling
Our online counseling degree assists students in pursuing all required state licensure areas of knowledge and practice. This allows students to pursue state-regulated counseling positions to work in private, public, and nonprofit roles where counseling and human services skillsets are required. After completing Liberty's online degree in counseling and undergoing state licensure requirements, students may be able to start their own private practices in counseling.
As a licensed professional counselor (LPC), you will be qualified to work in the following types of treatment centers:
Counseling center
Hospital program
Inpatient mental health treatment facility
Mental health agency
Private practice
With additional licensure requirements, graduates may also pursue roles as school counselors, addiction counselors, marriage and family therapists, and many other counseling roles. Please see your state's board of counseling website for more information about counseling licensure requirements.
Admission Requirements for Our Online M.A. in Clinical Mental Health Counseling Degree
A regionally or nationally accredited bachelor's degree with a 2.7 or above cumulative GPA is required for admission in good standing. Please visit our admission requirements page for more detailed admissions information.
All applicants must submit the following:
Admission application
Application fee*
Contact information for 2 recommenders
Personal statement
Agreement to Mission Statement and Diversity Statement
Official college transcripts
Unofficial college transcripts may be accepted with a completed official transcript request form**
Proof of English proficiency
*There is no upfront application fee; however, a deferred $50 application fee will be assessed during Financial Check-In. This fee is waived for qualifying service members, veterans, and military spouses – documentation verifying military status is required.
**An official transcript is needed within 60 days of acceptance or before non-attendance drops for the first set of matriculated classes, whichever comes first
---