Get Started Today with Liberty University's Admissions Process
Liberty offers online degree and certificate programs at the undergraduate, graduate, and doctoral levels. Across all university degree levels, our mission to Train Champions for Christ is put into practice through the course content and guidance of knowledgeable professors.
If you are looking to attend an award-winning, affordable, flexible online college, Liberty University is the place for you. We encourage you to explore our degree offerings and then begin the Liberty admissions process today!
Check out Liberty's general admission requirements, or find out more specific admissions related information by clicking a category below.
---
General Liberty University Admission Requirements
You can apply online or call a Liberty University admissions counselor at (800) 424-9595 for individualized assistance. Once you've completed Liberty University's online application, please proceed to the following steps where you will submit necessary forms and transcripts.
You may email unofficial copies of your transcripts* to luoverify@liberty.edu or fax them to (888) 301-3577 for online associate, bachelor's, and master's degrees. Please note: Liberty can only accept official transcripts for online certificate programs and online doctorate programs.
If you need help preparing your unofficial transcripts, visit our instructions page.
Do you need to request a college transcript? Let us request it for you through the Transcript Request Form!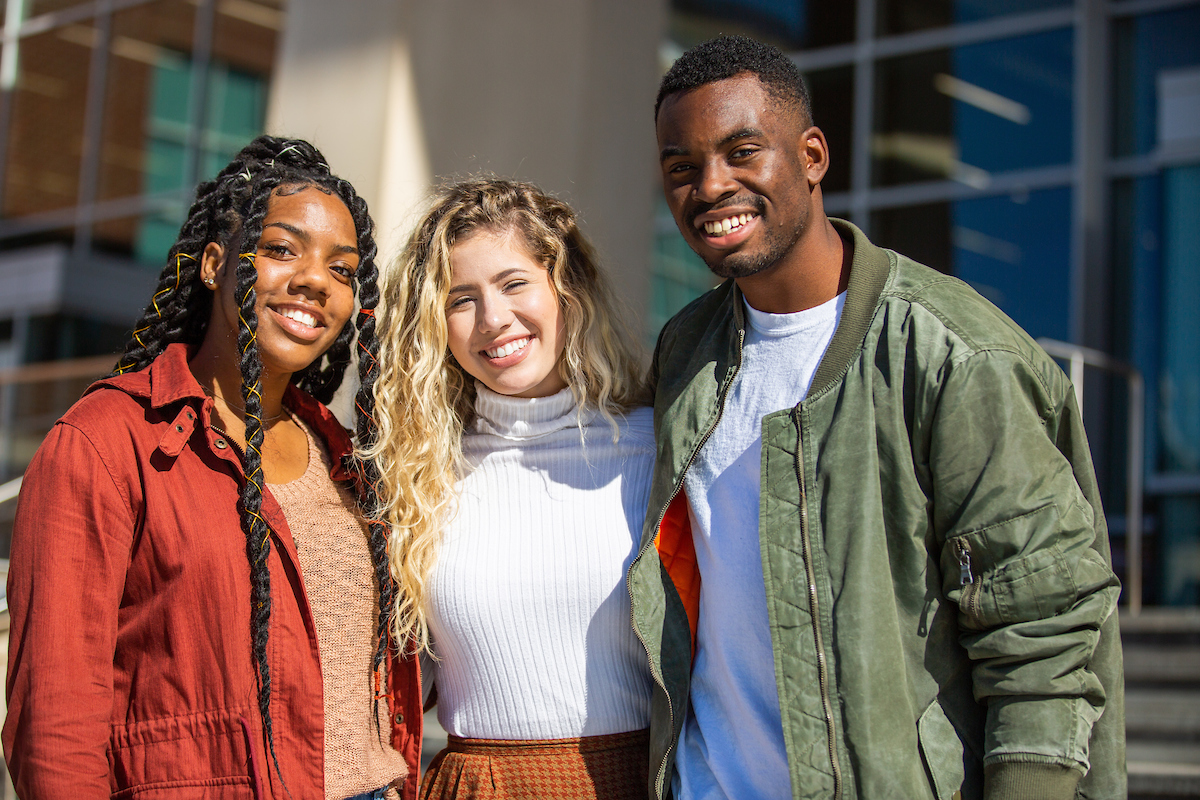 *International transcripts must be translated into English and be full course by course evaluation by NACES before submitting. For more information, please contact our Admissions team.
---
Liberty University Undergraduate Admission Requirements – Online Programs
Liberty University offers 100% online associate degrees and bachelor's degrees, as well as certificates, in many areas of study.
First Time College Students
If you are attending college for the first time, we only require that you confirm that you've completed high school. You will demonstrate this by completing an online High School and GED self-certification form to comply with Federal regulations.
The High School Self-Certification form can be completed through our online portal or printable form.
Please note that this requirement is waived for students who already have an associate degree.
Transfer Students
Please visit our Undergraduate Admissions page to see more specific requirements for admission into an online associate degree or bachelor's degree.
A High School Self-Certification form – this can be completed through our online portal or printable form. This form will be waived for students who have already earned an associate degree.
Copies of transcripts from all previous accredited college-level coursework are required.
Transfer Credits

As an accredited online college with established credibility, Liberty can offer college credit for many industry certificates and training. Have you completed nationally-recognized standardized college-credit tests such as CLEP or DANTES exams? Do you have professional training or on-the-job experience? If so, please view our Experience Plus page for information about how you could get college credit for your life experience.
---
Graduate Admission Requirements for Liberty University Online Programs
Our graduate programs are specialized to prepare you for a wide variety of career fields and educational opportunities. You must possess a bachelor's degree before you can begin a master's degree program.
We also offer online graduate certificates for students who are seeking a shorter, more focused certificate completion plan. This provides you with graduate-level courses to build your résumé and act as the first step toward a master's degree.
General Admission Requirements
Please visit our Graduate Admissions page to see all steps and policies for admission into Liberty's online master's degree programs. Please note: There may be degree-specific admission requirements for each of our online degree programs. You can find these requirements on each of the individual degree pages. A copy of your transcript showing a conferred bachelor's degree is required.
It is important to note that some of our master's degrees may have residential components such as on-campus intensives or internships. This information will be made known on our program pages.
---
Liberty University Post-Graduate and Doctoral Admission Requirements
After completing a master's degree, students are eligible to pursue a post-graduate or doctoral degree program. Post-graduate degrees include industry-specialized advanced degrees such as the Education Specialist (Ed.S.) and the Master of Theology (Th.M.). These programs are pre-doctoral but give advanced training and knowledge beyond the graduate level.
Students with a master's degree can also pursue an online doctoral degree. Doctoral degrees are the highest level of college education and include a final, comprehensive project such as the Doctoral Dissertation. Some popular examples of our doctoral degree programs are the Doctor of Education (Ed.D.) and the Doctor of Business Administration (DBA).
Students pursuing Liberty's online doctoral programs may have residential requirements including on-campus intensives and internships. This information will be made known on our program pages.
General Admission Requirements
Please visit our Post-Graduate and Doctoral Admission Requirements page to see all the steps and policies for university admission. Please note: There may be degree-specific admission requirements for each of our online degree programs. You can find these requirements on each of the individual degree pages.  
An official copy of your transcript showing a conferred master's degree is required.
---
If you are an International Applicant…
You may be required to have your international transcripts reviewed. Information regarding the transcript evaluation process for international students can be found by visiting NACES.
Liberty University offers general undergraduate admission for students who achieve one of the following minimum scores on a standardized test of English Proficiency:
TOEFL (Internet Based Test or iBT): 61
International English Language Testing System (IELTS): 6.0
Pearson Test of English (PTE): 51
International Test of English Proficiency Academic Plus (iTEO): 3.6
---
FAQs for Admission
Are there GPA requirements?
Liberty University's GPA requirements vary between programs and education degree levels.
The majority of bachelor's degrees require a 2.0 for admission in good standing.
For Liberty University online graduate programs, the GPA requirement ranges from 2.5 – 3.0 for admission in good standing. 

What is the application deadline for Liberty University?
It's important to know what kind of time table you're looking at when applying for college.
Check out our academic calendar page to see current acceptance deadlines, registration deadlines, and class start dates.
---

Is Liberty Online accredited?
Yes! Liberty University is accredited by the Southern Association of Colleges and Schools Commission on Colleges (SACSCOC), the regional accrediting body for Southern states. Regional accreditation is the highest accreditation possible for institutes of higher education.
Many of our online programs are further recognized by other professional organizations and field-specific accrediting bodies, such as ATS, CACREP, CEPH, CCNE, COSMA, CSWE, and NCATE through CAEP.

Can I transfer to Liberty from other schools?
Yes! We know you've worked hard to get where you are. Make that work count by transferring in up to 75% of an undergraduate degree and up to 50% of a graduate degree.
Additionally, you can benefit from what you already know. Transfer relevant work experience, prior training, and professional development courses into college credit using Liberty's Experience Plus Portfolio Process.
---

Is a Liberty University degree respected?
Liberty has been an innovator in distance learning for more than 30 years. We've used this experience to develop respected degrees in the most in-demand fields. And we've been recognized for it.
Our online programs are ranked in the top 1% out of 2,100 online colleges and universities for academic quality, affordability, and accessibility by Bestcolleges.com, and we are ranked #2 Best Online College in America by Niche.com.
Our online programs are subject to the same rigorous accreditation standards as our residential programs – so you can be confident that you're earning a degree that can take you further.

What does Liberty University believe?
At Liberty University, we believe in helping our students gain a greater understanding of themselves and their world.
Maintaining the vision of our founder, Dr. Jerry Falwell, Liberty University develops Christ-centered men and women with the values, knowledge, and skills essential for impacting the world.
Liberty focuses on educating men and women who will make important contributions to their workplaces and communities, follow their chosen vocations as callings to glorify God, and fulfill the Great Commission.
---
Liberty University Office of Admissions Contact Information
Need to know where to send your documents or how to apply to a degree program made for you? Find our Liberty University online phone number, email, and mailing address below. Give us a call, shoot us an email, or mail over your transcripts today!
Liberty University Address to Send Transcripts:

Liberty University Online Admissions Verification
1971 University Blvd.
Lynchburg, VA 24515