Your Service Matters to Us
Discover military-friendly benefits, culture, and affordability at Liberty University — it's our duty to serve you.
Going to school while serving your country isn't always easy. At Liberty University, we understand, so you'll find deployment-friendly classes, military-focused degrees, and special pricing so whatever you're aiming for, you can hit your mark.
It's our duty to serve you.

---
Undergraduate Students
For undergraduate certificates, associate degrees, and bachelor's degrees, the tuition rate is $250 per credit hour. This tuition cost is in line with the Tuition Assistance cap for Army, Air Force, Navy, Marines, and Coast Guard.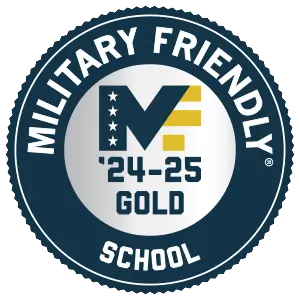 ---
Graduate Students
For graduate certificates and master's degrees, the tuition rate is $275 per credit hour. This tuition rate also applies to select postgraduate and doctoral programs. Learn more!
Pursuing a Graduate Divinity Program?
There is a discounted divinity block rate for master's-level divinity programs of $2,475 per semester for full-time attendance (9-15 credits/semester) – only $165/credit at 15 credit hours. Credits taken above 15 credit hours are charged at the part-time rate.

---
Doctoral Students
Lead your field with the doctoral degree you want — at a price you've earned. As a thank-you for your military service, Liberty University offers current and former service members like you or your spouse multiple pathways to earn a doctoral degree for only $300/credit hour. Here's how:
If you're earning or have earned a master's degree through Liberty, you automatically qualify for the low price (when you begin within 2 years of your master's completion).
If you haven't earned a master's degree through Liberty, our Executive Certificate program allows you to pay only $300/credit hour for a post-graduate certificate that can stand alone or count as the first 21 hours of your doctoral degree. Then pay just $300/credit hour for the remainder of your doctorate. Learn more!

The Post-BSN DNP-Psychiatric Mental Health Nurse Practitioner, Post-MSN DNP-Psychiatric Mental Health Nurse Practitioner, and Post-Graduate Certificate in Psychiatric Mental Health Nurse Practitioner are excluded from the discounted military rate.
---
Military Child Discount
We recognize the sacrifice military members and their families make. As a thank-you, we now offer a 15% discount off our regular full-or part-time tuition rates for new online students, regardless of age, whose parent(s) served honorably in the military.* Please contact us at (800) 424-9595 for more information.
*Some exclusions apply. This cannot be combined with other discounts.
---
Did You Know? 
Parents who attend Liberty University Online may be eligible to receive a 10% tuition discount for their child to enroll with Liberty University Online Academy.*
---
How to Apply for Liberty-Given Military Benefits
If you believe you may qualify for this benefit, please review the information on our LUO Military Benefits guide to submit your documentation and apply.
Once approved for this benefit, the discount is automatically applied to your student account within 3-5 business days of enrollment in your course(s). You may verify your charges have updated accordingly by viewing your Summary of Account through ASIST and when you complete Financial Check-In each semester.
Please note: If you apply to a new program, change degree levels, or break enrollment, you will be required to resubmit documentation that meets the current eligibility requirements.
If you have any questions about this process, please contact a Military Benefits Representative for assistance. 
---
*Discount only applicable to tuition for non-dual enrollment courses with Liberty University Online Academy (LUOA). Students must be new to LUOA and enrolled in full-time courses to be eligible. At least one parent must have completed a course with Liberty University Online (LUO) within the last 24 months to be eligible. This LUO Parent Discount is not stackable with other discounts. Contact LUOA for further details and to see if your family is eligible.