Lead Your School Towards Educational Success with a Masters in Education – Administration and Supervision Degree
If you are already a working professional in the field of education and wish to advance your career or you are looking to make a difference in the school system from an administrative standpoint, then Liberty University's 100% online Master of Education in Administration & Supervision degree is for you! This M.Ed. program is designed to provide you with an understanding of functional administration so that you will have the tools and skills you need for effective communication and supervision. 
Throughout this degree program, you will master skills in community relations, school law, financial management, and administration by practicing a variety of real-world situations. Liberty seeks to not only build upon your foundational knowledge for advancement in your career but also provide practical applications that will assist in making you a valuable asset to your school. 
Please note: this program includes the required steps to pursue add-on or advanced licensure, which require initial licensure in teaching. If you do not have an initial teaching license, please see the Master of Arts in Teaching program.
---
Why Choose Liberty's Masters in Education Administration and Supervision Online Program?
Our online M.Ed. in Administration and Supervision degree program is accredited under NCATE (National Council for Accreditation of Teacher Education) standards through the CAEP (Council for the Accreditation of Educator Preparation) Accreditation System. Our online administration and supervision degree will provide the training you need to be an educator or school leader who models high academic, moral, and spiritual standards before your peers. Concurrent with this goal, the master's in administration and supervision online degree is designed to prepare candidates for effective leadership in Christian, public, and private schools.
We don't just train educators — we train educators who want to make a positive impact on the next generation. It's who you are and who you aspire to become.  We want to help you reach your goals, so we're making a master's degree more affordable. You can add to your skill set, broaden your professional capacity, and make a bigger impact on your students with an online graduate degree in education from Liberty University.
Students enrolled in the M.Ed. in Administration and Supervision online degree program will complete an internship as well as optionally attend three intensives located on Liberty University's beautiful campus in central Virginia. These unique opportunities will provide you with practical applications and understanding through completion of the internship and the ability to meet with peers and professors face-to-face. Our M.Ed. intensives are created to bring further quality to the educational experience and provide students the chance to develop deeper and more meaningful relationships with all involved in the program.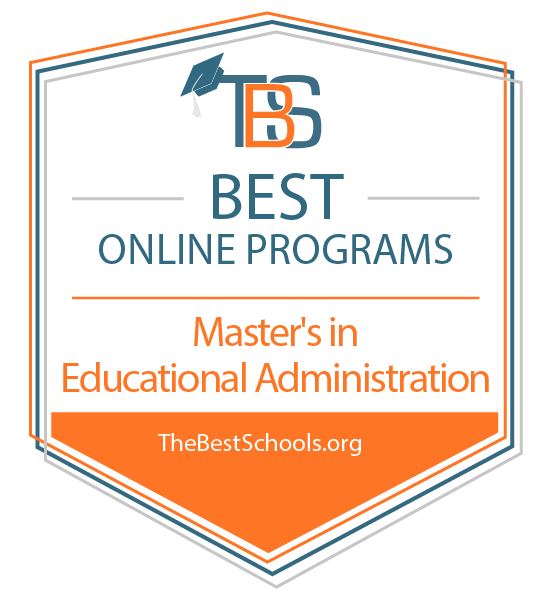 Please Note: Master's in Administration and Supervision students seeking an add-on endorsement or advanced license must have an initial teaching license. 
---
What Will You Learn in Your M.Ed. in Administration and Supervision Degree?
Liberty University's Masters in Education – Administration and Supervision online degree will provide you with an in-depth study of instruction, principles of behavior management, curriculum and instruction and educational leadership. Your M.Ed. courses will cover the teacher-learning process for learning theory, human development, motivation, teaching methodology and individual differences. Our education administration degree will equip you to professionally and effectively interact with individuals and students from various backgrounds and personality types. Also, you will familiarize yourself with educational research on human development, learning, and instructional knowledge and skills. Our program promotes stronger Christian leadership abilities, skills, and a commitment to improve within the school setting. 
The Masters in Education – Administration and Supervision online degree program will train you in curriculum development, paying special attention to objectives, sequence, major problems, and recent developments in school programs. Since you will be a key factor in your school's success, you will examine the administrative roles in the design, implementation, and improvement of the education program in both private and public school settings. We want you to feel prepared and have the necessary training to acquire the ability to meet both the educational and relational needs of your school. 
Featured Courses
 Degree Information and Requirements
This program falls under the School of Education.

A three-credit hour internship is a required part of the M.Ed. Program

Download and review the Degree Completion Plan for this program.
View the graduate education course guides (login required).

The Education Department will verify that students have completed one of Liberty's Virginia state-approved licensure programs. Students should verify any additional licensure requirements with their home state. Students pursuing this concentration for licensure must already hold an initial teaching license. For state approval information, visit www.Liberty.edu/StateApprovals.
Military Benefits
Liberty University is dedicated to providing world-class educational experiences to military students from all over the world. Whether you are a current service member, discharged or retired from service, or the spouse of a service member or veteran, we are here to support you every step of the journey. As a thank you for your dedication and service to our country, Liberty is honored to serve and support you in your pursuit of online education by offering the following benefits: 
Tuition discounts – $275 for graduate (per credit hour)
Additional discount for veterans who serve in a civilian capacity as a First Responder (less than $625 per course).

Potential Career Options
Upon completion of your masters in education administration and supervision, you will have the opportunity to pursue employment in a variety of positions, including:
Principal
Assistant Principal
Curriculum Instructor
Program Highlights of the M.Ed. in Administration and Supervision 
By earning your online Masters in Education Administration and Supervision degree from a nonprofit university whose online programs ranked in the top 1% of more than 2,100 online colleges and universities for academic quality, affordability, and accessibility, you will be set apart from others in your field.

While other colleges are increasing their tuition, we actually lowered our tuition for our Master of Arts in Teaching and Master of Education programs for the 2019-20 academic year. At $415 per credit hour for full time, Liberty University's M.Ed. online is now available at one of the lowest tuition rates for this degree in the country.

Students can complete this M.Ed. in Administration and Supervision degree program in less than two years.
The School of Education is accredited by NCATE (National Council for Accreditation of Teacher Education) through CAEP (Council for the Accreditation of Educator Preparation) as an Educator Preparation Provider (EPP).
Similar Online Degree Programs
Master of Education (M.Ed.) in Higher Education – Our Master of Education in Higher Education online degree is designed to prepare students and professionals for the field of postsecondary education. This program addresses the issues in the changing climate of higher education and prepares higher education professionals to navigate the complexity of systems influenced by modern societal issues.
Master of Education (M.Ed.) in Curriculum and Instruction – Liberty University's Master of Education in Curriculum and Instruction is accredited by NCATE through CAEP. This program will prepare you for leadership roles in Christian, public, and private school systems. Coursework provides focused training for those seeking a position as a K-12 educator or those wanting to further their education.
Admissions Requirements for the M.Ed. in Administration and Supervision
A regionally or nationally accredited Bachelor's degree with a 3.0 or above GPA is required for admission in good standing. Please visit our Admission Requirements Page for more detailed admissions related information. 
All Applicants Must Submit the Following:
Admission Application
Application fee*
Unofficial college transcripts and submit a

 

transcript request form

.**

Proof of English proficiency
*There is no upfront application fee; however, a deferred $50 application fee will be assessed during financial check-in. This fee is waived for qualifying service members, veterans, and military spouses – documentation verifying military status is required.
**An official transcript is needed within 60 days of acceptance or before non-attendance drops for the first set of matriculated classes, whichever comes first.