Provide Student Care and Counseling by Earning a Master's in School Counseling Online
Liberty University's CACREP accredited M.Ed. master's in school counseling prepares you to be a school counselor in Christian, public, and private schools. You will master counseling and psychology skills, focusing on ethics and techniques, ethnicity, family counseling, and career guidance. Courses provide specialized preparation for individuals seeking credentials for a K-12 school position. In becoming a school counselor, you will accrue both practical and theoretical knowledge to apply in real-life experiences. Our counselor degree will train you to become a school counselor and serve as a valuable asset through investing in students' lives and providing an emotionally safe environment for holistic student needs.
---
Why Choose Liberty's Online Master's in School Counseling Program?
Our Master of Education in School Counseling program supports a collaborative learning environment that prepares a culturally diverse, global student body to be competent, responsible, ethical, and professional school counselors. You will be prepared to teach in public, private, and Christian elementary, middle, and high schools. Our master's in school counseling online is taught from a biblical perspective and prepares graduates to plan, develop, implement, and evaluate comprehensive school counseling programs that are culturally sensitive and promote the career, personal, social, and academic development of children and adolescents.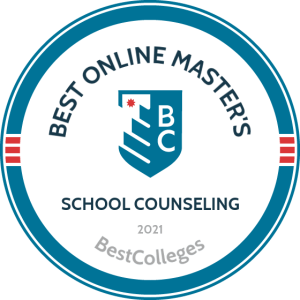 ---
What Will You Learn in the Master of Education in School Counseling Degree?
Throughout our online master's in school counseling degree, you will attain scholastic competency, apply counseling skills with diverse populations and demonstrate the ability to appropriately integrate faith and spirituality into counseling in an ethically competent manner. Our online school counseling programs will provide the training to identify and create intervention strategies, collaboration, and referrals in an educational setting. Training in professional and ethical conduct as a school counselor will be explored, as well as understanding culturally sensitive counseling practices, social justice, and advocacy approaches in a pluralistic society. In achieving your online master's in school counseling, you will recognize family, personal, and environmental factors that affect career development processes and activities for all grade levels.
Featured Courses