Liberty University's MBA Degree Online Offers Prestigious Accreditation, Affordability, and Flexibility
Liberty University offers a 36 credit hour MBA degree online that can be completed in as little as two years. In addition to exceptional affordability and flexibility, Liberty's MBA degree online is accredited by the Accreditation Council for Business Schools and Programs (ACBSP). ACBSP is a voluntary program-specific accreditation above and beyond what is required by the Department of Education, and this endorsement affirms the value and credibility of your online MBA degree without saddling you with the debt you may acquire with one of our competitors.
---
Why Choose Liberty University's Masters of Business Administration Online Degree?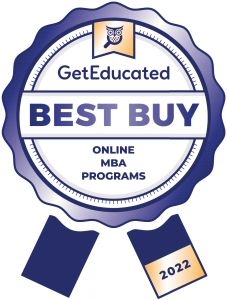 Liberty University's 100% online Master of Business Administration (36-credit-hour program) is designed to strengthen your leadership skills and build on foundations of entrepreneurship, business, and management in a variety of organizations. Our MBA Degree Online will equip you with the effective communication skills and research practices you need to thrive in the business world. The flexibility of our online MBA degree will allow you to pursue this master's degree from the comfort of your own home.
---
What Will You Learn in Our Masters of Business Administration Online Degree?
Courses within Liberty's online MBA degree will teach you fundamental concepts in business administration, including strategic marketing, organizational structure, global business concepts, and the fundamentals of human resources. Our 36-credit-hour MBA degree online is ideal for working professionals or those who want to fast-track earning a Masters of Business Administration online degree.