Help Others Wrestling with Addiction by Earning a Master's Degree in Addiction Counseling Online
Do you have the compassion, patience, and interpersonal skills it takes to be a successful counselor? There are different paths people usually travel to become addiction counselors. One path is for people who feel a calling to help others in need. There is also a long tradition of people who overcame addiction going on to help their fellow addicts break the chains of addiction. 
In either of these situations, Liberty University's Master of Arts (MA) in Addiction Counseling degree online seeks to provide you with the education and training commonly required for certification or licensure as an addiction or substance abuse counselor.** Our graduate degree in addiction counseling is designed to fulfill or exceed the requirements for many national and state board organizations. Liberty seeks to provide you with evidence-based counseling tools and skills to work with individuals as they move towards recovery.
As you pursue our graduate program in substance abuse counseling, you will have access to knowledgeable professors who have years of experience in the areas of substance abuse and addiction counseling. You can have a mastery of knowledge of critical concepts in the substance abuse and addiction counseling fields, including counseling techniques, treatment, and the recovery process.
*Some exclusions apply. Please refer to our exclusions page for more information.
**Please note: 12 additional hours of coursework beyond the MA in Addiction Counseling degree requirements are needed to meet LSATP requirements in Virginia.
---
Why Choose Liberty's Online Addiction Counseling Degree?
Liberty University's Master of Arts in Addiction Counseling degree online encompasses an enriching and challenging curriculum to empower students with the tools needed to succeed in the field of addiction counseling. 
As drug addiction cases increase so does the need for mental health counseling that is tailored specifically for these clients. According to the Bureau of Labor Statistics, the job outlook in this field is expected to grow 23% over the next 10 years, which is much faster than average.*
By pursuing our addiction counselor degree you can:
Have access to one of the nation's largest private, nonprofit university's resources.

Earn your degree from a

Southern Association of Colleges and Schools Commission on Colleges (

SACSCOC

) accredited university.

Build upon core values, knowledge, and skills needed to serve as an addiction and substance abuse counselor.

Become better prepared to pursue job opportunities in the field of substance abuse and addiction counseling in private practices and clinics across the nation.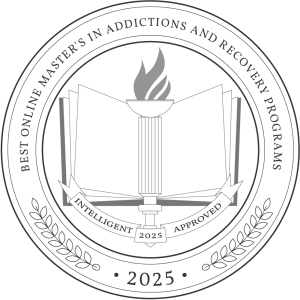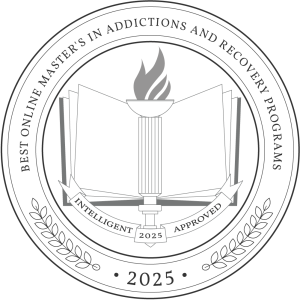 *Bureau of Labor Statistics, U.S. Department of Labor, Occupational Outlook Handbook, Substance Abuse, Behavioral Disorder, and Mental Health Counselors, (viewed online June 22, 2021). Cited projections may not reflect local and/or short-term economic or job conditions and do not guarantee actual job growth.
---
What Will You Learn in Our Master's in Addiction Counseling Online?
You may be wondering how you can become an addiction counselor without having to leave your current job or interrupt your family commitments. Our addiction counseling online degree can be completed 100% online with minimal disruption to your busy lifestyle.
Throughout this degree, you can gain knowledge in assessment techniques and details about the addiction and substance abuse recovery process. You will also study some of the causes of addiction and how to help people resolve their unsolved issues that may have led to addiction. As you continue your addiction studies, you can learn the latest in counseling theory and its applications to treating and helping clients in the recovery process.

This master's in addiction counseling online begins with studies in ethical and legal counseling issues, multicultural counseling, and spirituality and counseling. You'll also study theories of counseling, psychopathology, family systems, and substance abuse diagnosis and treatment. 
From there, this online addiction counseling degree covers techniques in addiction counseling and group dynamics as well as client and family education in addiction counseling. In addition, you will study the diagnosis and treatment of addictive disorders and complete an addiction counseling internship to round out your studies. 
Because of the intricate nature of the brain and chemical processes involved in our bodies, you will also study the biological aspects of addiction. This is important in being able to diagnose when a patient may need a referral to other health care professionals for additional care beyond counseling. 
Our online master in addiction counseling degree program can provide the opportunity for you to obtain certification as a Certified Substance Abuse Counselor (CSAC). With 12 additional credit hours of coursework, this meets the educational requirements for licensure as a Licensed Substance Abuse Treatment Provider (LSATP) in Virginia.
Featured Courses
---