Dr. Michael Price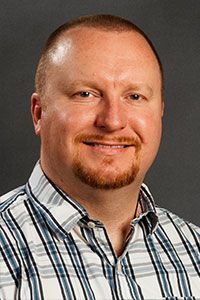 Associate Professor of Biology
(434) 592-7277
msprice2@liberty.edu
Center for Natural Sciences, Room 151
Education
Ph.D. in Plant Pathology, North Carolina State University
M.S. in Plant Pathology, North Carolina State University
B.S. in Agriculture with Distinction, University of Delaware
Biography
Dr. Michael Price attended college at the University of Delaware, where he earned a B.S. degree in Animal Science. He then studied Plant Pathology at NC State University, where he earned both M.S. and Ph.D. degrees. In graduate school, Dr. Price studied biomediation using filamentous molds, as well as the genetic regulation of the production of the most potent naturally occurring carcinogen, aflatoxin, in Aspergillus species.
After graduating from NCSU, he joined the Duke University Mycology Research Unit at Duke Medical Center to investigate the genetic basis of pathogenicity in the Cryptococcus/human pathosystem. First, he worked with Andrew Alspaugh on the involvement of the GTPase regulatory protein in Rdi1 in cryptococcal pathogenesis. Following publication of that work, he joined the lab of John Perfect to investigate carbon and nitrogen acquisition from the host by pathogenic Cryptococcus species.
His current research continues these projects in understanding how pathogens acquire nutrients from their hosts.
Professional Memberships
American Association for the Advancement of Science
American Society for Microbiology
Genetics Society of America
Sigma Xi
Virginia Academy of Science
Courses Taught
Undergraduate
BIOL 104 – Principles of Human Biology Laboratory
BIOL 203 – Introductory Microbiology
BIOL 204 – Microbiology for Nursing Professionals
BIOL 301 – Genetics
BIOL 303 – Microbiology
BIOL 455 – Molecular Techniques
BCHM 452 – Biochemistry II
Graduate
BIOM 600 – Biomedical Ethics
BIOM 625 – Microbial Pathogenesis and Virology
Publications
Caza, M, G Hu, MS Price, JR Perfect, and JW Kronstad. 2016. The Zinc Finger Protein Mig1 Regulates Mitochondrial Function and Azole Drug Susceptibility in the Pathogenic Fungus Cryptococcus neoformans. mSphere 1:1-19.
Price, MS, J Turmenne, and GP Sloan. 2015. Evaluation of a Most Probable Number Quantitation System with a Modified AATCC Test Method 100 for Measuring Fungal Growth. AATCC Journal of Research 2:11-15.
Inoue M, Arikawa T, Chen Y-H, Moriwaki Y, Price M, Brown M, et al. 2014. T cells down-regulate macrophage TNF production by IRAK1-mediated IL-10 expression and control innate hyperinflammation. Proceedings of the National Academy of Sciences. 111(14):5295-300. doi:10.1073/pnas.1321427111.
Frazzitta, AE, H Vora, MS Price, JL Tenor, M Betancourt-Quiroz, DL Toffaleti, N Cheng, and JR Perfect. 2013. Nitrogen source-dependent capsule induction in human pathogenic Cryptococcus species. Eukaryotic Cell 12(11):1439-1450.
Tseng, H.-K., C-P Liu, MS Price, AY Jong, J-C Chang, DL Toffaletti, M Betancourt-Quiroz, AE Frazzitta, W-L Chow, and JR Perfect. 2012. Identification of Genes from the Fungal Pathogen Cryptococcus neoformans Related to Transmigration into the Central Nervous System. PLoS One,  7(9), e45083. doi:10.1371/journal.pone.0045083.
Fang, W, MS Price, DL Toffaletti, J Tenor, M Betancourt-Quiroz, JL Price, W-H Pan, W-Q Liao, JR Perfect. 2012. Pleiotripic effects of deubiquitinating enzyme Ubp5 on growth and pathogensis of Cryptococcus neoformans. PLoS One, 7(6), e38326. doi:10.1371/journal.pone.0038326.
Price, MS, M Betancourt-Quiroz, JL Price, DL Toffaletti, H Vora, G Hu, JW Kronstad, and JR Perfect. 2011. Cryptococcus neoformans requires a functional glycolytic pathway for disease but not persistence in the host. mBio 2:e00111.
Lee, A DL Toffaletti, J Tenor, EJ Soderblom, JW Thompson, MA Moseley, MS Price, and JR Perfect. 2010. Survival defects of Cryptococcus neoformans mutants in human cerebrospinal fluid results in attenuated virulence in an experimental model of meningitis. Infection and Immunity 78:4213-4225.
O'Meara, TR, C Hay, MS Price, S Giles, and JA Alspaugh. 2010. Cryptococcus neoformans histone acetyltransferase Gcn5 regulates fungal adaptation to the host. Eukaryotic Cell 9:1193-1202.
O'Meara, TR, D Norton, MS Price, C Hay, MF Clements, CB Nichols, and JA Alspaugh. 2010. Interaction of Cryptococcus neoformans Rim101 and protein kinase A regulates capsule. PLoS Pathogens 6:e1000776.
Price, MS, CB Nichols, and JA Alspaugh. 2008. Cryptococcus neoformans Rho-GDP dissociation inhibitor mediates intracellular survival and virulence. Infection and Immunity 76(12):5729-5737.
He, ZM, MS Price, GR OBrian, DR Georgianna, and GA Payne. 2007. Improved protocols for functional analysis in the pathogenic fungus. Aspergillus flavus. BMC Microbiology 7:104.
Cramer, KL, QD Gerrald, CB Nichols, MS Price, and JA Alspaugh. 2006. Transcription factor Nrg1 mediates capsule formation, stress response, and pathogenesis in Cryptococcus neoformans. Eukaryotic Cell 5:1147-1156.
Price, MS, J Yu, WC Nierman, HS Kim, B Pritchard, CA Jacobus, D Bhatnagar, TE Cleveland, and GA Payne. 2006. The aflatoxin pathway regulator AflR introduces gene transcription inside and outside of the aflatoxin biosynthetic cluster. FEMS Microbiology Letters 255:275-279.
Price, MS, SB Conners, S Tachdijian, RM Kelly, and GA Payne. 2005. Alatoxin conducive and non-conducive growth conditions reveal new gene associations with aflatoxin production. Fungal Genetics and Biology 42:506-518.
Price, MS, JJ Classen and GA Payne, 2000. Aspergillus niger removes copper and zinc from swine wastewater. Bioresource Technology. 77(1):41-49.