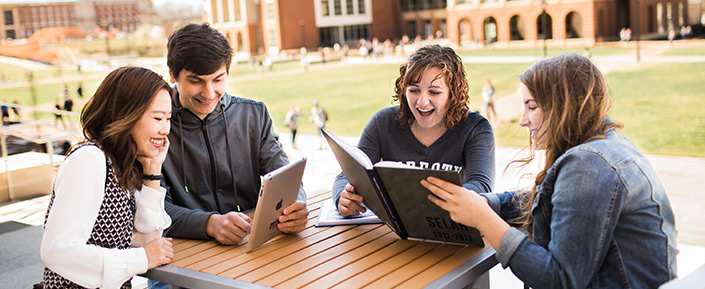 The Liberty University Selah Yearbook
Our staff's primary goal is to serve as a record keeper for the university. We cover all the news that take place during the year from construction, events, student profiles, and current events. Not only do we feature the residential campus but we also include our online campus as well. Each portion is essential to the university so we do our best to showcase both.
So that more students can take advantage of the yearbook, we offer a print and online edition of each book. You can purchase the printed version or view the complimentary online version. Check out what you can expect to see in the printed edition below!
What's included in the print version?
On-campus events
Student profiles
Liberty in the news
Construction updates
Student quotes
Team and club photos
Current graduates' names (residential and online undergrad and post-undergrad)
And more!
What's included in the online version?
All of the content found in the print version
The 2019-20 book is in production and will be completed late summer of 2020. Orders will be shipped out immediately following completion.
*Note that a portrait of each student is not featured in the yearbook. Due to the size of Liberty's student body, we are not able to include the name/photo of each student.