Dr. Kimberly Mitchell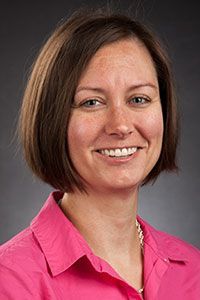 Professor of Biology
(434) 582-2540
kamitchell@liberty.edu
Center for Natural Sciences, Room 155
Education
Ph.D., University of Virginia
M.S., University of Virginia
B.S., Liberty University
Biography
Dr. Mitchell's research interests include nucleoside diphosphate kinase (NDPK), a protein involved in many cellular functions and linked to cancer, and primary cilia, cellular organelles involved in development and kidney disease.
Courses Taught
BIOL 101 General Biology (online)
BIOL 213/214 Human Anatomy & Physiology I
BIOL 215/216 Human Anatomy & Physiology II
BIOL 225 General Biology II Lab
BIOL 385 Advanced Human Physiology
BIOL 400 Biology Seminar
BIOL 415 Cell Biology
BIOM 515 Human Physiology
Publications
Mitchell, K.A.P. (2013). Isolation of primary cilia by sheer force. Current Protocols in Cell Biology, 3.42.1-3.42.9.
Detwiler, C.D., K.A.P. Mitchell and N. Reichenbach (2011). Life by Design. Cengage Publishing Co., Mason, OH. ISBN: 1-111-21991-5
Mitchell, K.A.P., G. Szabo, and A. S. Otero (2009). Methods for the isolation of sensory and primary cilia-an overview. Methods in Cell Biology, 94:87-101.
Mitchell, K.A.P., G. Szabo and A. de S. Otero (2009). Direct binding of cytosolic NDP kinases to membrane lipids is regulated by nucleotides. Biochimica et Biophysica Acta 1793:469-476.
Mitchell, K.A.P., B.C. Gallagher, G. Szabo and A. de S. Otero (2004). NDP kinase moves into developing primary cilia. Cell Motility and the Cytoskeleton 59:62-73.
Gallagher, B.C., K.A. Parrott, G. Szabo and A. de S. Otero (2003). Receptor activation regulates cortical, but not vesicular localization of NDP kinase. Journal of Cell Science 116:3239-3250.