About Liberty
---
Who We Are
Get the world-class education and Christian foundation you're looking for at Liberty University. Since 1971, Liberty has had a singular vision of developing Christ-centered men and women with the values, knowledge, and skills essential for impacting the world for Christ.
Our founder, Jerry Falwell Sr., dreamed of a university filled with men and women who would change the world for Christ. He envisioned a world filled with doctors, lawyers, teachers, entrepreneurs, and professionals from all walks of life who loved God and were the best at what they'd been called to be. He invited thousands of people to join him in this dream — and today we invite you to be part of that vision.
Located in Central Virginia, Liberty is a liberal arts institution with 15 colleges and schools and offers programs in fields such as education, counseling, religion, law, aviation, cinematic arts, business, and more. Part of the CUSA Conference, Liberty fields 20 NCAA Division I athletic teams and 40+ Club Sports teams, offering you an exceptional college sports experience.
Liberty graduates are sought after by prestigious companies for their integrity, personal discipline, and versatility. They are confident and competent, ready to make a lasting impact on their profession and their community.
A Broader Vision
 Liberty Quick Facts
300,000+ Alumni
7,000+ Acre Campus
3,874+ Professors
700+ Programs of Study
University Mission
Liberty University is committed to academic excellence and to Training Champions for Christ as affirmed by our mission and doctrinal statements.
Mission Statement
Doctrinal Statement
Visit Our Campus
Come visit us and experience Liberty for yourself!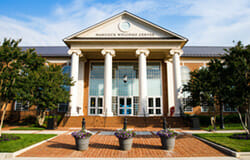 Schedule a Visit
We are Continuing To Grow
---
Academic Excellence
Liberty University is an accredited evangelical liberal arts institution with 15 colleges and schools, including a law school, medical school, and school of divinity. With more than 700 programs of study from the certificate to the doctoral level, Liberty equips students with both classroom theory and practical experience, effectively preparing them to enter a competitive job market.
Academic Programs
Academic Facilities
Center for Medical and Health Sciences
Center for Music and the Worship Arts
Center for Natural Sciences
Accreditation

Accreditation ensures that Liberty University has met strict standards with regard to degree programs, faculty, administration, student support, and services.
About Our Accreditation
Liberty Online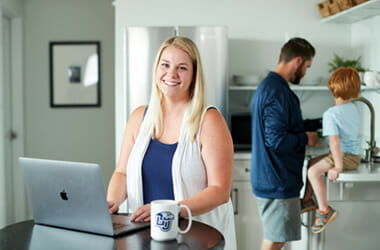 A pioneer in distance education since 1985, Liberty provides exceptional resources to online students, including an online library, the Online Writing Center, a partnership with Tutor.com, the Office of Online Student Life, and knowledgeable and accessible academic advisors.
Liberty University Online
University Leadership
---
Thriving Athletics
Liberty's 20 NCAA Division I athletic teams and 40+ Club Sports teams are dedicated not only to victory but also to superb sportsmanship — and they've got the trophies to prove it. Winner of 17 Division I Conference All-Sport Awards, Liberty Athletics holds over 190 NCAA Division I conference titles and two bowl-game victories. Club Sports teams have won 9 national titles across field hockey and wrestling.
Our practice and performance facilities are nationally acclaimed and provide opportunities for students studying medicine, sport management, and other health professions to work with athletes in real-world environments. Touted as one of the top destinations in the country to watch a collegiate baseball game, Liberty University provides students and alumni with a college sports experience they can be proud of.
Liberty Athletics
Athletic Facilities
Liberty Mountain Snowflex Centre
Liberty Indoor Track & Field Complex
Convocation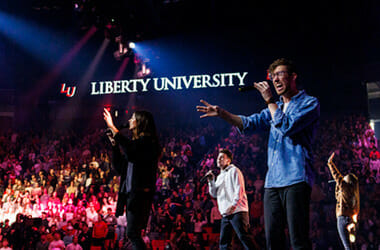 A couple times a week, students gather for Convocation, where they hear from leaders that represent a wide variety of fields. Business leaders, professional athletes, ministers, educators, authors, politicians, and artists are invited to address students by giving insight into local and global issues. They enhance and broaden the students' education by sharing perspectives that they might not otherwise encounter.
Through live broadcasts, Liberty's online students and supporters join in from all over the world. Convocation gives students from across all disciplines a common experience. It broadens their horizons. It inspires them and encourages them to pursue excellence, to become Champions for Christ in whatever they do.
Convocation at Liberty
Campus Map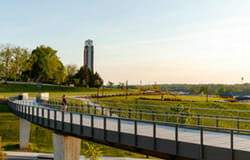 Liberty Campus Map
---
Notable Alumni
Liberty University graduates are equipped to impact the culture for Christ in every vocation. There are over 285,000 Liberty alumni influencing the world in their respective fields. Our graduates have found jobs with the U.S. Senate, Google, ESPN, Discovery Channel, Concerned Women for America, CNN, Bank of America, and more.

Champions Start Here
Apply to Liberty and begin your journey today.


Apply to Liberty
---
The History of Liberty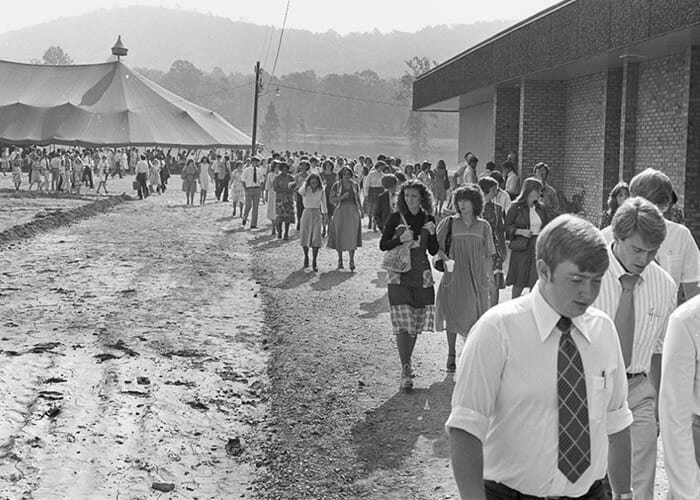 In 1971, Pastor Jerry Falwell Sr. challenged his congregation at Thomas Road Baptist Church in Lynchburg, Va. to establish a Christian college whose students would "go out in all walks of life to impact this world for God." Soon after, Lynchburg Baptist College became a reality.
Our History
A University Town

Liberty University's campus is in Lynchburg, Va. Located in the Piedmont region of the state, Lynchburg is nestled in the foothills of the beautiful Blue Ridge Mountains, on the south bank of the historic James River, in a region rich in history, culture, and outdoor recreational opportunities.
About Lynchburg
Connect with Liberty