Registrar

Your On-Campus Journey Starts Here
Get the information you need for every stage of your academic journey through the Registrar's Office at Liberty University. Let us help you complete your educational goals through essential academic processes like registrations, degree conferral, and transfer inquiries.
Through our office, you can stay informed and get the academic support you're looking for through our safeguarded and accurate record and transcript maintenance and our actively-enforced academic policy and enrollment verification services.
To help keep our procedures as efficient as possible, we offer many of our resources online to help you quickly get what you need.
Questions? Contact us!
We are here for you.
---
Current Students
You're here at Liberty, and we want to help make your experience the best possible. The following commonly used links will get you started, but keep in mind, we're just a phone call away.
Academic Evaluators
View our Undergraduate and Graduate Academic Evaluators.
---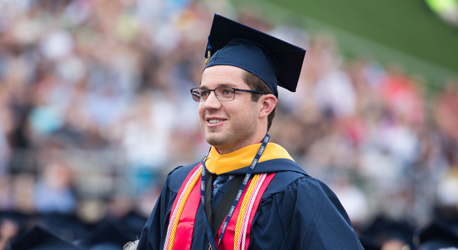 Graduating Students & Alumni
You're on your way to building the career you've always dreamed of. The links below will help you during this stage of your journey.
Graduation/Commencement
Learn more about preparing for graduation.
---
Frequently Used Forms & Links
People often come to our site looking for the forms and links below. Make sure to reach out to us if there is something you can't find.
Looking for a form that isn't listed above?
Visit our Forms page.
---
Contact the Registrar
(434) 592-5100
(434) 582-2187 (Fax) 
registrar@liberty.edu
Green Hall, Room 1896 (Student Service Center)
Office Hours
Mon.-Fri., 8 a.m.-5 p.m.
Call Center Hours
Mon. & Wed.-Fri., 8 a.m.-4:45 p.m.
Tue., 8:30 a.m.-4:45 p.m.

Mailing Address:
Registrar's Office
1971 University Boulevard
MSC Box 710177
Lynchburg, VA 24515
Looking for a particular staff member?
See our staff listing.