Dr. Cory Goff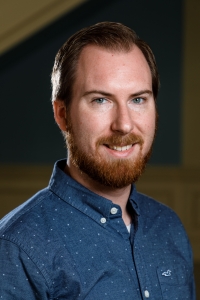 Assistant Professor of Biology
cbgoff@liberty.edu
(434) 582-2267
Center for Natural Sciences, Room 339
Education
Ph.D., Texas State University
M.S., Marshall University
B.S., Liberty University
Biography
Cory Goff grew up in central Virginia and completed his bachelor's degree in Biology at Liberty University where his interest in herpetology, the study of amphibians and reptiles, was sparked through research with a local, endemic Virginia salamander, the Peaks of Otter salamander (Plethodon hubrichti).
He taught at a homeschool co-op for a year before pursuing his Master's degree at Marshall University in West Virginia. His Master's research examined the effects of roads and trails on the movement behavior of the Virginia salamander and a sympatric species. After completing his Master's, Dr. Goff moved to Texas and started his Ph.D. in Aquatic Resources at Texas State University applying conservation physiology, using physiological responses to environmental changes as indicators of health, to fish and amphibian populations.
Dr. Goff's research interests continue to focus on amphibians, though the application of conservation physiology extends to all vertebrates.
Dr. Goff, his wife who is a family medicine doctor, and their two children enjoy all outdoor recreational activities and exploring new places when time allows.
Professional Memberships
Virginia Herpetological Society
Society for the Study of Reptiles and Amphibians
Herpetologist's League
American Society of Ichthyologists and Herpetologists
Society for Integrative and Comparative Biology
Courses Taught
BIOL 224L – General Biology I Lab
BIOL 418 – Vertebrate Natural History
BIOL 225 remove Sp 2020 – General Biology II (Zoology)
BIOL 400 – Biology Seminar (Special Topic: Conservation Physiology)
ENVR 215 – Intro to Environmental Science
Publications
Goff, C.B., Walls, S.C., Rodriguez, D., and Gabor, C.R. (submitted). Changes in physiology and microbial diversity in larval Ornate Chorus frogs are associated with habitat quality. Conservation Physiology 8: coaa047.
Forsburg, Z.R., Goff, C.B., Perkins, H., Robicheaux, J., Almond, G.F., and Gabor, C.R. (2020). Validation of water-borne cortisol and corticosterone in tadpoles: Recovery rate from an acute stressor, repeatability, and evaluating rearing methods. Journal of Comparative Endocrinology 281: 145-152.
Aspbury, A., DeColo, S.L., Goff, C.B. and Gabor, C.R. (2019). Turbidity affects association behavior in the endangered Fountain darter, Etheostoma fonticola. Hydrobiologia, 838: 45-54.
Novarro, A.J., Gabor, C.R., Goff, C.B., Mezebish, T.D., Thompson, L.M. and Grayson, K.L. (2018). Physiological responses to elevated temperature across the geographic range of a terrestrial salamander. Journal of Experimental Biology, 221: jeb178236