Dr. Stephen T. Hobson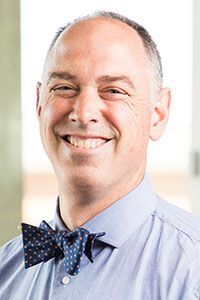 Associate Professor of Chemistry
(434) 582-7468
sthobson@liberty.edu
Center for Natural Sciences, Room 120
Education
Ph.D., University of California, Irvine
B.S., Wheaton College
Biography
Dr. Hobson was commissioned as a Second Lieutenant in the United States Army following four years on an ROTC scholarship. He was awarded an educational delay to attend graduate school at the University of California, Irvine on a Chancellor's Fellowship. His Ph.D. work focused on the design, synthesis, and characterization of hybrid organic-inorganic materials under the supervision of Professor Kenneth Shea.
Following graduate school, he entered Active Duty as Captain serving at the US Army Medical Research Institute of Chemical Defense (USAMRICD). His work in the area of medical countermeasures against chemical warfare agents resulted in the issue of nine United States Patents and he was awarded of the highest U.S. Army R&D award (2000, Department of the Army Research and Development Achievement Award).
His initial civilian research position was leading an optimization/medicinal chemistry group at Senomyx, Inc. (La Jolla, CA, small organic molecules to act as G-Protein Coupled Receptor (GPCR) allosteric enhancers). Following this position, he moved to Seacoast Science, Inc (Carlsbad, CA) where his research focused on the synthesis and application of novel polymers in chemical sensors for the detection of a variety of analytes in the vapor phase (chemical warfare agents, petroleum products, explosives) and the aqueous phase (algal toxins, petroleum products). In addition to his work at Seacoast, he has served as a consultant with Rubicon Biotechnology LLC in their research on the application of heat shock protein as a treatment for acute lung injury from inhaled toxicants.
At Liberty University, his initial research areas include the synthesis and optimization of non-estrogenic BPA mimics, graphene-based chemical sensors, and novel molecules to ameliorate the effects of nitrates in the gut. His broader research interests include synthesis of stimuli-responsive polymers, self-healing materials, catalyst development, discovery and development of new medical countermeasures for toxicants, and development of new chemical sensors.
Dr. Hobson has 13 peer-reviewed publications and is the co-inventor on 14 United States Patents. He has presented over 30 presentations on his research at scientific and government meetings.
Courses Taught
Organic Chemistry (CHEM 301/302)
Professional Memberships
American Chemical Society
Division of Organic Chemistry
Division of Polymer Chemistry
Polymer Materials Science Engineering Division
Publications & Patents
"Comparing selectivity of functionalized-graphenes used for chemiresistive hydrocarbon vapor detection," Patel, S. V.; Hobson, S. T.; Cemalovic, S and Tolley, W. K. ACS Appl. Nano Mater. In press.
"Resistive and Capacitive γ-Ray Dosimeters Based On Triggered Depolymerization in Carbon Nanotube Composites," Zeininger, L., M. He, S. T. Hobson, and T. M. Swager. ACS Sensors, 2018, 3, 976-983.
"Implications of Thermal Annealing on the Benzene Vapor Sensing Behavior of PEVA-Graphene Nanocomposite Threads," Patel, S. V., S. Cemalovic, W. K. Tolley, S. T. Hobson, R. Anderson, and B. Fruhberger. ACS Sensors, 2018, 3, 640–647
"Targeted heat shock protein 72 for pulmonary cytoprotection," Parseghian, M. H.; Hobson, S. T.; Richieri, R. A. Annals of the New York Academy of Sciences 2016, May 1.
"Preconcentration and detection of chlorinated organic compounds and benzene," Hobson, S. T.; Cemalovic, S.; Patel, S. V. Analyst, 2012, 137, 1284-1289.
"Materials for Capacitive Carbon Dioxide Microsensors Capable of Operating at Ambient Temperatures," Patel, S. V.; Hobson, S. T.; Cemalovic, S.; Mlsna, T. E. Journal of Sol Gel Science & Technology, 2010, 53, 673-679.
"Novel flavors, flavor modifiers, tastants, taste enhancers, umami or sweet tastants, and/or enhancers and use thereof," Tachdjian, C.; Patron, A. P.; Adamski-Werner, S. L.; Bakir, F.; Chen, Q.; Darmohusodo, V.; Hobson, S. T.; Li, X.; Qi, M.; Rogers, D.; Rinnova, M.; Servant, G.; Tang, Q-T.; Zoller, D.; Wallace, D.; Xing, A.; Gubernator; K. United States Patent No. 8,895,050 November 24, 2014.
 "Detection/location system using materials with chemical-induced volume change to disrupt or impair signals of a communication or power link," Hobson, S. T.; Haerle, L. H. United States Patent Application #61/771,638, March 1, 2013.
 "Preconcentrators and Methods of Making and Using the Same," J. D. Lucas, M. L. Warburton, T. Mlsna, S. V. Patel, S. T. Hobson. U.S. Patent #8,333,105 B2, Dec. 18, 2012.
"Compounds and systems for low vapor pressure chemical detection," Hobson, S. T.; Haerle, L. H. United States Patent Application #13470226, May 11, 2012.
"Novel flavors, flavor modifiers, tastants, taste enhancers, umami or sweet tastants, and/or enhancers and use thereof," Tachdjian, C.; Patron, A. P.; Adamski-Werner, S. L.; Bakir, F.; Chen, Q.; Darmohusodo, V.; Hobson, S. T.; Li, X.; Qi, M.; Rogers, D.; Rinnova, M.; Servant, G.; Tang, Q-T.; Zoller, D.; Wallace, D.; Xing, A.; Gubernator; K. United States Patent No. 8,124,121, February 28, 2012.
"Preconcentrators and methods of making and using the same," Lucas, J. D.; Warburton, M. L.; Mlnsa, T.; Patel, S. V.; Hobson, S. T. United States Patent No. 8,117,896, February 21, 2012
"Active topical skin protectants containing amines, polyalkenimines and /or derivatives," Braue, E. H. Jr.; Hobson, S. T; Boecker, J. D.; Smith, B M. United States Patent No. 7,976,832, July 12, 2011. WO 2004/054521, PCT/US2003/014014