Dr. Ben Kalu, M.D.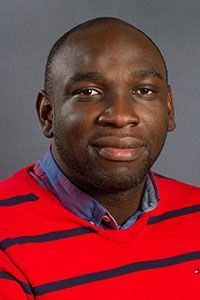 Assistant Professor of Biology
(434) 592-3946
bnkalu@liberty.edu
Center for Natural Sciences, Room 251
Education
M.D., Abia State University, Nigeria
M.S., Catholic University, Washington D.C.
Research
According to the Center for Disease Control, chronic liver diseases and Alcoholic Liver Disease are the 12th leading cause of death in the U.S., accounting for about 34,000 deaths in 2011. Also, liver cancers are the 8th leading cause of cancer death in the U.S. with about 16,000 deaths per year. A common factor associated with these liver diseases is chronic alcohol consumption. Therefore, our group is interested in elucidating the molecular mechanisms and pathophysiology of alcoholic liver disease and its course/progression to liver cirrhosis and hepatocellular carcinoma. We use in-vivo models of chronic alcohol consumption as well as alcohol-treated cell culture models to examine:
Genes whose expression levels are altered and the physiological impacts of such alterations
Subcellular localization, integrity and functions of organelles with particular emphasis on the mitochondria (oxidative stress) and lysosomes (autophagy)
Possible molecules, drugs or nutritional supplements that may reverse, retard or halt the development of progression of these disease conditions (drug discovery)
Our group is very hands-on and student-oriented, affording the students flexibility to work at their individual paces while giving them exposure to laboratory skills and analytical competencies that will help define their career paths and make them competitive in the science community.
Courses Taught
BIOL 104 Principles of Human Biology Lab
BIOL 213 Human Anatomy & Physiology I
BIOL 214 Human Anatomy & Physiology I Lab
BIOL 215 Human Anatomy & Physiology II
BIOL 216 Human Anatomy & Physiology II Lab
BCHM 450 Clinical Biochemistry
BIOM 515 Human Physiology
Clinical
Abia State University Teaching Hospital
Federal Medical Center, Abakaliki
Ibem Christian Hospital
General Hospital, Iguobazuwa